Who needed a murder on Bones Season 11 Episode 15 when it was the parents and children who brought all of the drama. 
Booth and Brennan are quite possibly the most adorable parents on TV. They adore their daughter and were thrilled to see all E+ on her report card.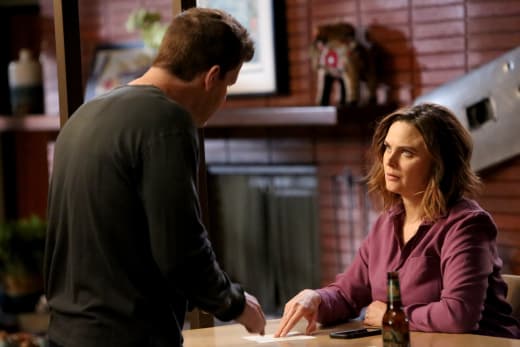 (And for those of you rolling your eyes at the E for exemplary, it took me ten minutes to decipher my child's first report card. Apparently they don't give out As, Bs, Cs, etc., until the third grade!)
Dr. Wells was back at the Jeffersonian and trying to mess with Brennan's head. Does anyone like this guy?
Dr. Wells, that goofy, tall guy who no one likes?


Booth
Exacty. 
I'm assuming his abrasive behavior was supposed to make him more interesting, but he's really just an ass. It's tedious to watch. 
For all the ridiculous IQ points the team at the Jeffersonian has been blessed with, it took Booth to use common sense to find the answer. Just call the teacher!
Besides, if little Christine was actually forging her grades at age six, I'd be afraid she were a sociopath in the making. 
Elsewhere, Dr. Karen Delfs asked out Aubrey, but he turned her down because of his relationship with Jessica. To be honest, I'm not really a fan of Jessica or Karen, but at least one of them is now heading to Kansas City. I consider that a step in the right direction. 
Every time Karen begins profiling someone, it just makes me miss Sweets all the more. 
I did feel sorry for Aubrey. There isn't much worse than being forced to work closely with someone you just turned down for a date. 
Oh wait, there is worse. That person could psychoanalyze you for the rest of the day. Ugh.
I kept wondering why Karen was so determined that Aubrey look at his father's file. If he's not ready, he's not ready. Why push?
But it appears she had her reasons. Not only is Aubrey's fugitive father back in the country, he's investigating his son. I can't imagine this bodes well for anyone.
Hodgins and Angela were to close their regular selves as we've seen since Hodgins' accident. The downside was that normal relations, intimate or otherwise, still appear to be a ways off. 
Hodgins buying Angela expensive gifts was kind of silly. Maybe it was easing his conscience, but Angela has never cared about high-priced jewelry. Every time he gave her a piece, she looked more uncomfortable. 
Still, it was difficult not to feel badly for Hodgins. He really did look desperate to try and make things right. Cam said it best when she told Angela to just give it time. Nothing is going to change overnight. 
The case of the week was simply a backdrop for all of our character drama; however, the investigation did give us this Bones quote so it can't have been all bad…
Hodgins: I found fresh duck feces on the tread of the victim's shoe.
Cam: I trust you're telling me this for a reason other than to make me say yuck.

Check back in on Monday to see what our Bones round table team thought of Hodgins gifts, the report card drama, and whether they'll miss Dr. Delfs. 
If you can't wait for more, you can watch Bones online here at TV Fanatic. 
C. Orlando is a TV Fanatic Staff Writer. Follow her on Twitter.