Dr. Karen Delfs asked Aubrey out on a date ... Dr. Wells accused Christine of cheating ... and Aubrey's father may no longer be in exile after Bones Season 11 Epsiode 15.
Below, TV Fanatics Ashley Sumerel and Christine Orlando are joined by Pam from Castle and Bones Radio to debate whether they'll miss Karen, the report card mystery and their favorite scene from "The Fight in the Fixer."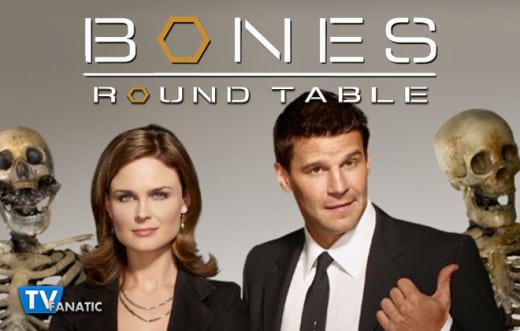 Dr. Karen Delfs is leaving. Will you miss her?
Ashley: So much! She's been a wonderful addition, and I would have loved to see more of her. 
Pam: Yes I will. I like her much better than I liked Sweets. She's quirky and goofy but quite intelligent I wanted her and Aubrey to have a crush on each other as it's more believable than he is with Jessica.
Christine: I won't miss her at all. I just never took to the character and find her more annoyingly weird than endearingly quirky. Unlike Pam, whenever Karen is onscreen I'm reminded of how much I really miss Sweets.
Was Dr. Wells over the line in examining Christine's report card?
Ashley: Absolutely. I can't stand this guy, and I have no idea why he would think such a thing was okay. Good grief at all the trouble he caused! 
Pam: Yes I thought that was a silly story line completely over the top for a first grader with the guys checking out the ink at the lab way to ridiculous.
Christine: Ugh. I hate Dr. Wells and this was definitely over the line, to the point of being mean. How insecure do you have to be to belittle a six year old?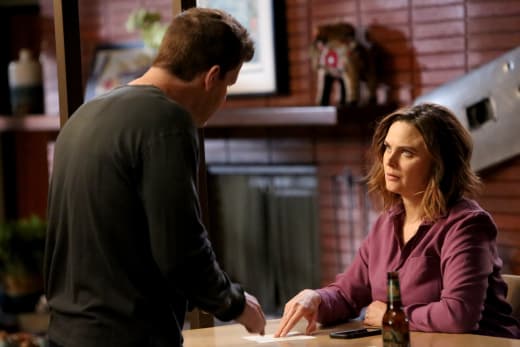 Any ideas on where the story with Aubrey's father is going?
Ashley: I have no idea, but I'm looking forward to finding out and to seeing a little more depth to Aubrey's story. 
Pam: Maybe his father is ready to pull a big scam in Washington DC and he wants to know how well his son  is established in the FBI. He could be curious about how his son turned out or he might be trying to figure out a way to use his son to his advantage.
Christine: I'm guessing we'll see him soon. I like Aubrey and I find his past interesting, as long as it doesn't take over some of the other stories. Where Brennan's father came back and was redeemed, I'm not expecting that with Aubrey's father. 
Did any one thing disappoint you in "The Fight in the Fixer"?
Ashley: I didn't love the whole report card thing. I thought it was adorable to see Booth and Brennan review her report card the beginning, but for it to be tested to see if Christine cheated? It felt like filler. 
Pam: Yes another opportunity lost between Bones and Booth in the romance department. We got a quick kiss between them but it's been a very, very long time since these two have shown the romantic side with each other physically. I miss that between them and wish they would quit telling us those things are done that we never do see. One of the major reasons I tuned in to the show was the relationships and they matter more than the cases.
Christine: If there was really a question, I couldn't believe that no one thought to simply call Christine's teacher and ask her to verify her grades. I was relieved when Booth finally showed some common sense.
What was your favorite quote or scene from this episode?
Ashley: Brennan telling Hodgins he was King of the Lab again. I'm also just incredibly relieved that Hodgins is over being such a jerk. It was so hard to watch.  
Pam: Karen and Aubrey were in the car on their way to interview the suspect and Karen was trying to find out why Aubrey turned her down for their coffee date. The exchange between the two was funny and sweet. She really likes this guy but he isn't interested. Too bad, they would be a quirky couple to explore.
Christine: I loved Booth and Brennan's joy over their daughter's report card. They're great parents and I find that part of the show very entertaining. 
Check back in on Thursday to see our review of Bones Season 11 Episode 16 and if you can't wait until then, you can watch Bones online here at TV Fanatic. 
C. Orlando is a TV Fanatic Staff Writer. Follow her on Twitter.