The Jeffersonian team was on the case of a truly creepy new serial killer on Bones Season 11 Episode 13.
Below, TV Fanatics Ashley Sumerel and Christine Orlando are joined by Pam from Castle and Bones Radio to debate whether Angela will leave Hodgins, what they think of little Christine and how they rank the latest serial murder case in "The Monster in the Closet."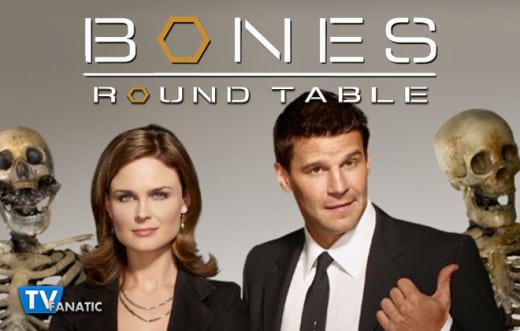 So far, how do your rank this new serial killer storyline?
Ashley: I really like it, as creepy as it is, so I'd give it a 9. I'm just really excited to see something like this again.
Christine: I didn't think they could make yet another serial killer story interesting but I'm all in! This one had some really creepy and exciting twists. The marionette corpses were truly horrifying and something I hadn't seen before. I'm really intrigued to see how this all plays out. 
Pam: It is creepy, as we know someone is now watching Brennan because she is getting too close to the killer's M.O. I am intrigued as to how this serial killer likes to use his murder victims as puppets and he lives with the bodies for months. Will we know this person as anyone from the lab's past?
Do you think there's any chance that Angela will leave Hodgins?
Ashley: I do. Michael Peterson said in a conference call that there would be "temptations," and I think that means trouble. Which makes sense, because Hodgins is currently unbearable. 
Christine: She might. Their home life (which we haven't seen yet) must be unbearable if Hodgins is this bad at work. If Angela thinks that environment is unhealthy for their son, she may leave Hodgins even though she loves him. At some point, I think any sane person would at least consider the option. 
Pam: No, she truly loves him and him her and she knows he is feeling sorry for himself and he is bitter. She may THINK about it at some point and even become bitter herself but in the end they will make it through as they have 100 percent real passion for each other.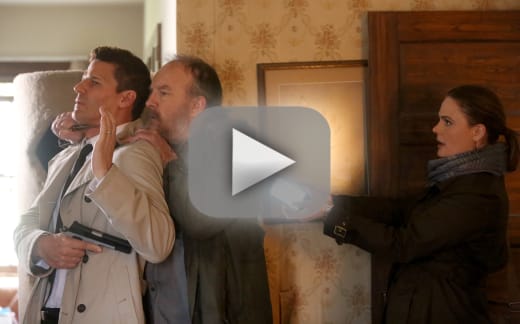 It appears that Cam has chosen Arastoo. Yay or nay? 
Ashley: Yeah it does, and I'm glad. I'm not that invested in their relationship, but I like that something positive is happening alongside everything else. 
Christine: I like Sebastian but in the end I just want Cam to be happy. My only request is that this be the last of the on-again/off-again for them because that gets tiring, fast. 
Pam: I was hopeful for Sebastian but if she wants Aristoo… He may have some doubts along the way now that she so easily moved on from him and him from her. I see problems ahead with the trust factor.
Does little Christine add to your enjoyment of the show or detract from it?
Ashley: I love her! I think she adds some fun moments to the show, and I like how she brings out the parenting issues for Booth and Brennan.  
Christine: She is one of my favorite child on TV right now. She's funny and smart and the perfect combination of Booth and Brennan. Watching Booth and Brennan at home at the beginning and end of an episode always leaves me smiling and wanting more.
Pam: I love little Christine and miss her and the baby Hank when they aren't in an episode. I love her chemistry with Booth and Bones. Did you notice the baby crib but no mention of Hank in this episode?
What was your favorite quote or scene from "The Monster in the Closet?"
Ashley: I really loved seeing Brennan working with the remains alone like we used to see in earlier seasons, followed by Booth coming in to help her. Moments like that really made me feel nostalgic for what this show used to be like.
Christine: I'm torn between Booth helping to figure out that the corpses were strung up like marionettes and the scene where they find Christine in closet. The look of relief on Booth's face spoke volumes to the fear he was feeling just a moment before. 
Pam: The last scene with Christine and Bones and Booth when they thought someone had kidnapped Christine, like the serial killer. And Christine is beneath the stuffed animal bears. I was pretty worried too, notice Booth's relief when he sees his little girl is fine and Bones she is crying. Such good acting from cast.
Check back on Thursday for our review of Bones Season 11 Episode 14 and if you can't wait for more, you can watch Bones online here at TV Fanatic. 
C. Orlando is a TV Fanatic Staff Writer. Follow her on Twitter.