Team Arrow said their final goodbyes to Laurel Lance on Arrow Season 4 Episode 19, but while trying to deal with their emotions, they also had to deal with a copycat Canary.
Join TV Fanatics Jim Garner, Kelly Thompson, Meg Bonney, and Lisa Babick as they discuss the aftermath of Laurel's death, including whether or not the Black Canary is really dead.
You can join in the discussion by commenting below!
Was "Canary Cry" a proper send off for Laurel?
Jim: As any send off can be for an under-used character. While I'm not sad they killed of Laurel if they couldn't figure out how to use her best, I am sad that we lost a strong female character on a show that is dominated by men.
Kelly: I guess. It seem like a send off episode. Laurel wasn't in every scene, we didn't see her have any flashback scenes with anyone other than Oliver so it just seemed like a normal after a major character died episode.
Meg: I guess. I wish we would have seen more of her being a lawyer, trying to save the city and less of her romance with Oliver. She was a badass. I would have preferred some scenes of her trying to save the city in the courtroom rather than her making out with Oliver.
Lisa: I agree with Meg. The Oliver/Laurel flashbacks were horrible, unnecessary, and made Laurel look like a pathetic loser. We should've seen all the good Laurel did for the city instead.
What did you think about Oliver telling those gathered at the funeral that Laurel was the Black Canary?
Jim: I'm not sure it would take a genius to figure out that Black Canary ran with a white guy dressed in green, a girl dressed in red, and a black guy in a helmet to figure out that Oliver, Thea, and Diggle are an exact match... Seriously it would be like taking Clark's glasses off of him.
Kelly: That was interesting and seemed like it was his way of saying no one will ever replace Laurel. The Black Canary is truly dead.
Meg: Good call! That was the only way to preserve her memory and make sure everyone knew that the Canary died with Laurel.
Lisa: I agree with Meg. Oliver needed to do some damage control after the fake Canary's shenanigans, and this was the best way to accomplish that.
Is the Black Canary really dead, or will Team Arrow find a replacement?
Jim: The way they were going on about how great Evelyn was with the sonic amplifier I thought we might be seeing a new Canary (lots of colors left, blue, green, etc.) in the works. Still haven't ruled it out given they talked her out of shooting the mayor.
Kelly: Yes, she is really dead, and yes they will probably replace. The show needs another female lead or at least another Team Arrow member. The replacement will be a new character, and I wouldn't mind at all if it was Vixen.
Meg: I agree with Kelly. I would love to see Vixen join them! I don't think they will bring Laurel back, but I would love to see some team ups with Black Siren when she is on The Flash.
Lisa: Laurel as the Black Canary is dead, but who's to say Evelyn won't pick up her mantle just like she did in the episode? I think we'll be seeing more of Evelyn.
Are you satisfied with everyone's reaction to Laurel's death?
Jim: Yeah, overall they reacted about like I expected. Kind of ironic that everyone on Team Arrow but Oliver felt like they were at fault.
Kelly: Yes, Diggle acted exactly like I thought he would, blaming himself for trusting Andy. Felicity's reaction seemed a little out there with her blaming herself. I would have liked a little more emotion from Thea seeing as they were roommates.
Meg: It was like they didn't super care right after. And um, why the French was Thea going out on a date when one of her close friends just died?! That was super random. And it was super weird that Felicity blamed herself. I didn't get that at all.
Lisa: I agree with Kelly about Felicity. Her reaction seemed fake. I don't even know why she felt the need to say anything about blaming herself. It seemed like everyone (other than Lance and maybe Diggle with his temper tantrum) was going through the motions.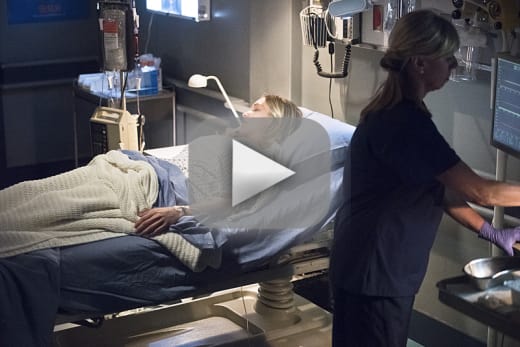 What's next for Lance?
Jim: Retirement? Private Investigation? Maybe join Argus? I'm not sure what they are going to do with him now.
Kelly: No idea. He needs to take a much needed break.
Meg: Is there anyway to get him a chip for the City of Light from The 100? He needs a nice numbing break for a bit.
Lisa: Lance is still in shock and denial. Anger is coming, and I don't think he's going to walk away quietly.
Arrow Season 4 Episode 20, "Genesis," airs Wednesday, May 4. Get a sneak peek below!