The Night Manager Season 1 Episode 2 Review: Inner Psychopath

Lisa Babick at . Updated at .
The cat and mouse game has begun.
On The Night Manager Season 1 Episode 2, Pine channels his inner psychopath to start working his way towards infiltrating Roper's inner circle.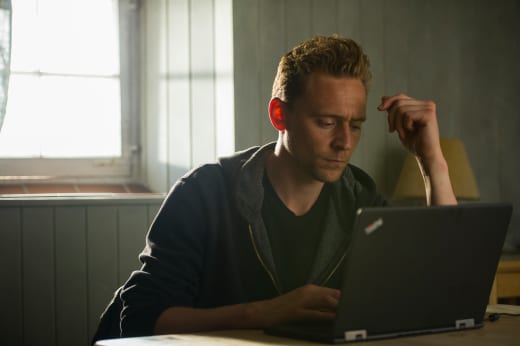 It's hard to believe there are only six episodes to The Night Manager with no plans for a second season. It's beautifully shot, intelligently scripted, brilliantly acted, and completely engrossing.
If you haven't seen it, you're missing a masterpiece. Seriously, it's the best mini-series you'll ever feast your eyes on.
Living the life of luxury isn't always what it's cut out to be. There are underlayers of sadness, at least for some.
Jed doesn't seem like she's enjoying her life with Roper. At least in the opening shots. Indecisiveness about lingerie, pill popping, and tears do not project the happiness you'd expect from someone in her position. I guess it doesn't help when your mother rings you up and calls you a "dirty whore."
Jed has apparently left more than just her mother behind. There's an indication she's abandoned a child, too. But, that's okay, she has Danny, Roper's boy, to help assuage her guilt.
It's quite lulling watching all the goings on at the seaside restaurant where Roper has taken his crew and their families for dinner. There's a lot of laughing, and talking, and toasting. 
It's just a bunch of well-off people enjoying their life. Roper doesn't seem like such a bad guy. Rather, he seems generous and genuine.
The pills Jed popped are clearly taking effect. She's all smiles. She's loving her life in Mallorca. All the awfulness that might have crashed through her mind before at the compound has disappeared. Right now, she's living in the moment, dancing with young Danny, and it's perfect.
And then in a moment, it's shattered.
Robbers decide to crash Roper's party. They want money and more, but what's available is not enough, so they will be taking Danny until Corcoran can bring them more. 
Roper handles all the craziness with ease. He's extremely calm for man whose son is about to be taken from him. I'm guessing this isn't the first time he's had guns drawn on him. In fact, his entire crew is rather calm about it all. Been there, done that.
Jed is beside herself, though. She begs the kidnappers to take her instead of the boy. But her pleas fall on deaf ears. 
It's a frightening and mesmerizing scene. But, just as the kidnappers are about to take off, they hear a noise and turn around. Behind a door, a glassy eye stares at them. 
It's Pine.
What's beautiful about this whole set up is that you are lulled in Roper's world. It's easy when everything is so idyllic. What we've seen of Roper, so far, doesn't suggest he's anything more than a successful businessman. But, yet, there are dark undertones around him, in his language, and his mannerisms, and in the way he looks at people. They're there in the men that surround him, especially Corcoran.
If you met these guys in real life, you'd get a feeling about them, and it wouldn't be a good one.
So, back to Pine. Why is he at this seaside restaurant where Roper happens to be?
Flashback to six months earlier with Burr trying to get Pine to join her team.
Burr is incredibly convincing. She's raw, gritty, and in your face. She's as real as you and me. A complete contrast to the picture perfect Roper.
She hates Roper with a passion, and plays on Pine's guilt to get what she wants. She knows she's found the right man. It's just a matter of him tapping into his inner psychopath to get the job done. The woman is cunning.
Pine agrees to help her cause, and she sends him to Devon, England, so he can begin to build his criminal identity.
It doesn't take Pine long to establish himself as a badass in the quaint village. For a guy who doesn't show a lot of emotion, he's rather efficient in getting things done he needs to get done. He's definitely putting on the performance of a lifetime, just like Burr wanted.
Pine is loaded with understated layers. He can turn himself on and off at the flick of a switch. It's fascinating to watch. Yet, we know nothing about him, other than that he's worked at a hotel. I can't wait for the mystery of Pine to be revealed.
So, Pine has finished his story building in Devon, and now he's established himself in Mallorca as a sous chef at a restaurant Roper frequents.
Pine saves Danny but in the process gets beat up pretty bad. Sure, it was all an elaborate ruse set up by British Intelligence, but Pine took it too far, and the agents beat him to a pulp. 
You have to wonder what would have happened if Pine wouldn't have done it his way. I don't think he'd be alive if he'd gone the half-ass route the agents wanted.
With all the people that Roper's met in his life, it was sort of amazing that he remembered not only what Pine's real name was (definitely not Quince from Devon), but where he was from. Pine obviously made an impact on the rooftop in Switzerland.
So why did Roper decide to take care of Pine? Is he so bored that he wants to unravel the mystery of a simple hotel manager who somehow ended up a sous chef and saved his son?
Corcoran isn't convinced of anything. It's obvious he doesn't trust Pine, and thinks there's something completely off about little Danny's savior. I'm guessing that he's going to be the biggest thorn in Pine's side throughout the rest of this adventure. Corcoran is definitely not someone I'd want to mess with. He's more scary than even the idea of Roper.
In very short order, Pine has accomplished part of his goal. He's entered the lion's den, but whether or not he'll get eaten alive before finishing what needs to be done remains to be seen. At least he's got Jed and Danny on his side. For now, anyway.
What did you think of the second installment of The Night Manager? Hit the comments and share your thoughts! If you've missed the first installment, you can watch The Night Manager online right here via TV Fanatic.