The Night Manager Season 1 Episode 1 Review: Episode 1

Lisa Babick at .
What are you prepared to do about it?
Though the question is posed at the end of The Night Manager Season 1 Episode 1, it's a serious question prompted by some serious circumstances involving hotel night manager, Jonathan Pine who made a decision that cost someone their life.
He quickly learns that you just don't cross "the worst man in the world."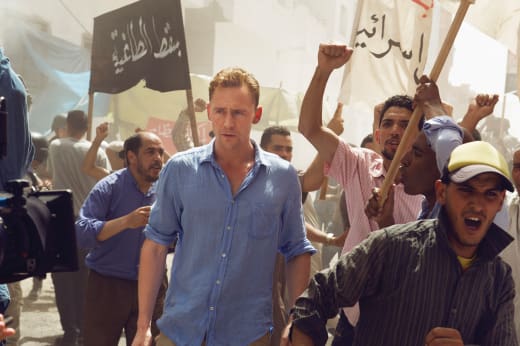 Pine isn't afraid of much. He walks through angry mobs during the 2011 Arab Spring with hardly a flinch to get to his job as night manager of a Cairo hotel. Many of the guests are nervous, but Pine is calm, cool, and collected. 
He takes his job seriously. His sense of duty, strong. He'll go above and beyond to make his guests happy. When he's approached by Sophie Alekan he wants to resist, but he really can't. Something draws him to her. She intrigues him. It's not just her beauty, but her circumstance as well.
She's a trapped woman, the lover of Freddie Hamid, a wealthy and powerful Middle Eastern businessman. She's not happy about her life, but she has options. Like important papers implicating her lover in some dirty dealings with a well-known "philanthropist" by the name of Richard Onslow Roper.
Papers she ends up asking Pine to copy and place in a safe, and if something happens to her, to deliver them to his friend at the British Embassy. She never said to give them to his contact before something happened to her,  but she knew he would anyway. it's the only reason she had him make the copies in the first place.
His reasons for turning the papers over aren't really explained until the very end of the hour during his discussion with Angela Burr, but even then it's not completely clear why he did it. It definitely has something to do with his time in Iraq, but we're not given all the answers. Not yet, anyway.
Pine may have thought he saved the world when he turned those papers over, but all he did was create a mess. One that he can barely forgive himself for. He wanted to be a hero, but failed.
When he saw what happened to Sophie because of what he did, he tried to make things better, but he only made them worse. Whisking her out of the hotel, away from Hamid's grasp may have seemed like a good idea, but he didn't realize the extent of Roper's influence.
British intelligence didn't want to have anything to do with her, even though they greedily took the information. 
The slow and seductive dance that had been happening between Sophie and Pine ended abruptly. The man she thought would give her the freedom she so desired, failed. He had put on another face when he called her to tell her he couldn't get her out of the country. It was like a slap in the face to her. But then again, who was using who?
Sophie accepted her fate when she came back to the hotel. Pine's reaction was conflicted when she came to the desk to get her key. The little twitches of emotion that crossed his face belied his need to stay professional.
Would he have been able to save her life if he followed her? If he had, he would never had received the call from Angela, and, more than likely, he would have been just as dead as Sophie. His agony over her death was real, and when the cop said that maybe he was the one who killed her, it was obvious he believed it to be true.
It's no wonder he escaped to the mountains of Switzerland to work at a new hotel. But yet, four years after Sophie's murder, in walks the man responsible for all that agony: Richard Roper. What are the chances of that happening?
It's surprising that Pine didn't just run out of there screaming, especially after introducing himself to Roper (seriously, I thought he was going to say Pine, Jonathan Pine), and Roper giving him that look like he knew him from somewhere. 
It was almost unreal how Pine just jumped right back into the danger zone, trying to eavesdrop on every conversation and take in every detail of Roper and his crew. It was also pretty ballsy for him to lie about the package and then check out its contents before finally having someone deliver it to Roper. 
Pine certainly likes to play with fire. It makes you wonder if he was more than just a soldier in the Iraq War. No matter how calm Pine appeared to be in his scenes with Roper, the tension was taut. I kept waiting for Roper to drop the bomb saying he knew exactly who Pine was, but it never happened.
Pine risked his life to play with Roper, not even knowing if his efforts were going to go anywhere.
But they did.  Angela feels as bad as he does about what happened to Sophie. She wants to bring Roper down and wants Pine's help to do it. Is he prepared to take the challenge?
The Night Manager is an adaptation of John LeCarre's  1993 novel of the same name. This 6-part miniseries event previously aired on the BBC earlier this year.
What did you think about "Episode 1" of The Night Manager? Are you hooked? Hit the comments below and share your thoughts.
If you want to relive the excitement, you can watch The Night Manager online any time, right here via TV Fanatic!
"Episode 2" of The Night Manager airs next Tuesday, April 26 on AMC at 10/9c. Be sure to check back here for our review to share your thoughts.
Lisa Babick is a staff writer for TV Fanatic. Follow her on Twitter.