The Blacklist Season 3 Episode 20 Review: The Artax Network

Sean McKenna at . Updated at .
Even with the characters grieving in their respective ways and a funeral held for Liz on The Blacklist Season 3 Episode 20, it's still hard not to keep wondering if Liz is actually dead.
I mean, was there actually a body in that coffin?
If the show decided to kill Red, I'm sure I'd be pretty doubtful of his demise, as well. Any of the other characters, as much as I like them and have gotten to see them get some chances to be fleshed out, I probably wouldn't question their deaths.
It would be tragic and sad to lose someone like Aram or Harold or any of the FBI team, but I wouldn't start guessing if/when they might reappear.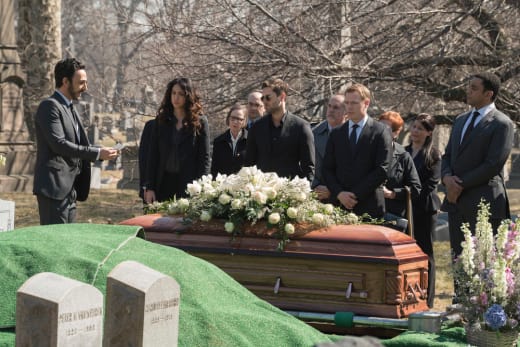 And that really just goes back to the fact that Red and Liz have been at the center of The Blacklist. Taking one of them out really changes what the show has been so focused on, and it still feels like there is story to tell when it comes to Liz, Red and the past that connects them.
That certainly felt evident when Red went to speak with Liz's grandfather and Katarina's father, Dom.
It wasn't a surprise that Dom blamed Red for everything, and he seemed not too interested to see Red at his little hideaway.
And yet, the two managed to sort of bond anyway.
Red was looking to Dom's time after having lost his daughter as a point of focus for losing Liz. He needed something to help him get back on track after feeling so broken, even despite Dom telling him he couldn't help.
I did think that Red was all fixed up and ready to go by the end of The Blacklist Season 3 Episode 19, but I guess he just needed one more episode to regroup before moving forward.
It was great to see Brian Dennehy in the role of Dom, though I almost didn't recognize him right away. He played well off of James Spader during the hour, and I do wonder if we'll see him again.
There's definitely still more to the Masha/Katarina story.
But that also seems to go beyond just whatever connection there is to Red. The person behind Liz's death could open the door to an even bigger threat and an interesting new direction for the series. And maybe that might reveal more insight into Liz, etc.
The FBI team investigating the Artax Network and Tom going on a mission for Harold was a great way to further the new mystery and new journey.
Like, who was that woman Tom photographed? I know the actress is Famke Janssen, but that's not actually Katarina, is it?
And what's with the covert teams that Harold was told about? The secret missions even above his pay grade?
There were some great threads introduced, and I'm excited to unravel the mystery.
But I do wonder how Tom is going to manage to balance his new life as a dad and keep his foot in the world of spies and danger. Guess he needs to invest in a Baby Bjorn carrier. It'll definitely keep his hands free to fire two weapons while taking down the bad guys.
I am curious though how much of this new plot will stay on The Blacklist and how much of it will wind up on the potential spinoff. That could also drastically change just what is in store for The Blacklist.
That said, it was great to see the larger story moving forward even as the characters were still trying to cope with the loss of Liz. There was a solid balancing act that didn't just jump ahead and ignore such a major death as Liz to get to more cases of the week.
I'm still not 100 percent convinced that Liz is actually done for the show, but I can't wait to find out what comes next after some of the teases during the hour. Oh, and now that Red's ready to help, good luck to the people willing to cross his path.
The exciting road to the finale doesn't seem to be slowing down anytime soon.
Who was that woman Tom saw? Will the team find Liz's killer? What's next? Sound off below, and watch The Blacklist online right here at TV Fanatic.
NOTE: The Blacklist Season 3 Episode 21, "Susan Hargrave," airs May 5 at 9 p.m.
Sean McKenna was a TV Fanatic Staff Writer. He retired in May of 2017. Follow him on Twitter.