The Blacklist Season 3 Episode 18 Review: Mr. Solomon: Conclusion

Sean McKenna at . Updated at .
Did that really just happen? Did The Blacklist actually just kill of a main character?
The Blacklist Season 3 Episode 18 pulled off an intense hour with a shocking twist that I don't think anyone saw coming.
Liz Keen is dead.
Can you kill off a character who is essentially one half of the show?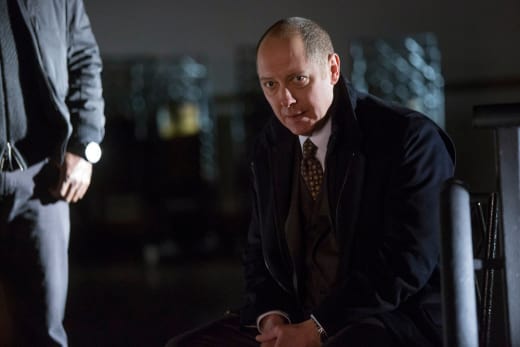 This was one of those episodes that seemed pretty set on the chase and the action from the outset and that would probably be it. And we've seen Liz and the gang get into countless sticky situations, and usually come away clean. So I wasn't that worried.
Even one of my complaints about The Blacklist Season 3 Episode 17 was that none of the main characters even managed to get hit during that firefight in the church. The stakes just never felt there, and I never worried that anyone was actually in any danger.
So it made for a jaw dropping moment that Liz, the main lead besides Red, was actually killed off. I even kept waiting for her eyes to flutter open and everything to be OK like Dembe said.
I was unsure if the baby might make it, so there was definitely tension involved there when the child didn't immediately cry. It made me wonder what direction the show might take if Agnes didn't live.
Like, would it further separate Liz and Red's relationship? She certainly was upset when he first tried to enter. And I did like that Mr. Kaplan called Red out on putting Liz and the baby in danger. But I never actually thought that Liz would be the one to die.
Just watching each character react to such a major death was tough to watch.
And James Spader delivered another mesmerizing performance as he reacted to the doctor trying to save Liz, to stumbling to his car, to letting Tom know at the very end.
It makes me wonder what his retaliation will be and the direction of the show in general.
Plus, does it matter that the mystery surrounding Red and Liz's connection wasn't ever revealed? Does it matter that Red never told Liz?
I am a little frustrated by that.
Granted, it was a bold decision by the writers to kill Liz off, and a crazy tragic one considering everything that's happened. Red couldn't protect Liz.
And I did like that it wasn't in the season finale. It was a total curveball.
Now, on the flip side, I can't help but wonder if we're going to get thrown another curveball and that Liz isn't actually dead. Who's to say that Red and the doctor didn't set something up to make everyone think she's dead? I feel like I've seen another movie or show where someone is given something to slow their heart rate down to make it appear dead and then they jolt them back later on…
I mean, with all the buildup surrounding their relationship, it just leaves us hanging. And maybe that's the point? The unpredictability? That even when you've got Red on your side, not everything is a happy ending?
That's certainly a dour direction, but I'm intrigued.
I'm also still slightly suspicious the show is trying to pull a fast one, but Red and the doctor's emotions after her death seemed pretty real and not just an act.
This episode really shook things up for The Blacklist Season 3. As much as it's sad to lose a main character, and one that was so connected to Red, I'm interested to see where this show's journey is going to take us.
Let's just hope the writers have a solid plan in place going forward. The next couple episodes will be really telling when it comes to how the aftermath of Liz's death is handled. We are definitely in unchartered waters now...
Did you think Liz would be killed off? Is Liz actually dead? What's next for The Blacklist? Sound off below and be sure to watch The Blacklist online now.
NOTE: The Blacklist Season 3 Episode 19, "Cape May," airs April 21 at 9 p.m.
Sean McKenna was a TV Fanatic Staff Writer. He retired in May of 2017. Follow him on Twitter.