The Blacklist Season 3 Episode 17 Review: Mr. Solomon

Sean McKenna at . Updated at .
The biggest mystery The Blacklist Season 3 Episode 17 left us wondering about has to be what was on Aram's wedding playlist.
I mean, did he decide on the B-52s or not?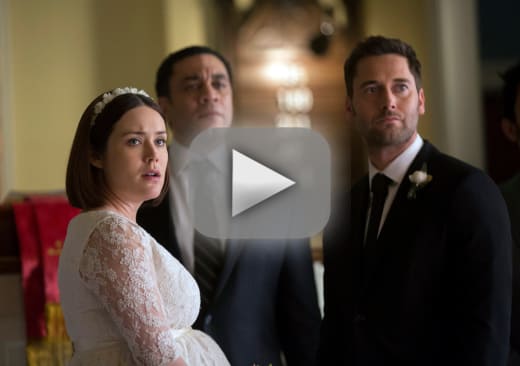 Really, Aram's general enthusiasm for Tom and Liz's wedding, from worrying about fitting in his suit to fixing up the getaway car, was definitely a highlight. A little humor amongst all the drama and action is always welcome on this show, and Aram delivered.
In fact, this return from what felt like a lengthy hiatus was an engaging and impressive way to kick things off again.
Rather than lead things off with some random blacklister, the focus on Mr. Solomon made it feel like something more was at stake.
But it was the clever twist that he wasn't actually after a nuclear weapon and instead after Liz that really tied everything together. I really enjoy when an episode can take that larger story and connect it to the particular blacklister.
At the same time, it was great to see Liz take the case to the FBI task force but not actually participate. It would have been so easy for her to postpone the wedding and dig in to what she's usually dropped everything for.
Instead, she was set on the wedding with Tom and no case, or Red's protesting, would stop her from getting married.
Though, who thought that Tom might not even make it to the wedding when Gina and his former boss showed up? It was a little jarring considering how fast the moment went from the capture to Gina shooting him, but I guess it ties up some storylines on that end.
I did think that maybe Red might have set Gina after Tom, but I guess Mr. Solomon kept him more than busy.
And we all probably could have guessed that the actual wedding wasn't going to go smoothly. That was even after Tom had some concerns and Red tried to convince Liz to stop the wedding.
The big set piece was definitely the shootout, and while entertaining to watch, it became a little unbelievable when none of the main characters got hit by a bullet. Sure, all the random bad guys go down in a blaze of gunfire but no one seemed to really get injured.
Yes, some of Red's nameless crew were killed and that lady was shot, so there were casualties, but it wasn't really anybody that we've grown to care about. That took some of the tension of the situation away.
But it was intriguing that it wasn't the Cabal that was after Liz. It was Mr. Solomon's mysterious rescuer.
Was it actually Liz's mother? It certainly seemed like that, but Liz's guess that it was her is making me second guess who it might actually be.
At the same time, it was a bit frustrating that Red refused to tell Liz any information until after she was safe. Why wait?
It just felt ridiculous that he couldn't just divulge the information instead of dragging out that particular reveal for a few more episodes.
Still, that is what Red does, keeps his secrets close to the vest. I just wish in that moment he could have just given a morsel of a clue.
Either way, the prospect of a new powerful player in the game continues to be an enticing one and gets me guessing about who it is and just what is next.
Why does this person want Liz?
And while this episode was clearly just one part of a larger whole and has me looking forward to its particular conclusion, it also added to that larger story. I'm very interested to see how the rest of The Blacklist Season 3 plays out.
Now perhaps Aram will reveal his playlist next episode?
Who do you think is after Liz? Will Tom and Liz get to live happily ever after? Sound off below, and catch it all again when you watch The Blacklist online at TV Fanatic.
NOTE: The Blacklist Season 3 Episode 18, "Mr. Solomon: Conclusion," will air April 14 at 9 p.m.
Sean McKenna was a TV Fanatic Staff Writer. He retired in May of 2017. Follow him on Twitter.