Can Ian Somerhalder have a do-over, please?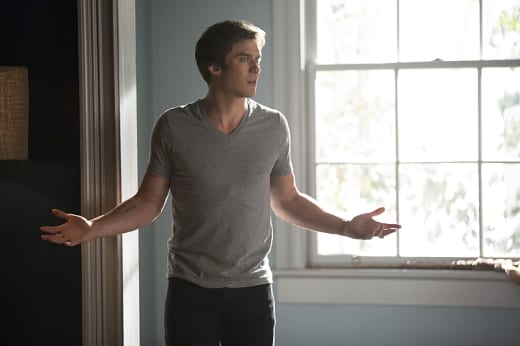 The actor made pretty big news last weekend at Nashville's Walker Stalker Con when he stated very simply that The Vampire Diaries would come to an end after Season 8.
"We have decided to do one last season to really do the story justice," Somerhalder said plainly, not too long after The CW renewed the long-running drama.
Makes sense, right?
Ratings are down. The series has been moved to Friday nights. Kat Graham has made it clear that Season 8 will make her concluding run on the show.
That's all true. And, if we were to place a wager, we'd still say that The Vampire Diaries wraps next year.
But that doesn't mean it's official.
"Last weekend I talked to an audience at a Q&A about the end of #TVD and how excited I was to make what I believe - my last year - be as great as possible," Somerhalder Tweeted on Wednesday, adding:
"Somehow in my infinite wisdom and end-of-season foggy brain, I managed to make it sound like the show was coming to an end. Cut-to the press running stories that the show would be done after Season 8."
Well, yeah. That is what you said.
Is it not the case?
"Thing is, the people who actually make that decision (the CW and WB) haven't made it yet!
"So let's take things one step at a time: Season 7 wrap, vacation, lots of sleep, let the writers get started on Season 8, and then we'll all see where we go from there.
"Until then, much love."
What do you think, though, fans?
SHOULD The Vampire Diaries continue past Season 8? Or has the time come for Julie Plec and company to write toward a more immediate end game/
Matt Richenthal is the Editor in Chief of TV Fanatic. Follow him on Twitter and on Google+.