There's really not a lot to recommend Grimm Season 5 Episode 15. A youth-stealing Wesen gave a fountain of youth cream to a doctor, who predictably used it on himself despite repeated warnings not to. Conveniently (extremely so), both ended up dead by the end of the episode.
It would have been far more interesting if one or both of them actually had to deal with the fall-out of their conspiracy. You know, the drugging, assault, definitely non-FDA approved beauty treatments...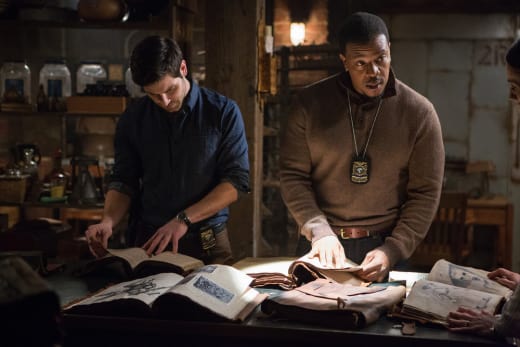 I also feel compelled to mention that their supposed old-age make-up jobs left, shall we say, something to be desired.
On a more plot-related note, let's take a poll: a guy comes up to you in the mall, says you are hot, you should be a model, and he wants to take photos of you because he's a professional photographer. Do you go to his studio, or blow him off because he's obviously a creeper?
I don't know about you, but I am definitely not going to his studio, regardless of how legitimate he makes himself out to be.
The episode only got actually interesting at the end when Rosalee went undercover. I loved it when she smacked the doc in the face with that tray! And, admittedly, while I was expecting the photographer to end up dead, I wasn't necessarily expecting it to happen like that.
Renard announcing his candidacy for mayor was not altogether surprising, though I really, really wish he'd stop acting like an idiot and just tell Nick and company the whole story of Black Claw's involvement. Who does it serve by keeping them in the dark? Oh, that's right. Black Claw.
If Renard is not later revealed to be playing Black Claw, I will be unbelievably disappointed. He has never been one to suffer fools, and he hates being used. Also, he's not a complete idiot. Anyone else note the creepy possessive smile on Rachel Woods's face as she stood by his side at the announcement?
Eve is definitely making use of her Hexen half beyond just telekinetic tricks; I wonder if Meisner knows that she has that spellbook and hat?
I am curious to see what Eve does while disguised as Renard. Besides, you know, almost certainly freak the living daylights out of our heroes at some point. And it was nice to get treated to shirtless Sasha Roiz, so thank you for that, though Bitsie Tulloch's head on his body was more than a little freaky.
A few notes in closing:
One sign Forbes was a hack? He didn't wear gloves while applying the cream. This is basic stuff, people. Of course, that may have been a sign of his burgeoning psychosis.
Eve's transformation into Renard looked really painful, which was not altogether surprising given their completely different body types (and, you know, genders).
Random thought: Is Eve capable of, ah, engendering a child while disguised as Renard? Would it be her child or Renard's? On that note, is Adalind or Juliette the mother of Kelly, genetically-speaking?
Rosalee mentioned Spinnetods, spider-like Wesen which appeared in Grimm Season 1 Episode 11, "Tarantella."
If you missed this episode, you can always watch Grimm online to catch up. Be sure to check back on Friday, April 8 after Grimm Season 5 Episode 16, "The Believer," airs at 9/8c on NBC.