Game of Thrones Round Table: Did It Live Up To The Hype?
Paul Dailly at . Updated at .
That was a whole lot of scheming and backstabbing, right?
On Game of Thrones Season 6 Episode 1, we picked up with all of our favorite characters at very interesting times. 
TV Fanatics Caralynn Lippo, Meg Bonney and Paul Dailly discuss Jon Snow's fate, Melisandre's shocking moment and Cersi's revenge.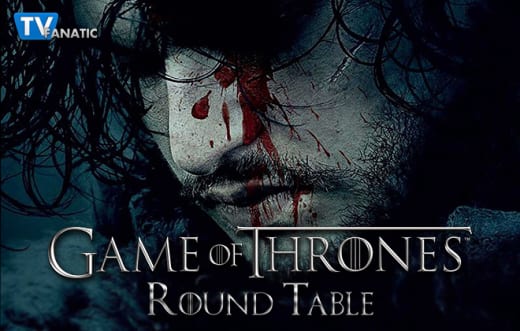 Jon Snow is dead. React.

Caralynn: Dead for now. I really don't expect him to stay dead permanently. I think he'll be resurrected at some point, possibly by Melisandre. I'd be shocked if he was permanently-and-for-real dead.
Meg: I am with Caralynn. I think that we will see him pop up again but he won't go by Jon Snow or something. I think it's safe to say that the Jon Snow we knew and LOVED (and I really did) is gone for good. 
Paul: I have a feeling that Melisandre showing her age wasn't for nothing. She's up to something and it has a whole lot to do with the return of Jon Snow!
Melisandre is old. How did you feel about this development?

Caralynn: Definitely didn't see this one coming at all! Wow. I'm so intrigued. I just want to know the mechanics of at all and her history. What is she, exactly? How old is she? What type of glamour allows her to appear young and beautiful in the presence of others? This is definitely one of the more intriguing Game of Thrones moments to happen in a while.
Meg: I loved this! So that choker that she wears seems to be what does it. Is he going to give that to Jon Snow or will she just use her magic on him? Either way, I am super into this story-line. Usually whenever she is around, I just roll my eyes but now she is super interesting. I hope we get some back story on her. 
Paul: It was a crazy twist that saved a somewhat slow paced hour. Melisandre has always been an intriguing character and I can't wait to see how all of this plays out.
How long will Khaleesi be stuck with the Dothraki army?

Caralynn: To be honest, Daenerys' storyline has been my least favorite for quite a while, so I don't really care. This is at least something different for her to do. Her storyline last season was incredibly dull.
Meg: Hopefully not long. I am ready for her to get on the damn dragon and go to Westeros. She has been doing whatever over in the desert for way too long. I don't want her with the Dothraki. I don't want her with the slave cities. I want her to get on with it. 
Paul: Not for long. Dragon will work his magic and return her to her friends very soon, but it remains to be see just what she will do this time round. She needs to hit up King's Landing and give Cersei some shade.
Will Cersei take down Ellaria this season, or will that be a series ending moment?

Caralynn: Hm, I'm not quite sure that Cersei will take Ellaria down at all. I don't feel like the show is positioning Cersei to have any kind of a heroic moment. Cersei has mostly been reprehensible, so I don't think she'll have any kind of satisfying conclusion like that. More likely, I see her getting killed instead, not having avenged her daughter at all.
Meg: I still think that Cersei is in the wrong so no. It really sucks that her daughter was stuck in the crosshairs of this feud but I don't think there is any way in the world for Ellaria to be killed by Cersei. She might order it but she is not a doer. I also don't think that Cersei would go there so it would have to be the Sand Snakes going to Kings Landing to kill the Cersei. 
Paul: As much as I believe that Cersei is in the wrong, I think she's going to be one of the characters that makes it out of all of this alive. I honestly think Cersei is going to be the one to want to kill her and Jaime will ensure that she gets to ride that out.
Which storyline are you enjoying the most?
Caralynn: Sansa and Brienne's, as of now. I really want Sansa to continue to gain agency and actually do things. I also just love Brienne. She's one of my favorite characters and is such a badass. Anything involving more Brienne is a winner in my book. 
Meg: Same! I loved this moment. Game of Thrones makes us WORK for these happy moments and this was totally worth it. And I really liked seeing Reek get back to being Theon. That was great. More of that please! 
Paul: I wasn't all that satisfied with the Brienne and Sansa storyline. Sansa didn't even deserve her help after refusing it before. My favorite plot has got to be Ellaria and her band of sand snakes turning into bad asses. I hated them in Game of Thrones Season 5, but their storyline just seems to be so much more meaty this time round and I can't wait to see how it plays out.
Here's your first look at Game of Thrones Season 6 Episode 2: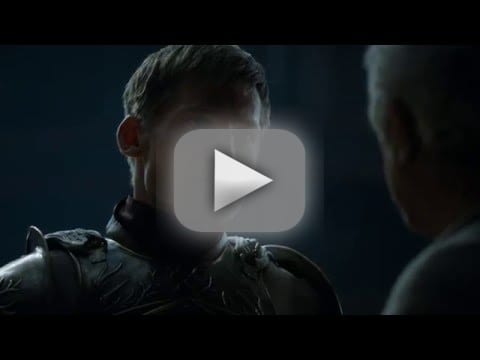 Paul Dailly is the Associate Editor for TV Fanatic. Follow him on Twitter.