Game of Silence Season 1 Episode 3 Review: The Uninvited
Carissa Pavlica at .
There is a possibility I have just begun hate watching Game of Silence.
The corruption that started at Quitman has permeated so far outside the gates of that little facility that it's a bit unbelievable. 
By the end of Game of Silence Season 1 Episode 3, my hatred for the bad guys became over the top, and when you can't find any empathy for the other side, the drama begins bordering on cartoonish.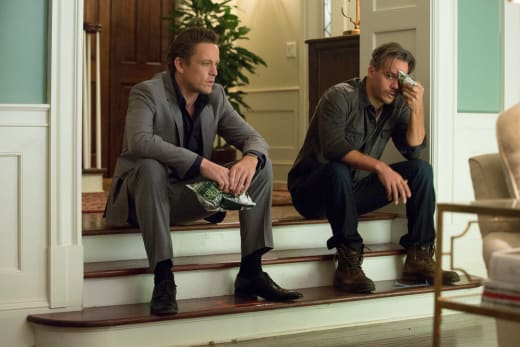 The story itself is still compelling.
I'm still watching to find out exactly what happened to the boys at Quitman. It must have been atrocious. Gil is worried to death about photos out there of him as a kid, for goodness sakes. Nobody will interested in those unless what was in them stands the test of time. And we can guess what those might entail.
Maybe I don't want to know what went on at the parties, now that I think about it.
It's impossible not to want the lot of them to get revenge on Carroll. Why should he be floating through life after what he's done? 
More importantly, why should he be continuing to get away with the same garbage he did on a smaller scale at Quitman on a larger, state-wide scale? Because if he does it on a state-wide scale, we can assume it will only propel him even further.
Just no.
What is not pleasant to watch, and what I have never personally enjoyed, are the detailed journeys we are forced to take into the lives of psychotic thugs. 
After four episodes, it's clear now that there is nothing about Carroll, Terry or any of his minions that can redeem any of them. They're all garbage. I mean, Terry had his minions set out their own kill cloths. WTF is that about? 
Now we had to discover Det. Liz is in their pockets, as well. Is there anybody working for the town who won't be shown to be working for Carroll in some capacity? 
It's great that the old friends can pretty much kill anyone and not feel a tiny bit of remorse. As an audience, we can give them a free pass to do their worst. 
Get out the chainsaws, for crap's sake. Go for it. Would it be any more ludicrous than thinking any one man could have that much sway over a community? 
But that's not what I was hoping to watch when I first turned on Game of Silence. Maybe the tell was in the title. It really is just a game. There is not much reality to this story. It is what it is.
And what it is is a story about kids who got the shoddiest end of the stick after making a mistake when they were kids. They were subjected to the worst of humanity, and the lesson they learned was if you remain absolute garbage, you'll have a great life and go places.
Nice lesson. 
I suppose I should be relieved I find Jackson, Shawn and Gil so compelling considering they really should have ended up like Terry. He's the only one who took the actual experience of Quitman and put it to good use. 
At least Marina is aware of Jackson's old friends now. But Jackson didn't share just how close they were, and when Marina asked him if he told her everything, I got the impression from the look on her face, she's not sticking around if she discovers he's kept anything from her.
And whoa boy, is Jackson keeping a heap load from his future wife.
At this point, I'm ready for the foursome to put on armor and pick up the wildest weapons to go crazy on the thugs asses (including Carroll). I would love that. It's not going to happen, but it would have me cheering from home.
How about you? Are the bad guys too bad? Do you like your vicious villains with a little more subtlety? Drop me a line.
Remember, you can watch Game of Silence online if you are wondering what in the heck I'm talking about! Catch up now!
Carissa Pavlica is the managing editor and a staff writer for TV Fanatic. She's a member of the Critic's Choice Association, enjoys mentoring writers, cats, and passionately discussing the nuances of television and film. Follow her on Twitter and email her here at TV Fanatic.