Elementary Season 4 Episode 19 Review: All In

Kathleen Wiedel at . Updated at .
Welcome to Elementary Season 4 Episode 19, a comedy of errors that resulted in Joan Watson discovering she had a half-sister she never knew! For the life of me, I still don't understand why Hobberkin decided it was a good idea to bust in and shoot at Lin Wen.
Really, though, you should just ignore the logic holes (you can probably drive a truck through them!) and just enjoy the banter between Lin and Joan.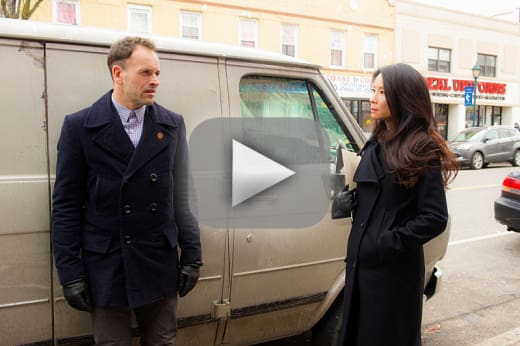 Frankly, it was pretty obvious that the whole thing would come back to the Semper Apex servers as soon as Mateo Pena (guest star Daniel London) started going on about informational security for international interests. And then they specifically brought up the lack of phone reception in the server room!
They might as well have hung up a neon sign that read "LOOK HERE FOR MOTIVE!".
In any case, the spies failed spectacularly, getting busted due to in part their own plan to divert suspicion away from themselves! Think about it: if Hobberkin hadn't taken a shot at Lin Wen, they would have gotten away with everything, quite possibly. 
It was entertaining to see Tim Guinee return as NSA Agent McNally, who loves to mess with Sherlock. I get a perverse enjoyment when characters don't automatically do whatever he says, and this time McNally got to take down a Turkish (-ish?) spy ring!
As mentioned above, though, you should really set aside the logic of the case and simply sit back and listen as Lin and Joan snark back and forth:
Lin Wen: You think he was two-timing you!
Joan: Say he was. That would mean he was also two-timing *you*.
Lin Wen: True, but it's not like he and I were exclusive.
Joan: You said you were about to move in together!
Lin Wen: Sure, but that wouldn't have meant we had to stop having fun!
The look on Joan's face at the end of that exchange was priceless. This particular exchange had me snickering, especially in light of the truth of the matter, that Lin didn't even know Mycroft and was, in fact, Joan's half-sister.
Sherlock himself was not left out of the snark-fest, either:
This is not a shelter for wayward and wounded realtors. I've got no desire to get shot by your pursuers. Or drawn into whatever complicated drama has drawn you here.

Sherlock
The fact that Joan and Lin are sisters really explains (more or less) certain oddities, like Lin rifling through Joan's closet. Honestly, I'm not sure how I would react if I was suddenly sharing flat-space with a woman who is actually my half-sister that I never grew up with.
I don't think that I'd search through her closet, though. That's just tacky.
Part of me, though, keeps waiting for someone to show up at the brownstone, claiming to be Sherlock's/Mycroft's/Morland's long-lost lovechild that they never knew they had.
A few final thoughts before I turn the discussion over to you:
Sherlock used the British term "trainers" to refer to athletic shoes. It tickled me.
Daniel London previously appeared in Minority Report as Wally the Caretaker. Tim Guinee, meanwhile, last appeared as NSA Agent McNally in Elementary Season 4 Episode 1, "The Past Is Parent."
If McNally really wanted to warn Sherlock off of the case, popping up on the laptop himself, wiping the data, and killing power to the brownstone are altogether counterintuitive and far more likely to galvanize Sherlock... as actually happened here.
Be sure to check out our Elementary quotes page for some of the notable lines from this episode.
Morland Holmes did not appear in person in this episode, but Joan did apparently speak to him off-screen to get an update on Mycroft.
So, what did you think of "All In"? Were you surprised that Lin was revealed as Joan's half-sister? Would you like to see more of her? Were you glad to see Agent McNally make a return appearance? Let us know in the comments section below!
If you missed either this episode or Elementary Season 4 Episode 20, you can watch Elementary online to catch up! Elementary Season 4 Episode 21, "Ain't Nothing Like The Real Thing," airs Sunday, April 17, 2016 at 10/9c on CBS.