Crazy Ex-Girlfriend Season 1 Episode 17 Review: Why Is Josh in a Bad Mood?

Christine Laskodi at . Updated at .
Is there an IUD that can stop the feels that I have for Rachel Bloom?
I'm sorry. You'll have to excuse the inner fan-girl in me as I talk about Crazy Ex-Girlfriend Season 1 Episode 17. It's really challenging to suppress the joy that I had, as a fan, watching this one.
Critically, I'm very fortunate to say that I had that same level of joy.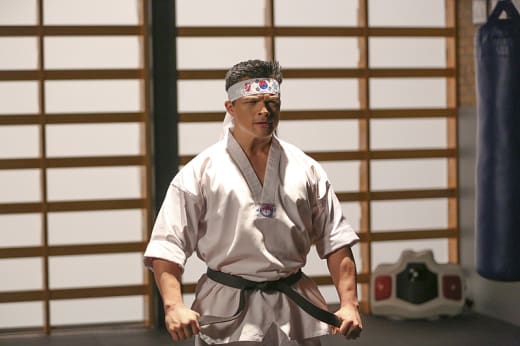 Crazy Ex-Girlfriend has fired on all cylinders since it first hit our televisions back in October. With the penultimate episode of Crazy Ex-Girlfriend Season 1, the show has grabbed an additional set of cylinders and fired on all of those as well. There are no cylinders left. Sorry folks, we're fresh out of cylinders. 
Rachel Bloom and her talented team of writers have brought this series into territories during its freshman run that other shows would never journey to, with stories depicted having the perfect mixture of realism and musical theater.  
They continued down that road in, "Why is Josh in a Bad Mood?" with a standout song written by Fountains of Wayne singer, and the show's Executive Music Producer, Adam Schlesinger, as well as Bloom and her longtime music collaborator, Jack Dolgen.
Greg: That bladder inflammation is my little gift to you, yeah sometimes chicks need medication after what I put them through! [to Rebecca] Come on, sing with me!
Rebecca: No, I'm not gonna do that.
Let's get to the heart of the episode, the catalyst for everything that transpired in the hour.
Greg's capacious penis.
We last saw Becks and Greg sweeping away for a three-day roll in the hay, one which was so intense that it left Rebecca with a urinary tract infection. (Look it up guys, medical stuff is gross.)
Greg is naturally quite excited that his penis is the reason Rebecca may "die, die, die," and the two dance in Rebecca's living room together as she smiles with embarrassment, both for herself and for Greg's silliness.  
Side note, I had the pleasure of meeting Santino Fontana, who plays Greg, after an amazing performance as John Adams in 1776 at the New York City Center a few weeks back. When I mentioned how much "I Gave You a UTI" made me laugh, he laughed and shared with me what a unique experience filming that song was.
The song is loaded with humor; every lyric made me think that they had a running list of ways to say penis and vagina without actually using the words. (Maidenship, anyone?)  
For all of its humor, the moment between Rebecca and Greg is actually full of everyday sweetness.
Rebecca told Dream Ghost that she imagines her life is a series of musical numbers. After watching Rebecca anguish all season over Josh Chan, it was refreshing to see her having fun with a partner, someone who's taking just as much enjoyment in Rebecca's musical as she is.  
It's a moment that definitively feels right for Rebecca.
You know, aside from the UTI. Those things are painful.  
But there's one elephant in the room that Greg is working hard to ignore, even when Rebecca introduces the subject (Bravo for growth, Becks!); there's a lot of baggage that these two have packed in a very short amount of time.
Greg struggles with having the "upper hand" in this blossoming, albeit casual, romance with Rebecca.
She's burned him so many times before that he's just waiting for it to happen again. So in the interim, he's going to enjoy every minute of word games and butterfly smashes, and he'll see what else is out there, all while waiting for his heartbreak.
But that's the thing; he doesn't see what else is out there. Sure, he shows up for the date with Hector and his lady friends.  
But when Rebecca lets him know that she's in the hospital, without any explanation, Greg rushes away from his almost-date to be by Rebecca's side, dropping any pretense or concern for having the "upper hand."
Without even a thought, Greg's only concern is Rebecca, and not the heartbreak he's anticipating.
And it looks like that heartbreak may never come because, "oh my god," Rebecca likes Greg.
Are that condoms that can prevent these feelings? Is there spermicidal lubricant that can kill the fluttering in my heart? Is there an IUD that can stop the image of you and me?

Rebecca
In a mature, thoughtful, and sexually responsible way, Rebecca's eyes are finally open to all of Greg's excellent qualities, and she's realizing that being with him is actually great.  
Thankfully, Rebecca's new feelings for Greg don't read like a rebound relationship. She's given up Josh, cold turkey, yes. But because she and Greg have been dancing figuratively, and literally, around one another all season, their romance feels natural.
Guess who isn't happy about Greg flambeing Rebecca's cockatoo?  
Josh Chan took his hat out of the running for Rebecca's heart, if you could even say that he tossed it in to begin with. For many weeks, Josh seemed like the front-runner for who we'll (unless the writers throw us a curve ball,) see her with in the end of next week's finale.  
Josh, who I must remind viewers kissed Rebecca and then chose to stay with his girlfriend, Valencia, instead, is bothered by the inkling that Rebecca and Greg might have become more than just friends.  
Josh danced and kicked out his frustrations in the dojo, because where else does a late twenty-something with a black belt go when he thinks his friends might be sleeping together?
Josh's Footloose-meets-Karate-Kid dance number was a standout and still quite an emotional moment, despite it's lack of singing. Vincent Rodriguez III is an excellent performer and while the overall tone of the moment was funny, viewers could feel the angst in his dance.  
What, I can't be in a bad mood? It's like people think, 'Oh Josh is such a nice guy, Josh is so happy-go-lucky! Josh can't be in a bad mood!' Well, you know what? Josh CAN be in a bad mood. And right now, Josh is be in a bad mood.
Josh is at a turning point in his life. With his sister's wedding right around the corner and Valencia dropping hints at wanting a wedding of her own, he could easily walk down the aisle with her.  
But maybe seeing Rebecca and Greg together will propel him to drop Valencia and either fight to get back into Rebecca's life, or more interestingly, bring him to a place where he's single and looking to move on with someone entirely new.
Or maybe Josh and his brand new text buddy, Paula, will scheme to break up the new romance.
Speaking of Paula, can we talk about her obsession with Josh?
Rebecca has expressed to Paula that she needs to be done with Josh. She has very plainly told Paula that Josh is not good for her. Paula's fear response was relatable and I understood her concern that Rebecca wouldn't need her anymore.
Paula continued to live in that fear, assuming because there was a dynamic shift that she was losing Rebecca, despite Rebecca's attempts at trying to show Paula that they are real friends who don't need Josh Chan. (Granted, no one wants to start a conversation about Space Bag sweaters.)
Rebecca broke into a pie shop, peed her pants, and faced imaginary lasers for Paula, but it still wasn't enough for Paula to believe that their friendship can survive without Josh.  
They have boundary issues.

Greg (about Rebecca and Paula)
It's no wonder that Rebecca doesn't feel like she can be truthful with Paula about Greg.
Paula has been anti-Greg since day one.
She's exclusively been on the Chan-wagon, wearing her "Team Josh" t-shirt, and singing his praises, in spite of the fact that Josh has asked Rebecca to keep secrets for him and the times he's shown that he's not interested in his ex.
So what is it that's driving Paula to need Josh so badly? Rebecca re-ignited Paula's marriage, so it's not that. Is Paula a hopeless romantic? Is it the fairy tale of old lovers finding their way back to one another?  
Or is Paula afraid of Greg as a viable choice for Rebecca because she sees so much of herself and her own husband in them, and as a surrogate mother, doesn't want to see Rebecca struggle in a relationship, the way that Paula has?  
This is something I really hope that the series will explore more in the future, giving Donna Lynne Champlin yet another chance to shine in the series.  
Her scenes with Rachel Bloom truly are the heart of Crazy Ex-Girlfriend, a combination of complicated friendship and familial love that runs deep between the ladies.
Paula: Doctor, what's wrong with my cookie?
Doctor: I don't know what's wrong with your cookie, but hers is a mess!
Another character who shined in "Why Is Josh in a Bad Mood?" was Bloom's husband, Dan Gregor, as a stand-up doctor.
Gregor's comedy work is incredible, both at his weekly Upright Citizen's Brigade show and as a writer for shows like The Comedians, How I Met Your Mother, and Crazy Ex-Girlfriend.  
As the guy curing Rebecca's "cookie," Gregor got a chance to put down his pen and show off his acting chops, for a change.   
One would also have to assume that there was some realism written into the script when the doctor said that he spends a lot of nights alone because his wife is working.  
Next week is the big finale, TV Fanatics! Are you hoping that Rebecca and Greg make their romance official? Do you want to see Josh throw his hat back in the ring? Why is Paula so obsessed with Josh? Are you hoping for a little WhiteJoshFeather time before the season closes? Sound off below!
Not caught up? No problem! You can watch Crazy Ex-Girlfriend online right here at TV Fanatic!
Crazy Ex-Girlfriend Season 1 Episode 18, "Paula Needs to Get Over Josh!" airs Monday, 8/7c on The CW.