I'm willing to admit that the Major Castle Spoiler that was revealed earlier today may have tainted my feelings on the aptly named "Backstabber."
Still, I don't believe I would have liked Castle Season 8 Episode 18 even without that news.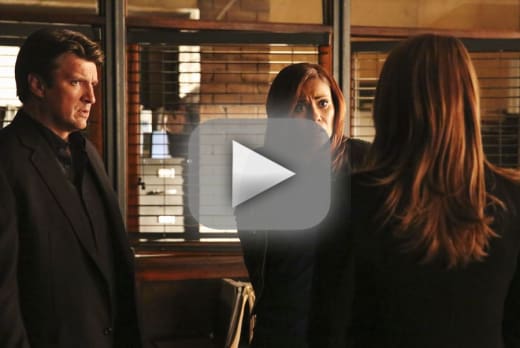 I've made no secret that I'm not a fan of Hayley, although I will admit that character has grown on me a bit throughout the year. My problem is that Hayley went from being no one to suddenly being portrayed as someone we should consider family, and I just don't buy it.
Alexis has become so close to Hayley in such a short period of time. Fans begged for this kind of relationship to occur between Alexis and Kate, but even with Castle and Beckett marrying, it never happened. Alexis' sudden and intense love for Hayley is a poor substitute. 
Then there was the behavior of the Captain and detectives of the 12th precinct during this case.
There was a Federal warrant for Hayley's arrest in an international terrorist case, and Beckett and her team not only encouraged her to run off but allowed her to tag along during the investigation and handle evidence. 
Wasn't Beckett always the rule follower? The cop with integrity? Where did that go?
I know that our core team of Castle, Beckett, Espo and Ryan would die for one another, but how has Hayley earned such trust and loyalty? 
Did Castle get this kind of treatment back in Castle Season 5 Episode 5 when 3XK set him up for murder? No! The detectives executed warrants, searched his home and arrested him, but Hayley is a suspected terrorist, and they hand over the laptop that's the key to the case and let her take it back to Castle's office to work on!
Yes, I can deal with stories about genies and bigfoot because that's fantasy and fun, but shouldn't the police stuff at least attempt to be sort of real? 
One more nit, why were Beckett, Ryan, and Espo all trying to make Castle feel guilty for a dream that Beckett had? It reminded me of everyone blaming Castle for a separation he didn't cause or cheating he never did. 
I know some will disagree or say I'm taking things too seriously, but watching Alexis hug Hayley while being comforted by Castle while seeing Beckett take the boys out for drinks was hard to swallow.
Last week's Castle Season 8 Episode 17 made me feel like the magic of Caskett was back, but the feeling was fleeting, and it's gone once again. 
Perhaps others enjoyed this hour more than I did. Check back later in the week to see what our Castle round table team has to say, and if you can't wait until then, you can watch Castle online here at TV Fanatic. 
C. Orlando is a TV Fanatic Staff Writer. Follow her on Twitter.