Castle thought he'd found a genie in a bottle in Castle Season 8 Episode 17 but soon realized all his wishes had already come true.
Unfortunately for Lars, his dreams of genies turned into a nightmare.
I definitely was not a fan of the beheading, but I was grateful that the scene was as brief as possible. Too many shows go overboard on the gore. The less seen on Castle, the better.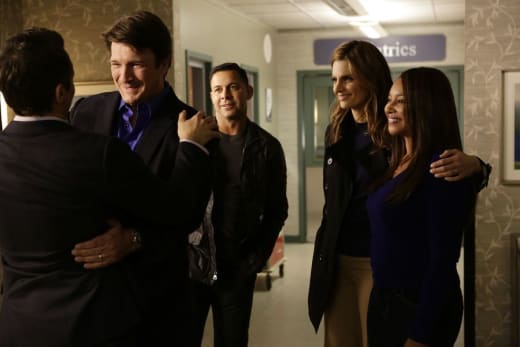 As wacky as Castle's wild speculations were concerning Aladdin's lamp and genies, knowing that they were based upon the classic book "1001 Arabian Nights" made it a bit easier to play along. Rick Castle loves his books almost as much as he likes his crazy theories. 
I found it really interesting that in Arabic the word genie is synonymous with demon. Since I don't know any Arabic, I can only assume that is true, and it is fascinating. Is asking a genie for wishes similar to making a deal with the devil? It certainly turned out that way for Lars and his partner. 
But the devil turned out to be Tasha Yar, Prof. Marian Baker, who killed out of jealousy. I had to laugh when she stopped answering Castle's questions and told him to buy her book. That moment should have been a give away that she was the killer.
The talk of wishes brought on some entertaining conversations. Ryan and Esposito's wishes both involved wearing tights. Martha was wishing her son could get Oprah to endorse her book. 
I don't think we ever heard Alexis' wish, but when she found out that Castle's genie had fingerprints and a real identity, at least she was sympathetic enough to offer her father ice cream. Ice cream has always made things better in the Castle household. 
I believe this was Stephanie Hicks' first episode as a staff writer on the show, and she did an excellent job. There were lots of fun throwbacks, including some from Castle Season 1 Episode 4, "Hell Hath No Fury" like the body in a rug and the boys making fun of Castle for not getting a license plate number. All of it made me smile. 
I also enjoyed that although Beckett didn't believe in genies, she still wanted to make her husband happy and asked the boys to let him try and fulfill his magic lamp fantasy. 
Can you make sure he gets dibs on the first rub, please?

Beckett
Having everyone rush to the hospital to be there for Ryan and Jenny was a great reminder of how close this team has always been. That feeling has been missing for much of Castle Season 8. 
Nicholas Javier Ryan was the perfect name, and I loved that Ryan wanting to name his son after his partner wasn't forgotten. 
The group hugs were wonderful as was this Castle quote… 
Castle: I have no need for genies because I already have everything I could ever wish for.
Beckett: Right back at you, handsome.
We haven't gotten nearly enough feel-good installments this season. This one was long overdue. It was like a group hug for the fans who hung on through 17 episodes to get here. 
Let's just hope there's more to come!
Check back later this week to see if our Castle round table team enjoyed this hour as much as I did, then visit us again next Monday for my review of Castle Season 8 Episode 18. 
If you can't wait until then, you can always watch Castle online here at TV Fanatic.
C. Orlando is a TV Fanatic Staff Writer. Follow her on Twitter.