Blue Bloods Season 6 Episode 19 Review: Blast From the Past

Christine Orlando at . Updated at .
We all know how important wearing your vest is on the job but Blue Bloods Season 6 Episode 19 showed that bullets weren't the only things that could wound a heart.
As badly as I felt for Baez, the writing was on the wall from the beginning. I hate to be trite but cheaters rarely change and Jimmy Mosey had player written all over him from the moment he showed up.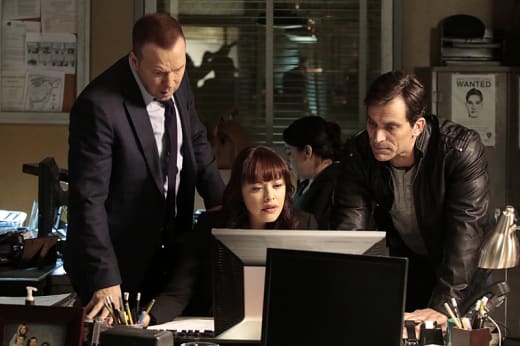 At first I wondered why Danny gave the guy such attitude as it seemed to be a bit much even from Danny but then I realized he recognized him. Mosey was the married man who promised to leave his wife for Baez but of course never did. 
I was surprised by how easily Baez started up with her old flame again but I suppose the heart has its own logic and she saw his divorce as a fresh start. In the end, not even taking a bullet could change who he really was. Baez can do better.
Frank had the meatiest story of the week as he tried to handle Thomas Scully's promotion. I thought the debate was handled well. Should a man be weighed down by one mistake for the rest of his life? 
It depends upon the mistake.
Obviously Scully made a real effort to be the best cop he could be and honor the memory of the teenager he killed. Talking openly about the thought processes that led to the killing with new recruits was brave and showed a lot of integrity and personal growth. 
Did that mean he deserved the promotion? Maybe, but his efforts did not outweigh the potential downside to the entire department. Frank was put in a no win position in making this decision but I thought he handled it well as he explained in this Blue Bloods quote…
I am not going to put the other 35,000 men and women of this department through the ringer for one cop's crusade.


Frank
Scully would be better served leaving the NYPD and Frank gave him several options, some close by and others in large cities further away.
Was it completely fair? No, but a teenager who pulled out his wallet is dead and that's far from fair either. Some bad decisions can't be erased by effort or good intentions. Scully will have to live with his. 
Jamie and Eddie's search for the ring uncovered unsurprising results. I suspected it was a scam all along, I'm just happy that the woman that Jamie liked wasn't the person doing the lying and stealing. 
Did you see the promo for Blue Bloods Season 6 Episode 20? It looks like Danny's case is about to get very personal for the entire Reagan family! Check back for our review and if you can't wait to see more of the Reagans, you can watch Blue Bloods online here at TV Fanatic.
C. Orlando is a TV Fanatic Staff Writer. Follow her on Twitter.