Shameless Season 6 Episode 9 Review: A Yurt of One's Own
Paul Dailly at .
Welcome back, Mandy Milkovich.
On Shameless Season 6 Episode 9 one of the best characters on TV returned to our screens, and it was well worth the wait. 
In what I can only describe as a shocking turn of events, it looks like she's back for a while. I knew the actress was going to be tied up with her starring role on a Hulu drama, so it's great she found the time to return to the role.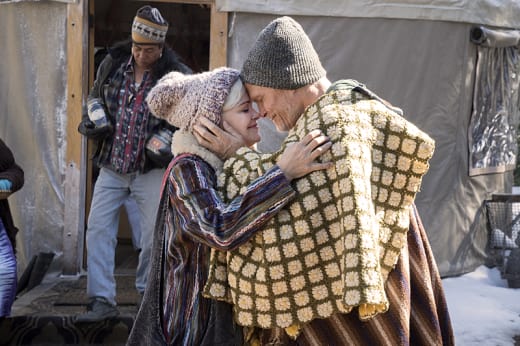 When she left in Shameless Season 5, there was a lot of unfinished business with her and Lip, so it would be great for us to get some pay off now that she's back. 
At the rate Lip has been going through love interests recently, he must have stopped and thought about when things were easier and the answer is that it's easier with Mandy.
Lip: There's some girls that look like dudes.
Ian: I'll pass.
Mandy doesn't bring drama to his life. She brings unconditional love, and that's part of the reason why she left in the first place. Why should she have waited around for Lip to grow up and realize she was the best one for him?
It's obviously led her down a dark path, but let's hope Lip can pull her back into the light before it's too late for both of them.
Elsewhere, Fiona had her hands full trying to make things right with both Sean and Gus. 
It was a shock that Gus just showed up like that, but we knew he'd be back sooner or later. He had a lot of nerve to ask Fiona to do anything for him after the way he treated her when she needed one small thing from him. 
Based on the way Sean was acting to her, he almost found himself in the same category as Gus. His frustration about the whole gun thing with his kid is natural, but the way he treated Fiona throughout it all was horrid.
How would you feel if your one constant was treating you like trash? You wouldn't put up with it and that's why Fiona is such a great character. She called BS straight away and forced him to think of a life without her and that's what inevitably made him save the day and make him his fiance. 
However, I do think she should have declined his marriage request. Sure, they've been together for a while, but this whole situation has shown he doesn't trust her as much as she thought he did. 
Somehow this is all going to end in tears for her and she's going to be back at square one wondering why her relationships never work out. 
Carl's storyline got more interesting than ever tonight. At the beginning of the season, he was a horrible character, so the progression for him has been great these last few weeks. 
His girlfriend is actually pretty nice, and it's nice that she likes him without money, too. What I don't get is why the gang never returned for him after Frank's botched attempt to steal their drugs. 
They went after Frank with guns, so why would they let Carl off for nothing?
"A Yurt of One's Own" was a solid installment of this Showtime drama. Hopefully we get some more natural character progression for these characters as we approach the end of the season. 
Other tidbits from the episode:
Svetlana and V as wife and wife is going to make for one hilarious plot. Let's hope they throw a wedding in The Alibi Room. 
Mandy totally needs to visit Mickey in prison so we get to see him!
The whole commune storyline isn't great, but if it gives Debbie something more to do than whine, then I'm all for it!
Did anyone else miss Caleb this week? 
Will Gus somehow still go after Fiona's home?
Remember you can watch Shameless online right here on TV Fanatic. Get caught up on all the drama now!
Paul Dailly is the Associate Editor for TV Fanatic. Follow him on Twitter.