Shadowhunters Season 1 Episode 12 Review: Malec

Lisa Babick at . Updated at .
Oh. My. God. Can you breathe, yet?
Sometimes it's the music that makes an episode. And let me tell you, War of Hearts by Ruelle was the absolute perfect choice to accompany the breathtaking intensity of that Malec wedding scene.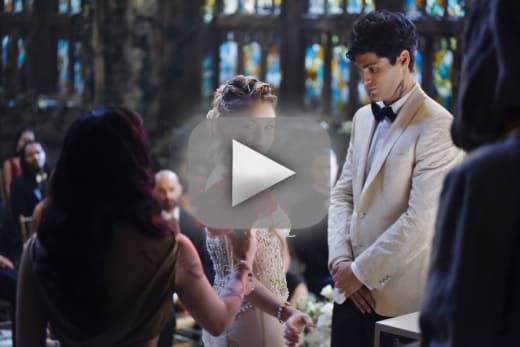 I literally thought my heart was going to explode. And it did. Along with an explosion of tears.
There was so much to love about Shadowhunters Season 1 Episode 12, I'm not even sure where to start.
Shadowhunters has come a long way since it's eye-rolling cringeworthy beginnings. It's almost unbelievable this is the same show. This hour was, by far, the best of the bunch, and with the exception of a few minor flaws, it was nearly perfect.
The acting, the pacing and the tone, were all spot on. Every minute of this hour had me completely engrossed, and I can honestly say this is the first time I've ever been on the edge of my seat watching this show.
The feels were real, people. Jace and Clary. Jace and Alec. Lydia and Alec. And, of course, the creme de la creme of the hour: MALEC!!!!
Oh, yes. The Graduate. First thing that came to my mind when Magnus showed up at the back of the church. Forget Simon's boring and unnecessary explanation afterwards, all you need to know is Shadowhunters did a brilliant job paying homage to the iconic 1967 film.
Go watch it, little ones, and make sure you grab a box of tissues, because you'll cry at that wedding, too.
Even though Lydia had no illusions about what her marriage to Alec really was going to be, I still felt bad for her being left at the altar. She was obviously aware of the attraction between Magnus and Alec, but still. A wedding day is a big day, even if it is all fake. And she genuinely seemed excited about all the planning, and her beautiful dress.
But, kudos to her for standing tall and keeping that big smile on her face as she let Alec go. She did it with such grace and style, and I love her for it. And I love Jace for giving credit where credit was due, because she definitely deserved it.
Like Izzy, I was so proud of Alec for following his heart! Did anyone else catch that small smile that crossed his face when Magnus showed up?
It crossed my mind only briefly that he might ignore his feelings and just storm out of the chapel. But WOW! The look on his face when he made that decision was so beautiful! Blowing off Maryse! And that kiss!!! Just WOW! Love. Love. Love. Two million times and two million times more!
Good for Magnus for not giving up. And Ragnor deserves at least a little credit for pushing Magnus to act. Had he not made that speech about Camille killing him, Magnus could very well still be sitting at his apartment.
Jace went through a plethora of emotions this hour as well. It's understandable that he's angry and confused about the turn of events in his life. I loved how Izzy tricked him and Alec to make amends via a two-man bachelor party. It was very clever of her.
It was nice to see him open up to Alec. The look of shame and despair on his face was heartbreaking, but it was even worse when he and Clary locked eyes at the wedding. I'm telling you, that song added a whole layer of emotion to everything.
I was glad Jace finally calmed down and talked with Clary after the wedding drama. He was genuinely touched that Jocelyn had saved things of his when he was a baby. Jonathan Christopher. J.C. Jace. That was kind of cool.
Hodge being the mole wasn't very surprising. What was surprising was that Lydia kept the Mortal Cup at the Institute. I would have thought she would have taken it to Idris where it would have been safer. for something that was such a big deal, it seemed kind of stupid to just hide it in the wall.
The menacing big bad I've been waiting for all season finally made an appearance. Valentine definitely gave off a very wicked vibe in that very short and sweet scene.
It's going to be very interesting to see how the season ends. Clary and the gang have to find the Book of White in order to free Jocelyn, and unfortunately the not dead Camille (I was convinced she was a goner) is standing in their way. I imagine she's not very happy being locked up in the basement of Hotel Dumort, and seeing Clary and Magnus is not going to make her day.
Plus, there's the issue of the Mortal Cup. Again.
Other Thoughts:
Ragnor was awesome. When I first saw pictures of him, I thought the horns were kind of corny, but they actually looked really great on screen. It was hilarious watching him arguing with the invisible spirit after Clary found him. He and Magnus worked really well together, and I hope we get to see more of him, even if he is dead.
Kudos to Alec's dad for accepting his son's sexuality and choice of partner. Maryse sure wasn't.
Jace wearing a black leather suit to the wedding was sort of a Luke Skywalker-type slow transformation with him feeling all darkside-ish after learning the "truth" of his heritage.
Simon's smarmy smile at Jace when he greeted Clary was too much. Shame on you, Simon, even if you were looking really hot in Raphael's suit.
The scene when Alec visited Magnus where he talked about emotions could have been much more powerful without all the magic and sound effects. They were unnecessary and distracting. Sometimes less is more.
What did you think about "Malec"? Share your screams and dreams in the comments below. Relive all the Malec love again and again when you watch Shadowhunters online, right here via TV Fanatic!