Scandal Season 5 Episode 15 Review: Pencils Down
Paul Dailly at .
That hour flew by!
On Scandal Season 5 Episode 15 there were a lot of twists in the tale, and it helped me forget about some of the weak episodes this season. 
Susan is such a great character, so seeing her go through all that pain was horrific. David is a snake. Hopefully, the way he treated her will toughen her up and give her the edge in the election.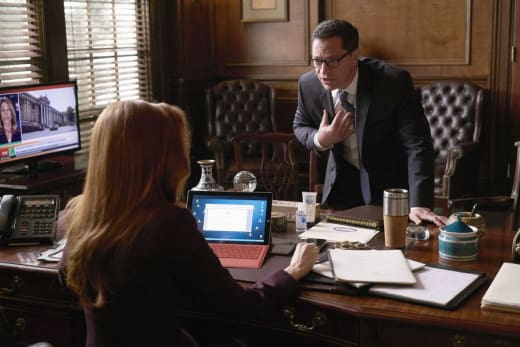 Susan doesn't possess all the qualities that a president should, but that's slowly changing. If she had it in her to end it with David, she's got this. 
That scene with Susan and Fitz was hilarious. She was so abrupt about the whole thing, and it's great that Fitz was so open with her about his sordid past. Now it remains to be seen whether she'll be able to win this thing. 
David: Help me.
Abby: Ugh, David, what the hell?
Out of the gate, Mellie has had the worst chance of winning. Olivia hit the nail on the head when she pointed out her "bitch face." That's one thing about Olivia that no one can take away from her. She's very honest about consequences.
I almost turned the TV off when Mellie made that big blunder in the burger store. Being the know it all, I find it hard to believe that she wouldn't have checked the place out before going.
I'd like to think she decided against it because she didn't want to go in knowing all about it, but still, it gave her the most awkward moment of the season, and I'm quite glad that it played out that way. 
Mellie doesn't play nice. She'll fight her way to the top and won't give a damn where it leaves the people close to her. 
It was quite a shock that Edison was also getting in on the fun. He's been pushed to the side so often that I don't feel he'd be the best fit for it. Knowing Jake, it wouldn't be all that surprising if he made it to the top.
Props to Olivia for playing Jake at his own game. Remember he kept teasing her way back on Scandal Season 2? It's her turn to turn the tables on him. I shudder to imagine what would have happened if Vanessa miraculously unlocked the powder room door and barged in. Would she even notice what was going on?
Elsewhere, it looks like Cyrus may finally be getting hung out to dry. He's always been one step ahead of the game, but he's far too power hungry to succeed in anything political. He'd sell his soul for some power, and that's putting it lightly. 
Going forward, there's obviously going to be a lot of drama with Alex. He wants Cyrus gone, but could whatever Alex gave Olivia in that envelope be the key to taking someone out of the race? Will she use it, or will she warn Alex out of town? That's something that will plague my mind until Scandal Season 5 Episode 16 airs.
"Pencils Down" was a vintage episode of Scandal. It had everything we've come to expect from this aging drama and gave it a jolt of energy as we quickly approach the end of the season. There are a lot of questions up in the air that need answered, but if this hour was any indication, Scandal is on its sweet merry way back to being the show we love.
Other tidbits from the episode:
Hollis was freaking hilarious. Who the hell cooks bacon on a machine gun? 
Will Liz come clean to Susan about her boning David, or will David be the one to offer up the information?
Did anyone ever expect to witness Mellie wearing a baseball cap? Bellamy Young was probably so shocked when she got the script that she thought it was a typo. 
Did anyone else laugh out loud at Olivia's demands for Mellie at Sally's show?
Remember you can watch Scandal online right here on TV Fanatic. Get caught up on all the drama right now!
Paul Dailly is the Associate Editor for TV Fanatic. Follow him on Twitter.