Another layer to the Gibbs onion was peeled back on an understated story that had more to do with the valor and sacrifice of wounded war veterans, than it did the case of the week.
Perhaps it was fitting too, for the 300th installment of a series that is really all about the Navy, and the brave men and women who dedicate themselves to their country and command.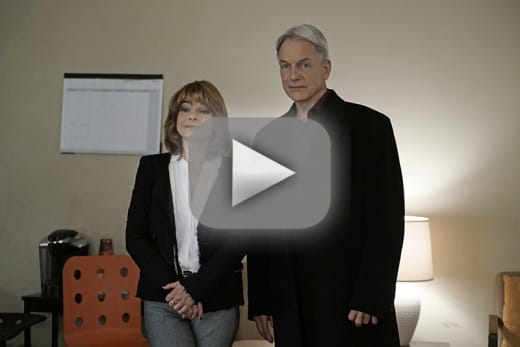 The team investigated the death of an American couple who were killed while visiting Iraq, on NCIS Season 13 Episode 18.
The case took a turn for the mildly interesting when it turned out the weapon used in their murder was a prototype sniper rifle that could be used to home in on targets.
Ultimately, the intended use of it turned out to be somewhat banal, when compared to the potential offered by such a setup. The expectation was that there might be a campaign of terror involved (to be stretched out over several episodes, perhaps).
Instead, the target was an oil company official in the employ of an Iraqi oil minister.
It doesn't really matter, as the case was the B-plot anyway. The real story involved Gibbs, Gunnery Sergeant Aaron Davis, and Dr. Grace's efforts to help them to help each other.
It also underscored the horrific types of mental wounds that can occur throughout life, whether it comes from battlefield conditions or the loss of a loved one.
Gibbs' anguish at the death of his wife and daughter mirrors exactly the pain felt by Davis at his perceived loss of status with his daughter. So fascinating that Dr. Grace perceived this so keenly, which is why she put them on the path to each other.
I was surprised to learn Gibbs had been sleeping on his couch for all these years, because of the pain he's had over losing his wife. The bedroom was ours, you know? And, well she passed away.
Of course that raises the question: where did he and his other wives sleep? The couch isn't that big.
The stars of this episode had to be the very real MusiCorps band, comprised of a group of veterans undergoing rehabilitation at the Walter Reed Hospital. None of what we saw in that regard was fiction. And man they played some awesome music!
Their rendition of Leonard Cohen's "Halleljuah" with Taye Diggs was beautiful and moving.
Some final notes:
Palmer's descent into clown territory remains constant, as we saw with the Gibbs-slap: Every time he does that I feel special.
The motorcycle gang at the end, with Tony, Vance, Ducky and Palmer-in-the-sidecar (of course he's in the side-car, because that's where you put clowns) was funny.
Dr. Grace's patter and wit is growing on me. I'm really glad they added Laura San Giacomo to the cast. Definitely approve of her nickname for Gibbs. Popeye.
Another star in this episode was Samantha Logan who played Davis' entirely observant and engaging daughter Riley.
It's not often we see Gibbs going back to his role as a sniper. So cool that they had him reciting the Rifleman's Creed.
Be sure to come back for next week's review of NCIS Season 13 Episode 19, entitled "Reasonable Doubts." Tony Senior is back.
As always, you can catch up on past episodes right here at TV Fanatic when you watch NCIS online.
Now it's over to you. What did you think of the 300th episode? Let us know in the comments below!
Douglas Wolfe was a staff writer for TV Fanatic. He retired in 2016. Follow him on Twitter
.