Lucifer Season 1 Episode 8 Review: Et Tu, Doctor?

Lisa Babick at . Updated at .
Even the devil is in denial.
On Lucifer Season 1 Episode 8, Lucifer's obsession with Chloe takes a new turn when he starts feeling jealous about her relationship with Dan, even though he won't admit it to Dr. Linda or himself.
But a lot of things are changing for Lucifer. And it looks like things are going to be changing for Chloe too.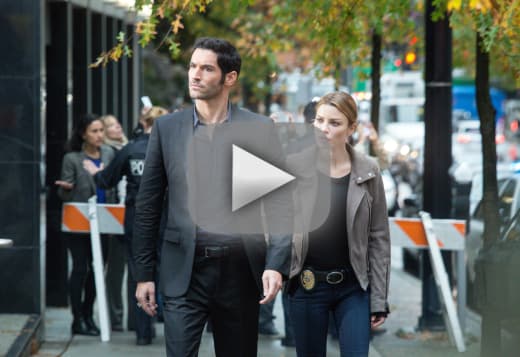 Kudos to the commenter last week who made the call that Dan was a bad guy. Though I thought it was an intriguing idea when I read the comment, I was still surprised when Malcolm dropped that bomb.
I would imagine that his is the reason Amenadiel brought Malcolm back to life. It's certainly going to cause some serious complications for Chloe and Trixie. And when Lucifer finds out, Dan better just run and hide.
But, I'm not really sure I like the idea of Dan being a bad guy. It just seems like it's one more step in setting up a potential romance between Lucifer and Chloe. And that is a very bad idea in my book.
It was back to business as usual for Chloe and Lucifer as they tackled another case of the week, this time involving the murder of a cheater therapist.
It provided the perfect opportunity for Lucifer to involve Dr. Martin, since he wanted her to analyze Chloe and her "douche fascination," though the real issue was his increasing jealousy of Dan.
I really liked this use of Dr. Martin a lot better than her just sitting in her office in a talk session with Lucifer. She got up close and personal with the many facets of his life, which I think is going to add a lot more dimension to her future analytical sessions with him.
Plus, she was a lot of fun in the field. I loved Maze's reaction to her with that little tap of her fingernails on the bar counter. Nice way to tell someone you like them.
Dr. Martin and Chloe got along quite well, much to Chloe's surprise and Lucifer's chagrin. I got the feeling Chloe was a little jealous herself at the idea of Dr. Martin being involved, just for the fact that she kept referencing how the good doctor kept throwing herself at him during their first meeting on Lucifer Season 1 Episode 1.
I couldn't believe Dr. Martin actually admitted she was sleeping with Lucifer. It just kind of spilled out of her mouth. But, I was even more surprised when she said she was going to end her sexual relationship with Detective Decker's partner. That came out of nowhere.
Could Chloe have a Lucifer-effect going on?
Lucifer spent most of the hour trying to decipher the new jealous feelings he was experiencing. He was completely in denial about it, even though the snide remarks about Dan never stopped. I think Chloe understood quite well what was happening, especially at the end when Dr. Medina was arrested for the murder of Dr. Shaw.
Lucifer actually seemed a little embarrassed that she overheard part of his conversation with Dr. Medina. Did you notice the coy little smile on her face after she admitted she did? It was really cute.
But, I'm still not a fan of a romance between these two.
Lucifer didn't do a lot of Lucifer-y things this hour, but he did help someone which was interesting.
He was originally encouraging Richard to jump off the roof but his continuing questions about jealousy caused the guy to rethink what he was about to do. It wasn't necessarily intentional, but Lucifer actually saved the guy's life.
Maybe the whole point of all this is that he will return to Heaven as an angel of good, and this is just one more step on the journey.
Because, it certainly seems that his Lucifer-ness is taking a backseat to his developing humanity. He didn't even feel the need to flash his red eyes and exact punishment on the murderer. And he always wants to do that.
Even more, while he was extremely angry at Maze, the rage you would think he'd have at her betrayal, wasn't present at all. I mean, he left her standing there. 
And that is very scary indeed.
What did you think of "Et Tu, Doctor?" Share your thoughts in the comments below. Remember, you can watch Lucifer online any time, right here via TV Fanatic!