Despite knowing that Kate Beckett wouldn't be a part of this installment, I still had high hopes for Castle Season 8 Episode 14, but it didn't quite live up to my expectations.
I'm a big fan of guest star Gerald McRaney and as a Firefly fan, I also enjoy Summer Glau, so I was looking forward to their roles. As much as I like both actors, I didn't find either character all that compelling.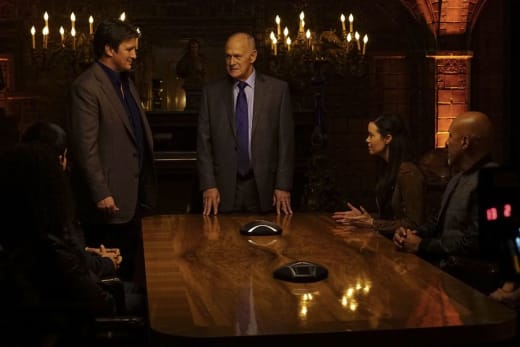 Much to my dismay, McRaney's, Mason Woods only had a couple of small scenes and Glau's highlight was her lip lock with Hayley. Since I didn't really feel any sparks between Hayley and Kendall, the kiss didn't do as much for me as it did for Castle. 
The biggest disappointment was that the writers decided to send Castle back to L.A. without Beckett. Castle Season 3 Episode 22 holds quite a place in fans hearts as Rick and Kate almost kissed until Kate decided to walk away…but then came back a moment too late as Rick had already gone to his room.
It feels like a huge missed opportunity to not see those characters have a conversation about that moment now that they're a couple. 
But this episode was more about Castle's disappearance than the murder of the week…although I have to point out that we had a ripped out heart, a torn out eye, and a man shot in the head.
Since when did this show become so violent? It's not an aspect I enjoy. Castle has always been a show that prided itself on being as light-hearted as a show about murder could be. I miss that. 
The biggest twist was that Hayley has been keeping a huge secret. She claims she was asked by Jackson Hunt to keep an eye on his son while he went rogue in L.A. after leaving Thailand. Castle then got shot and begged to have his memory erased.
This still leaves so many plot holes in his disappearance story. How did he end up in L.A., and why was he eventually found weeks later floating in a boat on the east coast? 
But my most nagging question is, why does Rick trust Hayley so much? I just don't get that.
She claims she feels so close to he and Alexis that she decided to stay but from the moment we've met Hayley she's been all about Hayley. I can see that she likes Alexis, but her claim of having deep feelings for Alexis and Rick just doesn't ring true to me. 
However there were a few highlights in this hour. Lanie finally got some screen time which she has lacked throughout Castle Season 8. Her scenes were a nice combination of clues to the serial killer and comic relief. The boys should know better than to mess with Lanie.
Also, Castle had two sweet moments. First when he tried to explain to Alexis in this Castle quote why he was keeping information from her…
I am your father and from the day you came into this world it's been my job to protect you.


Castle
The second was when Rick turned down the spot in the Greatest Detective Society…
I already work with the greatest detective in the world.

Castle
Damn straight, and we really need to get her back. As much as I love the show, it's at its best when we have lots of Caskett chemistry and Castle, Beckett, Ryan, and Esposito are all solving crimes together. Anything less just pales in comparison. 
So now Rick's disappearance has tied into LokSat. The twist had me wondering if the writers had planned this all along or made it up as they went. Although it adds interest to two convoluted conspiracy stories, I find it all a little too dark for my liking. Now Rick and Kate both blame themselves for getting the AG team killed. 
The one upside from this should be that Castle and Beckett can now work the LokSat case together…or choose to walk away from it all.
Personally, I'd choose the latter just to have the whole storyline over with, but that's probably not going to happen. If we're stuck with this story for the rest of Castle Season 8, the very least I want from it is Caskett solving it side by side.
Because when Castle says, "I know who the killer is," without Beckett, the magic just isn't there.
Check back later in the week to see what our Castle round table team has to say. and if you can't wait until then, you can watch Castle online here at TV Fanatic.
C. Orlando is a TV Fanatic Staff Writer. Follow her on Twitter.