Well that was fun!
Pretty much everyone had their hands full on Younger Season 2 Episode 6. Handling talent can be a tricky situation, and we saw how it played out from three perspectives. 
The easiest to please was Maggie (of course), and Diana made out (HA!) very well with a very strange author she was assigned to by Charles and Kelsey and Liza did some fancy maneuvering with regard to the Jade situation. 
Oh, and I received a medical diagnosis for which I've been searching the internet for months. Thank you, Younger!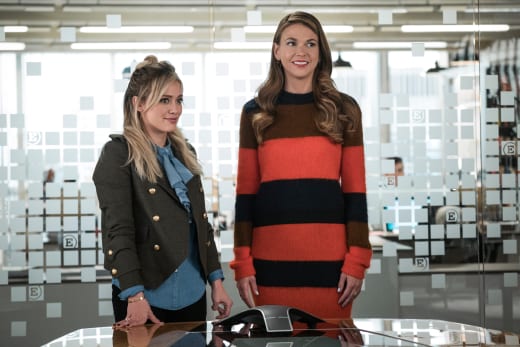 Maggie and Lauren are coming along nicely. First of all, Lauren did dye her hair a brighter shade of red, right? I love it. I also love how she cares so much about showcasing Maggie's art (as she seems to do with any artist she finds, to be fair).
But what's really great is how Maggie will happily accept selling her art and getting the exposure at Hector & Dorff's even if it means her Goddess is selling cashmere. She's artistic and pragmatic. And really, if you think about it, clothing can be art and to put up walls too early in your career could keep other doors closed.
Walls, doors. Heck, Maggie was throwing a sex party in her loft for money. Selling her sculpture with an order for more and making it the showcase of a boutique? Brilliant.
Every single thing about Diana's story was gold, from the very first moment she accepted the assignment from Charles.
Charles: I want you to take the lead on this. I want you on your game today.
Diana: I will be gamier than ever.
Miriam Shor shine so bright with any material. She can take the most bland sentence and turn it into comedic gold. Of course, she didn't really have to try that hard with Diana's scenes with Hugh Shirley. What on earth?
Nothing about the guy felt right until she finally laid into him after his revelatory remark.
Hugh: Do you know that I wore a tampon for an entire day last week just to know what it felt like?
Diana: That is so revolting! I'm sorry, I'm sorry. I appreciate your intentions, I really do, and I am going to ensure that your book is a mammoth success, but try as you may, you can never know what it is like to be a woman. You can wear as many tampons or bosoms as you like, but you will never understand what we go through. I'm sorry, it's true. MAY I PLEASE GET SOME MORE WINE!
When he finally admitted all men really want is to be inside of women, and all he really wanted was to be inside of her, I was so certain Diana was finally going to get lucky! 
What kind of many tosses a woman into a car after that passionate make-out session? Granted, his motives were pure, and looking back on it, Diana will either feel swept off her feet by a gentleman or completely shamed. I'm not sure which I'd feel under the circumstances.
It would be hard not to take all of the odd behavior beforehand and completely disregard the fact he was trying to keep them going in a good direction instead of trying to ruin what they might have with a one night stand.
As I sit here with a heating pad on my shoulders, I need to thank Younger for giving me the old gals diagnosis of 40-year-old shoulder. Did MY doctor know what ailed me? No. But watch Younger and suddenly it all makes sense. 
I simply love how Liza's body is betraying her despite her eternally youthful mind. That's pretty much how it goes, too. For someone who isn't divorced with kids, even more so. Suddenly you wake up one day, and you can't move your arm. WTF? What is this betrayal? 
Without laying it on too thick, the show still reminds us that despite how incredibly gorgeous and without any indication of age whatsoever, Liza is not 26. It's not something that should stop her from getting a job or making new friends, but it damn well will stop her from moving her left arm above her head.
Josh: I did a little research. You know what your 40-year-old shoulder needs?
Liza: What?
Josh: A 26-year-old massage.
Let's revisit the awesome teamwork between Kelsey and Liza that went down over that bitch, Jade. And can I admit I don't fully understand how what they did is legal? Because I don't. And I'm not sure I'd dislike any old college chum enough to sell him dead air for twice the asking price. Ouch.
Yet using Jade's snarky social media content against her felt really good, didn't it? Even if Charles thought Liza's writing could use some work. (How dare he?!) What they accomplished in such little time was pretty spectacular.
And they even managed to double their starting money in the process. So while I thought the end result would be they found somebody better while getting screwed by Jade, this works just as well.
And that phone call from Jade, complete with her diamond binky hanging around her neck while she sat in a kiddie pool? Perfect. Checking in with her at a later date, perhaps really down on her luck, would be a nice capper to the whole exercise. What a capital L loser.
There wasn't a whole lot going down with Josh (waaah), but on Younger Season 2 Episode 7 Liza and Josh are going to go to a music festival, so we should expect to see them getting cozy with the attendees, among other things.
What did you think of "Un-Jaded"? Are you glad to be rid of the bitch? Anyone here old enough to have 40-year-old shoulder other than me? Lucky enough to have a 26-year-old massage? And what did you think of Diana and Hugh? 
If you're behind on the season, you can watch Younger online any time via TV Fanatic, so don't hesitate!
Carissa Pavlica is the managing editor and a staff writer for TV Fanatic. She's a member of the Critic's Choice Association, enjoys mentoring writers, cats, and passionately discussing the nuances of television and film. Follow her on Twitter and email her here at TV Fanatic.