Marisa's date had ulterior motives, Alicia and Lucca had a difficult time adjusting to Lockart, Agos, & Lee and Alicia got a wakeup call from Ruth Eastman about the consequences of being married to Peter. 
Our TV Fanatics Elizabeth Harlow, Carissa Pavlica and Christine Orlando debate whether or not Alicia should divorce Peter, why Diane and Alicia's relationship is so strained and if they want Ruth Eastman back after The Good Wife Season 7 Episode 14.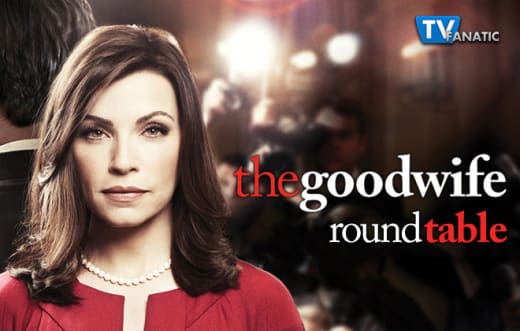 Do you want to see Alicia divorce Peter?    
Elizabeth: Dear god, yes! There's no compelling reason for her to stay with him now. I wouldn't have suggested leaving him so soon after the election, but this investigation should make her consider her options. Of course, there is spousal privilege to consider....
Carissa: I'm not sure I care at this point. With so few episodes remaining, it's not like we'll get to reap the rewards of a series featuring Alicia as a single woman, so what's the difference? I'd like her to be happy, but barring a time jump, that's not going to happen. 
Christine: Yes! Alicia has been in this loveless marriage for years. It keeps her from taking chances on finding happiness with someone else because she officially isn't available. I agree with Carissa that it would have been nice to see Alicia free before the series was practically over but at this point I'll take what I can get. 
Why do you think Diane seems so intent on putting Alicia in her place?    
Elizabeth: Part of it is pure business -- Alicia is now a junior partner and treating her differently from other junior partners would cause some real dissension in the ranks. When you work at a large, regimented firm like LA&L, that hierarchy is necessary to avoid chaos. But there's definitely a personal component as well. She's marking her territory. 
Carissa: I'm not sure. And, frankly, I thought Diane and Cary were running Alicia and Cary's firm, so I've apparently been lost a hell of a lot longer than I realized. 
Christine: Part business, part personal. As Elizabeth said, Alicia isn't a founding partner but a junior partner so the rules are a bit different but I think it runs deeper than that. Diane hasn't trusted Alicia in a long time and there have been moments when she's felt as though Alicia betrayed her, real or imagined. I think all of that makes for a very complicated relationship. 
Should Ruth Eastman come back and work with Eli?    
Elizabeth: I'm all for more Margo Martindale! Maybe that could be the spinoff, the two of them open up shop together? Peter's campaign would have done so much better if the two of them could have worked together instead of constantly engaging in pissing matches. 
Carissa: It's too bad things went so badly between everyone in the first place. Why didn't anyone ever sit everyone down and have a talk? For shame on both Peter and Alicia for letting things get so damned out of hand. They would probably be formidable as a team. 
Christine: Wouldn't that make for a great show? Eli and Ruth would be a formidable and entertaining team. The main reason Peter's campaign failed is because he allowed the two of them to be pitted against one another instead of having them work as allies.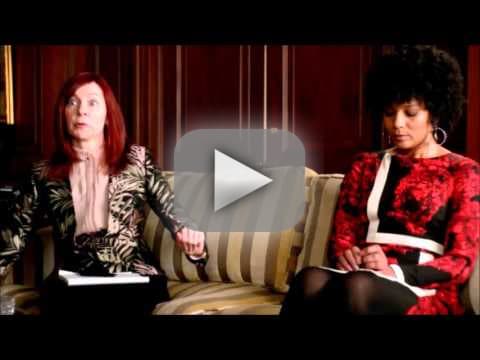 Will Lucca be able to fit in at Lockhart, Agos, & Lee?
Elizabeth: I think she (and Monica) will carve out their space. She's got two obstacles to overcome: 1) she's a woman of color coming into a firm that has some diversity issues, and 2) she's got to adjust to having a boss. Neither of those things will be easy, but like Alicia said, she's a prodigy. I think once Diane gets past her being Alicia's find, she'll love her. 
Carissa: Lucca can fit in anywhere. It's a matter of whether she'll want to fit in as much as she thought she would want to going into it. It's entirely possible she'll decide it's just not her thing. A big corporate law firm isn't for everyone. 
Christine: It's as much up to Lucca as anyone. She's smart and strong and feisty but this firm is going to be a challenge for all the reasons mentioned above. I'm really hoping that Diane and Lucca have the chance to work together because it shouldn't take long for Diane to see Lucca's potential.  
What was your favorite scene from this episode?    
Elizabeth: Everything with Marissa. Especially her clear disdain for her job at the juice bar. The bit with the judge and the ants was really great too. 
Carissa: Cary welcoming Alicia back. I had high hopes at that moment. Admittedly, they began to slide a bit as the hour progressed, but at that moment? High. 
Christine: The look on Eli's face when he realized that not only had Marisa gotten a photo of her "date" but she also recorded their conversation. He was so proud that the apple hasn't fallen far from the tree. He was really cute about it. 
Check back on Sunday for our review of The Good Wife Season 7 Episode 15 and if you can't wait until then, you can watch The Good Wife online here at TV Fanatic.  
C. Orlando is a TV Fanatic Staff Writer. Follow her on Twitter.