Winston just can't catch a break!
On New Girl Season 5 Episode 8, Reagan came up with a brilliant idea to get Winston and Nick to finally make a decision about something. To be honest I was a little nervous about where things were going to go with Reagan, but I was pleasantly surprised.
Let's get down to it and discuss, "The Decision."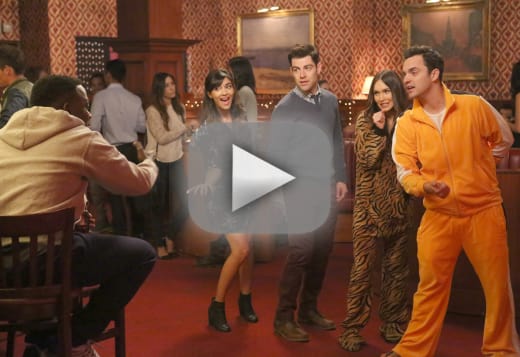 I'm actually liking the way Reagan is being written. She gets straight to the point and brings out a different side to the guys. Winston and Nick would be the ones to take what Reagan said seriously and really try to figure out who should sleep with her.
I always look forward to the Nick and Winston moments because they're some of the most memorable. It was hilarious hearing them bicker back and fourth about who is the better man.
The only think I continue to dislike is how naive Nick and Winston have become. It seems like every season it has only gotten worse.
Nick and Winston started the series with some intelligence and they have evolved into these completely moronic men.
While it can be absolutely hilarious at times, it can also get old extremely fast. I just want Nick and Winston to get back some of the confidence they once had because they are sorely lacking in that department.
At least we were treated to a flashback of Nick and Winston when they were younger which never gets old. I did enjoy Winston and Nick's reaction after hearing Reagan telling Winston all the things he needs to do before they have sex.
Of course Winston would start to show his insecurities and confide in his partner Ali which I think everyone figured he had feelings for her. 
The one thing I really did like was Schmidt and Cece having their own storyline. As much as I enjoy all the friends together it was time for Schmidt and Cece to plan their wedding. I don't blame the two of them for getting competitive when Benjamin showed up.
I couldn't help but laugh at the couples when they were fighting over the venue and telling the story of how each couple met. What would make Cece go with them being cousins?
It was sweet the way Schmidt decided to hold off on getting the venue since they didn't have the money. They might be ridiculous at times, but Cece and Schmidt are perfect together.
In the end, Schmidt and Cece made the decision to get married in the soon to be abandoned warehouse.
I still think there's a possibility of something happening at the fancier venue, but either way I'm looking forward to seeing how this wedding comes together. Who else is ready for this wedding to get underway?
Don't feel bad if you missed out! You can watch New Girl online now via TV Fanatic anytime. Just make sure to come back to let us know what you think.
Samantha McAllister was a staff writer for TV Fanatic. She retired in November 2018.