Never surprise a woman in a dark hotel room.
The introduction of Reagan on New Girl Season 5 Episode 6 made me miss Jess even more.
I really think New Girl could have done well without introducing a new roommate.
They could have approached Jess being gone by having a revolving door of guest stars renting out Jess's room.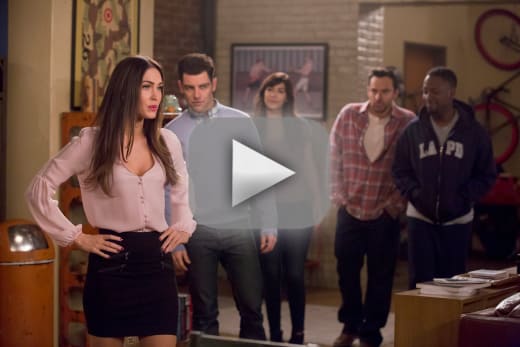 This doesn't mean I didn't like Reagan because I really enjoyed Megan Fox's performance. Reagan doesn't mince words and she pushes the guys to be men.
She's definitely going to add an entirely different dynamic in the group which we haven't seen before, but I do miss Jess' quirky personality.
Was anyone else surprised Schmidt hasn't gotten a ring for Cece? With the way Schmidt is, I figured he would have already had the perfect ring picked out for her. It just seemed a little out of character that Schmidt didn't immediately go to a jeweler the moment he proposed to Cece. 
I wasn't shocked to learn Schmidt's jealousy has grown even more since being engaged to Cece. I figured the guys hitting on Cece at the bar would eventually get to him.
I found myself agreeing with Cece about being a bartender and getting hit on being part of the job. Of course, Schmidt's response to the men who hit on her was pretty hilarious. 
This woman is engaged. Her number belongs to God now, thank you.

Schmidt
I really want him to get into a healthy relationship. It has been far too long since Nick has been given a good romantic partner. Ali was right about Nick having to look at his love life a little more realistically; though I don't think him, or Winston, should give up on wanting to feel magic.
Of course Nick wouldn't listen to his own advice and immediately became attracted to Reagan who's out of his league. Winston gets credit for at least knowing Reagan and Nick wouldn't be a great match. 
Speaking of Reagan, I saw the twist coming about her knowing one of the friends. The whole Reagan and Cece hooking up subplot was really just a way for Schmidt to be jealous some more.
Cece has never done anything to make Schmidt think she's going to cheat on him, so I didn't understand why he was so nervous about Reagan. 
In the end, Reagan was able to make Schmidt man up and stop being so darn jealous. I was pleased the whole jealous thing only lasted one episode because I don't think I could take it much longer. Now I'm just looking forward to seeing what kind of ring he ends up buying for Cece.
The best part was when the friends invited Reagan to come move in with them. I couldn't stop laughing when they were all sitting in the dark to surprise her.
Poor Nick would be the one to get kicked in the head, but hey, they now have a new roommate in Reagan – until Jess makes her way back to the loft. 
Do you want to relieve Nick getting kicked in the face again? Go watch New Girl online now via TV Fanatic. Just make sure to come back to let us know what you think.
Samantha McAllister was a staff writer for TV Fanatic. She retired in November 2018.