Teen Wolf Season 5 Episode 14 Review: The Sword and the Spirit

Allison Nichols at .
I need to stop being shocked by the levels of Theo's douchiness. 
On Teen Wolf Season 5 Episode 14, Theo decided to do something nice and help Malia by drugging her and then later shooting her.
I'm honestly still not sure why Theo had to join in on the Deaton rescue mission. What was he going to do anyway aside from make snarky comments and then betray everyone?
Can we take a moment to discuss the Dread Doctors' goggle moment? That was way too much.
I had to turn away from the TV whenever Malia put the goggles on. I don't mind gore, but this torture element came on a little strong for my liking. What did you think?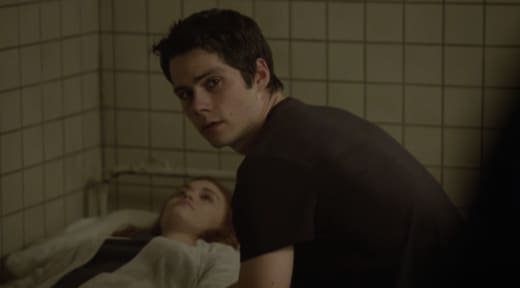 I was actually shocked that Theo shot Malia. It was an actual gasp out loud moment. I'm kicking myself for believing that Theo was above hurting her.
He just seemed to like her enough to not leave her for dead. Now it's crystal clear that the only person Theo cares about is himself. He would kill anyone to get what he wants.
Theo's endgame is to steal the beast's power. Its power is just that it can kill really well, right? I don't know why Theo needs to steal that power. I'm sure he can be a great murderer all on his own. He did a decent job killing his sister, so...
This master plan is definitely not what I was expecting, so it earns points for that. Plus, it speaks a lot to the kind of man Theo is. He's always looking for his next power fix. It doesn't matter how powerful he is, it is never enough.
In order to steal the beast's power, we are going to have to dig into the beast's history quite a bit, and that is one of the more interesting aspects of this season. It's what I would have liked to have done with the Dread Doctors, but whatever, let's leave them a weird mystery.
Most of his chimeras (not sure if Hayden is in the loop) seemed to know about Theo's master plan, but why are they helping him become a killing machine? It's hard to see what's in it for them.
Previously, Theo told Hayden that if they stick together, the beast won't hurt them. Maybe the chimeras are operating under the assumption that if Theo becomes the beast, they will be spared. It's all a little confusing. Why do you think the chimeras are helping Theo out?
MVP of the night is Braeden, hands down.
She was the one who looked out for Malia's best interest and became the BFF that Malia is in desperate need of. Braeden clued Malia in on the obvious fact that Scott wouldn't hold Malia accountable for Deaton's capture, and then she also pointed out that Theo is a snake.
He killed Scott so he's no friend in her book. We should all strive to be a little more like Braeden, you know? A badass with a good head on our shoulders.
Well, Lydia finally learned how to use her voice as a weapon. Meredith didn't do all that much teaching, so she was useless. What was nice about this whole "training" session was that a premonition that Malia was going to die was what kicked Lydia into gear.
It was the realization that her friends are in danger, and she's trapped in Eichen, helpless.
Please I have to tell them. They're all going to die. My friends, they're all going to die.

Lydia
Lydia's always been about trying to save her friends. To take it back to a super painful moment, when Lydia was kidnapped she tried her best to keep Allison away because Lydia knew that if Allison came to save her, Allison would die. Lydia's friends are everything to her.
It would have been so great if Lydia escaped Eichen and just showed up at Scott's house right as they were planning their rescue mission. Lydia doesn't need a pack to save her. She's more than capable of doing it herself, thank you very much.
While it's strange to admit, Gerard was actually a nice addition. He's someone who has a lot to bring to the beast fighting table, so to speak. Plus, it's really interesting to see him interact with everyone again.
He brings a strange dynamic, and it's fun watching him and Argent fighting on the same side. The team up to confront Parrish is a prime example of that. 
Parrish: Hellhound. What if you were wrong? Would you have burned my eye out?
Gerard: Yeah.
What did you think of the hour? Was anyone else thrilled to have a Deaton and Scott hug? I was going to be so upset if they didn't hug it out. Deaton's a father to Scott. Leave me your thoughts and theories in a comment below.
Remember you can watch Teen Wolf online anytime via TV Fanatic.