Law & Order: SVU Season 17 Episode 10 Review: Catfishing Teacher

Jack Ori at . Updated at .
Wasn't Rollins' baby adorable in the opening scenes of  Law & Order: SVU Season 17 Episode 10?
Too bad Rollins' new family only took up two seconds of screen time. I'm not even sure if she had a boy or a girl. And how the heck did they resolve the medical complications she was struggling with at the end of Law & Order: SVU Season 17 Episode 9?
The rest of the hour took on a variety of issues, everything from the difficulties in getting male rape victims to come forward to pedophilia in high schools. Too bad there wasn't time to deal with any one of these issues in depth.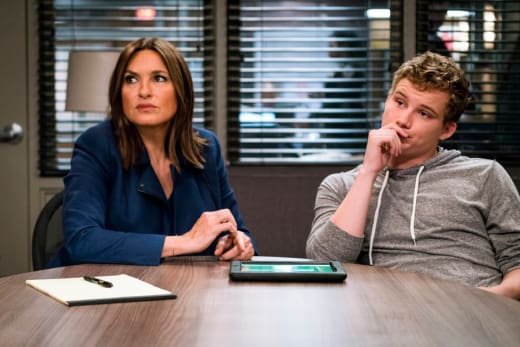 Part of Law & Order: SVU's formula is to begin with one case and then spin off into some other type of story. Most of the time, this makes sense. Sometimes, though, it's irritating, and "Catfishing Teacher" was one of those times.
The problem is that the teacher originally questioned in Zach Foster's disappearance actually committed a crime. She was quick to claim that her photos had been stolen and used without her consent, cut a deal and was never heard from again.
Phoebe: He was a good student. There was never any need for tutoring.
Benson: Tutoring? Is that what you call it?
It's true that the other pedophile of the hour used her photos to lure Zach Foster to a train station and then into his car, and that certainly is a crime. However, the fact that this teacher coerced failing students to have sex with her in exchange for grades – including one former student to whom she is now married – is a serious problem.
She should have been more than a token criminal to set up the story. It would have been nice to see both her and the coach face consequences for their actions. Zach Foster's parents were very concerned about what happened to him. Why was there not a single adult standing up for the other boys who had been molested by their teacher?
There seemed to be a huge emphasis on the kids' home lives. Zach's parents argued constantly and the other boys were supposedly all neglected and in need of some love. It's not really clear why this was a necessary or important part of the story. Children from intact homes could also be susceptible to a teacher or coach who gives them special attention. 
Zach: I woke up because his mouth -
Benson: It wasn't your fault.
Benson did an outstanding job of helping Zach see that his rape was not his fault, but the backgrounds of the boys suggests that divorce and poverty are to blame for child molestation. It makes sense that children who feel neglected or who have low self-esteem would respond to getting attention from an adult, but having two parents doesn't guarantee that a kid will not have problems or become a victim, at all.
The male rape aspect was interesting.
Liv. You know how it goes. When a boy goes through something like this, he never tells anyone.

Fin
Fin's comments, Zach's fear that being raped made him gay and his parents' desire not to have him testify because being raped by a man would make Zach even more of a pariah in school all demonstrate the difficulties inherent in prosecuting male rape cases. I'd rather have seen more time dedicated to this issue and less to the abrupt and shocking ending to this story.
It was unnecessary for Nat take justice into his own hands and even more irritating for Benson to be on his side. Nat was offered the opportunity to testify. Would it have been difficult? Of course. But he could have made that hard choice and gotten some justice.
Instead, he kidnaps, tortures and kills his abuser, and SVU is eager to get him a lawyer rather than violating his rights like they do to most suspects by trying to talk him out of the lawyer he already demanded. 
The abuse Nat suffered was horrible, but it's not like this was the only way out for him. If Zach, whose parents would not allow him to testify, had done this, it might have been understandable. Nat just came off as creepy.
Nat: Must have been in a lot of pain. Did he bleed to death?
Benson: Yes.
Nat: Good.
By the way, where was Barba this week? O'Dwyer did a good job of trying to stay objective and within the bounds of the actual law, but it was jarring to see another DA on the screen, especially without explanation of where the usual DA had disappeared to.
So SVU-aholics, what did you think? Did "Catfishing Teacher" spread itself a little too thin, or was it an enjoyable though shocking story? Did you feel at all sorry for Nat? Share your thoughts below!
Miss something? No problem!  Just watch Law & Order: SVU online and come back to comment after you're caught up!
Jack Ori is a senior staff writer for TV Fanatic. His debut young adult novel, Reinventing Hannah, is available on Amazon. Follow him on Twitter.