Heroes Reborn Season 1 Episode 12 Review: Company Woman
Paul Dailly at .
Can the solar flares come and save this mess?
On Heroes Reborn Season 1 Episode 12, we got one step closer to this whole nightmare being over. I'm not going to deny that the outing was a cut above Heroes Reborn Season 1 Episode 11 (which was atrocious), but there were still a lot of problems. 
Primarily, the issue that has plagued this series from the start is the lack of decent characters. Right now, Ren is the only likeable fellow on the show. He's barely had any screen time, but his return was refreshing. It almost made me forgive how all over the place the rest of the show has been.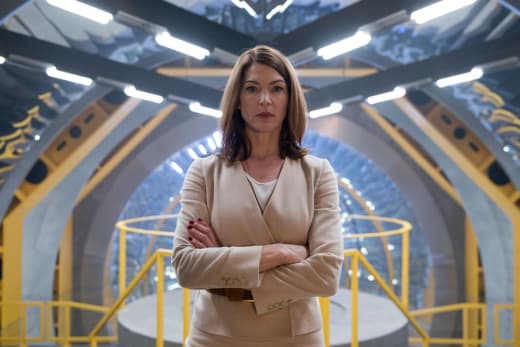 Erica's back story didn't interest me in the slightest. This woman is pure evil, and it felt kind of fulfilling that Taylor told her she'd rather die than go to the new world with her. I was pretty sure Taylor was going to kill herself when she realized that her baby daddy was dead. Perhaps she figured she'd be dead when the solar flares arrive, anyway. 
The character of Matt has been completely destroyed. He was a very engaging character back on the original series, but the convoluted nature of his storylines in this rebooted version of the show have put him squarely in the scrap heap. He doesn't deserve a happy ending after everything he's done. 
The whole scene with his car rolling was pretty well executed and all, but I was too busy clapping my hands together at the thought of him getting his comeuppance. 
Tommy finally being double crossed by Erica was long overdue. It's difficult to imagine why she didn't just make him digital long ago. It would have saved her a lot of time and effort with him. Does that show she does have a heart? I'm not so sure, but stranger things have happened. 
Luke taking out Joanne for good was also pretty satisfying. She's got to be one of the worst written characters on TV in quite some time. Somewhere, I'm sure the casting call for the character must say,"the character of Joanne has a permanent scowl on her face."
There was still no HRG in sight, which was pretty weird. He is that glue that's been holding this mess of a show together since it started. Without him, there is no Heroes. 
With that said, I'm not surprised NBC isn't moving forward with another season of this rebooted series. NBC can play the "limited series" card all they want, but had this show had a few million more viewers, it would be returning. It's a numbers game and the rest of NBC's shows are doing better than this one. Bare in mind that this show has lost half its audience throughout the season. 
"Company Woman" wasn't all that. Sure, it was better than the return from break, but the little momentum this show had was murdered by that break. With three episodes left, NBC could have wrapped the show up before Christmas. They knew they were sticking a fork in this one. 
There's no point in hedging any guesses about how it'll all end because I'm sure it's going to be a steaming pile of mediocrity. 
Remember you can watch Heroes Reborn online, right here on TV Fanatic. Get caught up on all the drama now!
What did you think of the episode? What's coming in the finale? Should this be the end for the franchise? Hit the comments below!
Note: Heroes Reborn Season 1 Episode 13 airs Thursday January 21 at 8/7C on NBC.
Paul Dailly is the Associate Editor for TV Fanatic. Follow him on Twitter.