Elementary Season 4 Episode 9 Review: Murder Ex Machina

Kathleen Wiedel at . Updated at .
I'm a big Star Trek fan. How, you ask, does this have anything to do with the events of Elementary Season 4 Episode 9? Because one of my favorite lines from Star Trek VI: The Undiscovered Country goes something like this: "First rule of assassination: kill the assassins."
This is what the Ukrainian hitmen realized all too late as they lost control of their car and crashed to their deaths, just minutes after murdering a Russian oligarch, his bodyguard, and a very unfortunate valet.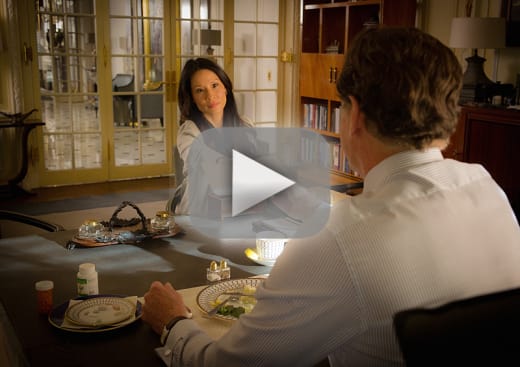 Definitely a solid episode, with plenty to keep viewers distracted and entertained while dropping tasty little tidbits for the long-term story arc involving Sherlock's father.
In terms of the A-plot, I found it curious that the writers chose to feature a real-life conflict, namely the Ukraine-Russia war. More often then not, you'll see fictional substitutes (known colloquially as "expies") of famous people, places, and events, but here they stuck with the real deal.
While Josh Cooke's Phil Balsam struck me as the likely killer early on, I didn't peg the specific motive. That was quite the maze that Sherlock and Joan traveled, and at each turn it seemed they found someone who didn't want the Russian oligarch dead.
One of the most interesting moments of the episode came when the hacker, Mason, pointed out that Zolotov was a bad guy, so why bother trying to figure out who killed him?
Mason: So, why do you care? I'm just saying, he was a bad guy, now he's dead. You should go see a movie or something.
Joan: The people who killed him also killed his bodyguard and the valet who was getting his car.
Sherlock: And even if there were no innocent victims, no murder should go unsolved, and no murderer should walk free. To think otherwise is to descend into a pit of moral relativism.
Sherlock's and Joan's responses give clear insight into their characters. Plus, both make excellent points. What did that poor valet do to deserve getting shot? And, as the Law & Order franchise loves to point out now and again, you can't choose the victim. It's not up to us to decide who "deserves" justice.
Sherlock's statement in particular interested me. He first states that no murder should go unsolved, which can be interpreted both as a duty to the victims and a challenge to his intellect. Secondly, no murderer should walk free. It's not always as clear-cut as it was here, with Balsam and his war profiteering.
Moral relativism is a very dangerous trap, one I think it's all too easy to fall into these days. It's fashionable to say that all viewpoints are relevant, that there is no black and white, that certain moral judgments are only true or false a particular point of view. By that standard, a person can justify the most heinous of crimes.
Here, Phil Balsam murdered a man who was trying to negotiate a way to stop a war. Why? So Balsam would make money, ultimately. The fact that he killed five people and knowingly put countless Ukrainians in ongoing jeopardy didn't even touch him.
The story was complicated, and twisty, but I figured it would come back to Balsam for a couple reasons. "Mittens," given her condition, didn't seem capable of dissembling, were she the actual killer. Plus, Balsam seemed extra eager to point the finger at his corporate rival.
Then there was the B-plot. While not very extensive, it did provide some intriguing tidbits, including (finally!) direct mention of Mycroft by both Sherlock and Morland.
There are three surviving Holmes men, and you've sampled the carnal wares of one. Two would be a pattern.

Sherlock
What I find curious about this statement, actually, is the use of the word "surviving." There are three "surviving" male Holmeses, which suggests that there may well have been more. If so, who were they and what happened to them?
Of course, there was also the look of annoyance on Joan's face at Sherlock's implication that she was going to have sex with his father. Good heavens.
The big thing to come out of this was the possible revelation that someone attempted to assassinate Morland. If Joan's supposition is correct, this may well tie into whatever dangerous business we learned Morland was involved in back in Elementary Season 4 Episode 6. Whatever it is, it's probably not good news for our heroes.
Some final notes before I sign off:
Clyde the tortoise is in the refrigerator for the winter.
That must be a pretty well-off strip club if they have a valet and their very own Russian spy lurking.
The expression on Jonny Lee Miller's face when Joan tells Sherlock that she's going to dinner with Morland? Absolutely priceless.
Dino Arbogast from Blue Bloods has really come down in the world since losing his job as the Police Commissioner's right hand man; now he's a dockworkers union leader with Mafia ties!
The swift and easy way the vehicles were hacked is enough to give a person paranoia.
The episode title, "Murder Ex Machina," is a play on the term "deus ex machina," which means "god from the machine." The phrase has its origins in the Greek theatrical tragedies, where a machine was used to bring actors portraying the gods onto the stage from either above or below.
So, what did you think of "Murder Ex Machina"? Did you peg Balsam as the killer? Is Joan right that someone trying to kill Morland? Let us know your thoughts in the comments section below!
If you missed this episode, fear not! You can always watch Elementary online. Meanwhile, the Elementary Season 4 Episode 10, "Alma Matters," is scheduled to air on Thursday, January 28, 2016 at 10/9c on CBS.