Colony Season 1 Episode 3 Review: 98 Seconds
Carissa Pavlica at . Updated at .
Day 341 of the Occupation.
That's what we discovered on Colony Season 1 Episode 3 as Bram has been recording all of Geronimo's radio addresses. Was I the only one who thought, as the hour started, that the title "98 Seconds" was going to refer to the amount of time he stayed on the air?
Then again, it might have. I honestly didn't notice when he stopped the timer. The second instance of 98 seconds was kind of burned into my brain, leaving Geronimo in the dust.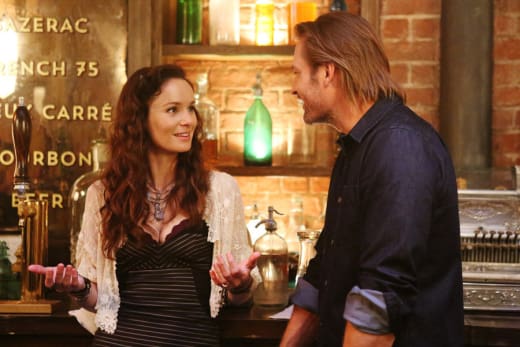 Katie really seems like she's in over her head with the Resistance. I'd really like to know more about the group and what, exactly their plans are. 
I'm sure there is a reason why I'm being fooled into feeling so poorly about them in general, but for a group who is supposed to have the future of society on their minds, they are very quick to kill and think of killing. What does Quayle do, for instance?
It's kind of hilarious that since the Occupation found a guy in Will who is so damned good at his job they would actually consider KILLING him rather than making a marked effort to recruit him over to their side, first. After all, Katie is already working with them.
At least I'm assuming they'd kill him. "Needs to get a whole lot worse at his job." They don't really let people do that, do they? And why don't they just get BETTER at their jobs? Sucks to be second best, doesn't it?
There's something just not right with the group. Although we didn't see a whole lot of either side during "98 Seconds," I still get a queasy feeling when anyone from the Resistance comes on screen, and especially when Katie starts to share information.
She just told Brouchard about Phyllis, who has a way to manipulate the rolodex, in exchange for keeping their hands off of Will. It seems like a fair trade, but we don't know enough about Phyllis yet to know how much of Will's status has to do with what she knows about him or how she feels about his abilities.
Plus, I like her, dammit.
At least the Resistance seems dumb as a box of rocks in comparison to Will, who can figure things out in a matter of minutes. 
Then again, I still don't know why I'm rooting for the Occupation!!
I'm very confused. 
Katie seems to be, as well. When the Yonk opened and after Proxy Snyder marched in and rained on everybody's parade, she kind of freaked out. Of course she doesn't want him working for the Occupation unless it can help them find their son. But she shouldn't be putting their family in danger working for the Resistance without something in return either. What's she getting in return?
They lose their kid and then they go to the factory just like that. I'm responsible for that, all so we can get our son back. Whatever you're going through, we're going through together. You can tell me anything. Just talk to me.

Will
Will and Katie are still on very different pages, as well. Until we know the Resistance really is fighting for the people, conversations like these will continue to be really painful.
Bram, on the other hand, just found a tunnel to the outside world. Wouldn't someone be monitoring that? Is that going to come up and bite him in the butt? He seems like a ticking time bomb, that one. The kid who was with the Resistance who was shot? His parents were taken away to the factory for nothing.
Bram is pretty lucky his father is working for Homeland Security at this point and that Will is well-liked. Bram and Katie are taking a lot of chances that Will may have to pay for later.
I noticed a couple things. The booze for the Yonk came from San Francisco and Kentucky, and Maddie and Katie really had no idea about whether or not those places were flourishing. Communications are obviously cut off with the outside world. 
Pia's family is scrounging for canned goods, but there is a lovely swimming pool in front of her building. Umm....is that right? Nobody would be paying for the maintenance on that. That had to be a mistake.
This definitely wasn't the most eventful hour of this new series, but things are about to pick up! What did you think? Any theories on what's going on? Did anything stick out to you?
If you missed anything so far, you can always watch Colony online right here via TV Fanatic!
Carissa Pavlica is the managing editor and a staff writer for TV Fanatic. She's a member of the Critic's Choice Association, enjoys mentoring writers, cats, and passionately discussing the nuances of television and film. Follow her on Twitter and email her here at TV Fanatic.