Some days just plain suck.
Hardly anyone had a good day on Chicago Med Season 1 Episode 6. Doctors were losing patients left and right, all while having to face crushed hopes and personal demons. At least Natalie's day managed to bring everyone together in the end.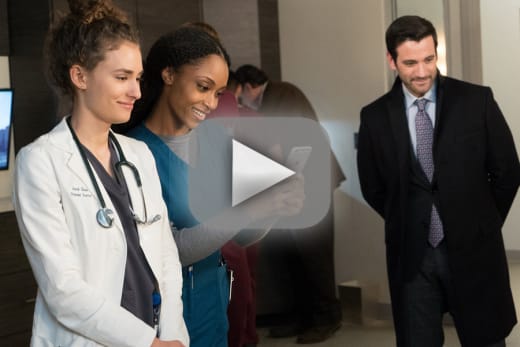 Between profit driven deportations, buried family secrets, and children destined to die from horrible diseases, Chicago Med was giving everyone a serious case of the blues with "Bound." 
Connor was by far the most put upon. The case with the two stowaways was tragic from start to finish, but I personally really enjoyed how the story was never quite what we thought. Connor's level of concern initially seemed to be normal compassion, but finding out his family background changed our perspective.
With Rhodes Sr. back on the scene, I don't know why I was surprised that there was more to Mama Rhode's death than the story Maggie shared with Will. I can't wait to find out what exactly what happened that night, or why Claire was left in the dark.
At least Connor's family drama is teaching him to stand up for himself, both with his ass of a father and with his ass of a coworker. 
Connor: What kind of screwed up life did she have that she took a risk like that?
Will: Hey, no offense, but not everyone's born a Rhodes.
Connor: Thanks. I keep forgetting that.
Still, the abrupt end to Maria's story left me feeling a little shortchanged. I mean the Sinaloa cartel was involved, and that would have been a great setup for another crossover with PD. At least this little plot gave us some excellent medical props – the prosthetics for the compartment syndrome scene were amazing. 
The other medical case that went nowhere but the land of hopelessness didn't even have that going for it. I swear, the writers were seriously trying to bum us out with Choi's patient. Poor Curtis didn't serve any purpose other than to remind us that the gun violence situation in Chicago is terrible right now
The most important thing is that they need to know that somebody is there who understands what they're going through. So really, it's your compassion that they need to feel.

Daniel
At least Sarah's super-depressing case led to some character growth. Honestly, I've been a little "meh" about the medical student up until now, but watching her break down in the bathroom was on par with John Carter's (Noah Wyle) iconic pose with his head between his knees on ER.
It was also really refreshing to see a show go in a direction other than complete train wreck when portraying the first time a medical student has to deliver bad news on their own. Sarah wasn't perfect of course, but I thought she did a really admirable job of delivering the news about Parker.
It just goes to show that a character doesn't need to have some terrible secret or a hot boyfriend or an unstable personal life or any of those other cliches in order to be of interest to the audience. A normal person handling difficult situations and showing a little vulnerability can do it too.
Will: How you feeling?
Nat: Wonderful. You know, considering the fact that I can't sleep for longer than fifteen minutes, and when I do actually get comfortable, I have to pee.
The ray of sunshine for "Bound" was Natalie's baby finally being born. Okay, I know she hasn't really been pregnant that long on the show (nothing to Dayanara's almost three season pregnancy on Orange is the New Black), but it seems like it's been talked about ad naseum. 
Little Owen came into the world with some drama, of course (this is television, after all). But since it let Maggie show off her midwife chops – and another super cool prosthetic – it was all fine by me. 
It was also nice to see somebody on the show recognize Will for the creep he is. There still seems to be this bizarre delusion that he's a "nice guy," but at least Helen called him on his behavior with Nat. I can only hope that her white lie to her daughter-in-law doesn't cause strife down the road.
Helen: Natalie's husband, my son, Jeff, died seven months ago.
Will: I'm very sorry for your loss.
Helen: *Only* seven months. What are you doing?
Some interesting facts to note: the new characters that were introduced in the crossover event were conspicuously missing, as was any mention of April being in a relationship with Severide. There were also no mini-crossovers in this one. I actually don't think that this hurt the storytelling, but it did make things decidedly less "Chicago."
Chicago Med Season 1 Episode 7, "Saints," will air on January 26th, and Sharon will finally get a main story line. She'll have to stand up to the board in order to help a patient when legal issues interfere with a bone marrow transfusion. April may or may not be making out with Severide in between looking after a homeless man, we'll all just have to tune in to find out!
You can always watch Chicago Med online if you missed the live airing (or your DVR malfunctioned). Just get all caught up so you can join us in the comments section!
Elizabeth Harlow was a staff writer for TV Fanatic. She left the organization in October 2018.