The Vampire Diaries Season 7 Episode 8 Review: Hold Me, Thrill Me, Kiss Me, Kill Me
Miranda Wicker at . Updated at .
What do The Vampire Diaries and basically every Disney movie ever made (except Toy Story) have in common? Dead parents.
Yep. That's right. The Vampire Diaries Season 7 Episode 8 saw us all saying goodbye to Lily Salvatore, except for real this time and not like that time way back in the 1800s when she pretended to be dead and abandoned her sons to grow up with the cruel and merciless father who eventually shot them both. 
(Okay, so Giuseppe Salvatore pretty much deserved to die...)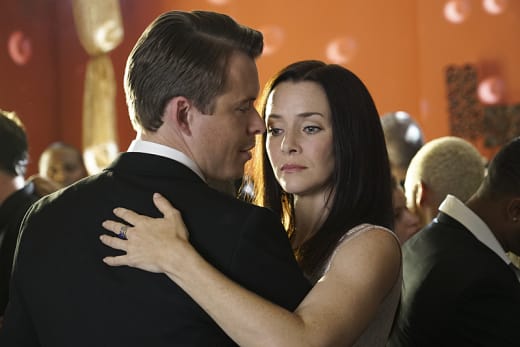 The Vampire Diaries Season 7 has been nothing but great, but not every episode can be a winner. Tonight was decidedly not a winner.
At the end of The Vampire Diaries Season 7 Episode 7, Lily, Stefan, and Damon began hatching a plan to kill Julian once Lily realized all the ways in which he was a terrible, horrible life partner who never should've been yanked out of the Phoenix Stone prison. A for effort there, Lils, but it was too little too late since her plan to rid their lives of him hinged on too many moving parts.
For starters, Lily had to hope that Damon wouldn't just kill her in order to kill them both. The only thing keeping him reined in on that front was Stefan. Then she had to hope she could convince the Heretics to unlink her from Julian. Except she didn't actually need all of them because Mary Louise was perfectly capable of doing the spell herself, so basically none of it made much sense.
And now Lily Salvatore is dead, and we've lost Annie Wersching. Boo. (She was in the flash forwards, but that was a werewolf venom-induced hallucination of Damon's. Where's Klaus when we need him?)
There's nothing about Mary Louise and Nora that makes me want to root for either of them as characters or as a couple. Teressa Liane is wonderful and fun, and truly, seriously loves playing this character and being on this show, but their storyline? It's terrible.
They're no Josh and Aiden.
What was the big deal with needing all the Heretics to be on board with the unlinking if it only took one of them to do the spell? Why couldn't Valerie have done it herself with a vial of Julian's blood? Was the house SO big, and did Stefan's conversation with Lily take SO long that they couldn't, like, pass off the little vial of blood and go on about the unlinking so Damon could get to the killing? 
Sigh.
Now we're stuck with ragey Julian who really shouldn't be mad at anybody but himself since he's basically the reason Lily killed herself. If he hadn't forced her to choose between her sons and her Heretics, she never would've tried to take them both out. By the way, Lily staking herself was kind of anvilicious. If anyone thought she was going to choose Damon OR Valerie, that person hasn't been paying attention.
And if Stefan thought Damon would forgive his mother simply because she was dying, Stefan hasn't been paying attention either. Then again he does seem like the eternal optimist, so...
Everything between he and Caroline tonight felt incredibly forced. Of course he's going to stick by her while she's pregnant with Jo and Alaric's babies. That is until he doesn't. Or can't. Or whatever. Stefan's not the kind of guy to peace out about something like this, even if he hates everything about it. 
(In my dream world fantasy land, Damon somehow ends up having to deliver the babies, and he's freaking out and snarking all over the place, and Caroline's trying not to kick him in the face because he won't stop talking.)
The most intriguing part of the episode award goes to Matt Donovan. Partly because who thought he could find a way to make himself relevant, and also because who WERE those masked men with vervain darts and a mobile cage, and what do they want with Enzo?
Are they rounding Enzo up? All vampires in Mystic Falls meaning the Heretics aren't safe either? Where did he find these friends? Are they related to the huntress who is coming? We need answers and we need them now! 
Maybe we'll get a few of them December 10th on The Vampire Diaries Season 7 Episode 9, the winter finale.
What did you think of "Hold Me, Thrill Me, Kiss Me, Kill Me"? Were you sad to see Lily die? Who are these masked friends of Matt Donovan's? Sound off in the comments below and don't forget you can watch The Vampire Diaries online!
On a personal note, I want to extend my apologies regarding the lack of a Round Table following last week's episode. I suffered a death in my family right before the holiday and as such the column did not go up. I hope you'll forgive the lapse. Just to sweeten the pot, here's a sneak peek of "Cold As Ice," The Vampire Diaries winter finale.
Miranda Wicker is a Staff Writer for TV Fanatic. Follow her on Twitter.