The Librarians Season 2 Episode 9 Review: And the Happily Ever Afters

Kathleen Wiedel at . Updated at .
Sometimes, you just feel the need for a fun story where logic need not apply. This is magic! Indeed, The Librarians Season 2 Episode 9 is a fun little fairy tale where True Love's Kiss woke the princess from an evil wizard's spell!
Yes, yes, everyone else got temporarily bonked free during that scene, but really, it was all about Flynn and Eve and them realizing that despite their differences they actually do love each other!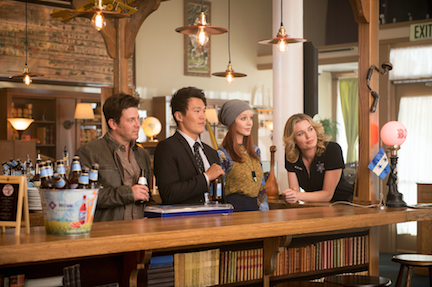 One of the big questions I had from the beginning of the episode was why wasn't Flynn Carsen affected by the spell when Jenkins was? As it turned out, Flynn was affected. Unfortunately for Prospero, the way he was affected still allowed Flynn to figure out the problem and save the day!
The message here is, of course, read the fine print before casting complicated magical spells.
Each of the characters was given an idealized alternate lives, but the way in which these alternate lives were realized made no logical sense, which hilariously confused Flynn when he first arrived in town. They took full advantage of the utter hilarity of Flynn Carsen playing the Only Sane Man in the Room:
And this guy? 'Special Agent'? He's like fifteen years old! AND AUSTRALIAN! How could he be FBI?!

Flynn
It was curious that Ezekiel's Happily Ever After had him not as some ultimate thief but as an FBI agent. Obviously, working in the Library has affected him more than he would likely acknowledge. The previous episode, The Librarians Season 2 Episode 8, put his character growth on display.
Moriarty was also part of the Happily Ever After spell, with him as mayor of the town and Sheriff Eve as his girlfriend. One hilarious moment came when he claimed to have lived in Cicely all his life. And then Eve commented about his attractive accent. His, you know, British accent.
Magic can do funny things to people.
We also got to meet Ariel as a full-sized person for the first time (as opposed to a little fairy light). I confess, I did spend more time than I probably should have trying to disentangle her accent, but she did provide some insight into herself and Prospero.
For one thing, she had a hard time remembering the characters as real people and not characters, which actually sort of bends the mind when you start contemplating the meta implications, since these really are characters on our TVs...
This is not a story, Ariel. These are real people, with real lives.

Flynn
At some level, this episode offers a bit of commentary on the merits of reality over fantasy. For instance, Sheriff Eve has a perfect relationship with her boyfriend, Mayor Moriarty, but that fantasy holds no candle to the True Love's Kiss she and Flynn share (twice!).
When confronted by Moriarty at the theater, she offers this pearl of wisdom on the subject:
Real love is hard. It's risky. Sometimes, it'll break your heart.
Eve's statement on the importance of reality would be even more of a stab to Moriarty, since he is, you may recall, a fictional. He's not even real himself! This stuff will give you a headache if you think about it too much.
A few final notes:
Flynn noted that the Library was "made" for Jake. Indeed, of the three under-Librarians, Jake shares the most in common with Flynn himself in scholastic achievement and adventurous spirit.
Somehow, about three weeks elapsed during which the Librarians were enspelled. It's not clear whether there was some sort of time differential between the town and the rest of the world or how the time was lost.
Unsurprisingly, most of Jake's team of pitchfork-wielding mob folks were good-looking women.
Each of the Librarians rejected their temptations for the same reason: friendship.
Ariel is referred to as male in Shakespeare's The Tempest, but the character has been played by both men and women. Here, obviously, the character is played by a woman, Scottish actress Hayley McLaughlin.
Why were the Librarians hiding from the mob? The only ones the mob wanted were Flynn and Ariel.
If you haven't heard, rejoice! The Librarians has been renewed for Season 3.
So, what did you think of "And the Happily Ever Afters"?" Did you enjoy the over-the-top idealized versions of the characters' lives? What do you think of Moriarty's situation? Do Flynn and Eve belong together? Let us know in the comments below!
If you missed this episode or you just want to enjoy it all over again, be sure to watch The Librarians online! The season finale, The Librarians Season 2 Episode 10, is scheduled to air on Sunday, January 3, 2016 at 8/7c on TNT.