Welcome to our final Flash Round Table for 2015! What a year, right?
The discussion of The Flash Season 2 Episode 9 includes The Trickster and his turn as Santa Claus, views on the romance in the air this holiday season, Harry's decision to work with Zoom and the introduction of Wally West!
Join TV Fanatics Allison Nichols, Meg Bonney, Whitney Evans and Carissa Pavlica, as well as our friend Andy Behbakht from The Flash Podcast as they break it all down. Share your own thoughts in the comments to play along!
Would you let your kids accept a gift from a Trickster Claus? And what did you think of his return?
Andy: Well since I plan to never have kids, I can't really answer that question [laughs] but I probably won't accept a gift from that Santa. I loved seeing Hamill back as The Trickster, I wouldn't mind seeing him for multiple episodes each season, even though I know that man has a busy schedule.
Allison: I would not let my kid take a gift from a mall Santa. A candy cane? Sure, but a gift that is wrapped? No way. I would secretly unwrap it to make sure it was something I want my kid to have, and then re-wrap it, toss it, or in this case call the police.
Meg: Not a chance! I don't think I would be okay with anyone that i didn't know giving my kid a gift like that, but for sure not a sketchy mall Santa. I love the Trickster. Mark Hamill plays it so strange and cartoonish, making him even more creepy.
Whitney: Absolutely not! Like Allison pointed out, you have no idea what that gift is, so that's a standard, "Thanks, but no thanks." The Trickster was great in his return! He has just the right amount of camp to make it fun and not bothersome.
Carissa: I'd like to think I'd be paying more attention to the jack wagon under the beard, thank you very much. And, as always, Mark Hamill did it up all festive like. He's a hoot.
Barry and Patty and Jay and Caitlin both got a little romantic. Which couple are you rooting for and why?
Andy: Since I have my mix feelings regarding Barry/Patty, I am more open for Jay/Caitlin – I think it's good that Caitlin has someone in her life and can move on from Ronnie (who she thinks is dead, but we still don't know) and I think there is a cuteness between the two of them. But at the end of the day, the couple I'm always rooting the most for, is WestAllen!
Allison: See, I'm still holding out hope that Ronnie is on Earth 2 and that he will return to us. I'm not really feeling the Jay/Caitlin love. I'm all for Patty and Barry. They are so adorable together. Both Patty and Barry need some light and love in their lives, and it is great that they are finding that in each other.
Meg: I know I am in the minority on this, but I really, really don't like Barry with Patty. I am not a huge fan of Patty's character, in general. I think Jay and Caitlin are super cute together. I am definitely routing for them!
Whitney: Caitlin deserves some happiness and her and Jay were very cute this week. And I'm right there with you Andy on WestAllen. I'm patiently waiting for it to be their time.
Carissa: Thank you, Meg! I cannot warm up to Patty, either. She was really in he way a lot. While she's a good detective, she needs to stop thinking of herself first and the public second. Jay and Caitlin are adorable, a true match, especially how she kept falling for his "what is" business.
What did you think of Joe's reaction to the news of having a son and Wally's first appearance?
Andy: Heartbreaking and perfect. I'm glad that he didn't get angry at Iris for keeping it a secret because he has no right to give her crap for it – he kept three big ones from her both in The Flash Season 1 and this season! Jesse L. Martin stole the show big time. As a long time Wally West fan, I cried seeing him for just 45 seconds, I don't know why, it just got to me and I'm so ready to see more Wally as well as his relationship with Iris!
Allison: Perfection. Jesse L. Martin always kills these kinds of scenes, and he brings me to tears. I loved Wally's introduction. I look forward to seeing more of him.
Meg: The West family is really doing a great job with all of these bombshells. Joe might be my favorite "Dad" character on any show ever because he loves his kids so, so much. I knew that we would get to the point where Joe would find out and it was just as heartbreaking as I knew it would be. Even though he was emotional, he handled it very rationally which was very admirable.
Whitney: All of the above. Every emotion was plastered across his face and I just wanted someone to reach out and give the man a hug! Jesse L. Martin is just an incredible actor and he really killed it this week. Was there a dry eye in the house when Joe gave Barry his watch? As far as Wally, I can't wait to see more of him!
Carissa: It made me really sad that he was double thinking every decision since Francine left, but I wouldn't expect different from Joe. He makes every relationship feel so genuine, and I can't wait to see how he welcomes Wally into the rest of the family and makes him comfortable with his siblings. It's going to be amazing.
Do you blame Harry for choosing Jesse against Barry and do you think he'll stick to that decision long term?
Andy: See I don't know if we have the full picture here – I'm almost wondering if he is going to try and work as a double agent and tricking Zoom, while also trying to get Jesse back. I don't think they spelled out what is actually going on between those two because we don't need another evil Wells, even though I LOVED it in season 1.
Allison: I don't really blame him because it's his daughter. I was expecting something like this to happen. I really hope we don't have two evil Wells, as Andy put it, because we've been there and done that. Let's do something different and new.
Meg: Not at all. I am a Mom so I wouldn't think twice if it meant keeping my kids safe. I do think that if Harry told the team that he is being blackmailed by Zoom, they could figure it out together, so that's what I am hoping he does.
Whitney: It's hard to imagine any parent would do anything differently, but I'm not convinced Harry is a "bad" guy. I need to see this play out more.
Carissa: I don't blame him at all. He feels against the wall. Plus, maybe he'll learn something while he's with Zoom that will help Team Flash work to free Jesse.
Any other thoughts about the midseason finale and/or your expectations when the series returns?
Andy: If Patty got away without a suspension or any sort of consequences for what she did, by the CCPD – I will be annoyed, heck I'm annoyed that so many cops in these police departments in the DC TV Universe gets away with so much. Before I continue; I'm not trying to hate on her for the sake of hating, but I will admit that this episode had me quite irritated with her. Other than that, I loved pretty much everything else with the Rogues, the West family focus and Harry's thing with Zoom.
Allison: I was disappointed in the villain team up. It was super lame. This plan didn't call for three villains (well actually two). The Trickster could have done that all by himself. I also expected more of a showdown than we got. Sure, it was amusing to watch Patty and Barry be attacked by dreidels, but what was the point in that attack?
Meg: I loved the scene in Barry's living room with Iris, Barry and Captain Cold. Iris has been so great recently and this interaction just reaffirmed that for me. I am glad that we got to see more of the Trickster, but I wish we could have had more of him. Overall, I think this season has been really good even as the stakes get higher. And Cisco is just perfect, always. I would like more Cisco when it comes back.
Whitney: This episode was pretty good. Not exactly season 1 Christmas episode good, but a very satisfying installment. I'm excited to get back to Zoom as the overall big bad of the season because I'm really intrigued by that storyline and all the happenings on Earth 2.
Carissa: I feel much as Andy and Allison. Patty is difficult to warm up to and all of the villainous behavior was for show only with no point. Would have liked more of the West family reunion and for Henry Allen to have come home for Christmas. Really, Henry? After 17 years in prison, you weren't willing to make the festive songs about the holiday true? Guess Barry is to have yet another blue Christmas without his birth father. Not cool, dude, not cool. Wish Harry had shown up, especially after Barry forgave Harrison. Would have been a good Henry stand in.
What's happening when The Flash returns? Get a peek in this preview of new episodes in 2016. And don't forget, you can watch The Flash online anytime, too!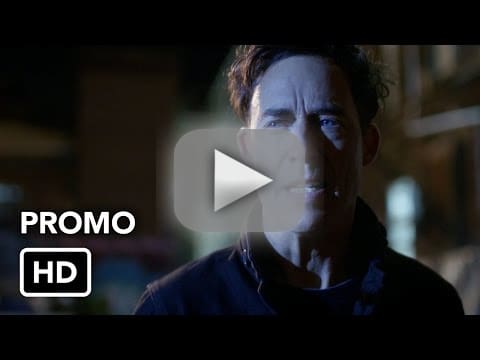 Carissa Pavlica is the managing editor and a staff writer and critic for TV Fanatic. She's a member of the Critic's Choice Association, enjoys mentoring writers, cats, and passionately discussing the nuances of television and film. Follow her on Twitter and email her here at TV Fanatic.