The Affair Season 2 Episode 10 Review: A Good Man or A Great Man?

Carissa Pavlica at .
As Noah's trial started in the present, we were treated to a past couple's therapy session that he attended alone in which he wondered if he could be both a good man and a great man and still achieve all he desired.
While The Affair Season 2 Episode 10 could have been slow given that Noah's half of the hour took place in a one-on-one therapy session, overall it was surprisingly tight and full of points to think about.
In his marriage, Noah is still keeping secrets from Alison, but he's not the only one. It seems like they're living on borrowed time, and even if he's found innocent of the charges at trial, he still won't find a happy ending.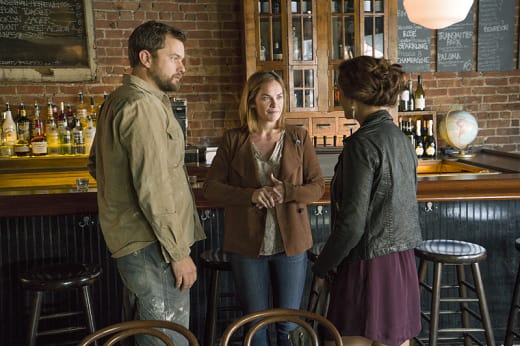 There is little I enjoy more than pondering the deeper meaning of life, and that's exactly what Noah was doing with the therapist when Alison failed to show up to their session. 
Cynthia Nixon was good as the analyst, Marilyn, trying to dig into Noah's psyche to determine exactly what's making him tick. It's something he does all the time, he said. That doesn't surprise me in the slightest. A writer should spend a disproportionate amount of time trying to understand what motivates man.
He may be trying a bit too hard to find a parallel between great men and cheating to give himself a way to get out of marrying Alison. I've said before he has no business getting married, and how deeply he's digging for reasons not to kind of proves that.
That's not even a slam against Noah. He shouldn't be married. He should be doing exactly what he wants to do, which is researching his great work, in Paris, and screwing everything that moves. He made a mistake and ruined his marriage of 20 years. What he did not do was knock somebody up and chain himself to her for the remainder of his life. 
Unfortunately, Alison doesn't have the balls to tell the truth to anybody, and seemingly because of that, Scotty winds up dead. What a mess.
When Scotty noticed Joni (or Joanie...I'm spitballing here) does, indeed, look an awful lot like her father, which means he takes after the Lockhart side of the family, it lit a fire under Alison's ass. She literally didn't waste a minute when she realized how close the secret was to being outed. If that's not an indication what appeared to be DNA results Gottlief received at the end of the hour pointed to Cole as the daddy, what is?
Then again, The Affair has great bait and switch tactics. Without words, all of that could mean absolutely nothing. They could really be pulling us around on this who's the daddy thing. 
The way Noah noted Alison stares at him when he's doing something with Joni as if she's trying to figure something out makes me wonder if she only guesses at the paternity. The lack of clear evidence and Cole's engagement could have been enough to change Alison's mind on sharing the news. But we also know strung out Scotty will try to use it against Alison because of myriad phone calls to her before his death.
All the while, Noah will be struggling, wondering if he's a good man or a great man and to which degree he may be either, never realizing it might not even matter for some circumstances. He's trying to be the best father he can for Joni, but he's not her father. That makes him a good man. But seeing him wince when the term was used during opening statements leads me to believe he might have done more to prove to himself he's a great man.
I'm move convinced than ever, though, that they shouldn't be together. They're toxic for one another, and that's without Scotty being killed.
On the plus side, I'm starting to feel for Noah. He's still exactly what I've always thought. He cheated on his wife. He wants to sleep around. At this point in his life, he's really not a good man. But I'm not sure he has to be, and if it was his time to make those mistakes, he should get to make them instead of caring for someone else's baby. That's a drag.
Alison, on the other hand, is starting to get on my last nerve. She needs to man up. She has money to take care of the child on her own. Do it. She has apparently chosen not to be a doctor now, so be a nurse. Do something. Take charge of your life woman. Stop wallowing. The pity angle is draining.
So where do you guys stand? Did you enjoy this look into Noah's psyche? Phooey on me for not believing everyone there were 12 episodes this season. We'll be back for The Affair Season 2 Episode 11 when Noah discovers Alison quit her class, and the trial continues!
Carissa Pavlica is the managing editor and a staff writer and critic for TV Fanatic. She's a member of the Critic's Choice Association, enjoys mentoring writers, cats, and passionately discussing the nuances of television and film. Follow her on Twitter and email her here at TV Fanatic.