Major Crimes Season 4 Episode 17 Review: #FindKaylaWeber

Jack Ori at . Updated at .
It's so cute how the entire Major Crimes Unit has adopted Provenza's habit of putting "the" before social media sites. Everyone calling Instagram "the Instagram" added levity to an otherwise very serious story.
Major Crimes always does high drama well and Major Crimes Season 4 Episode 17 was no exception. "#FindKaylaWeber" dealt with a double tragedy: Kayla's death was not even a murder, leaving the hands of the police somewhat tied.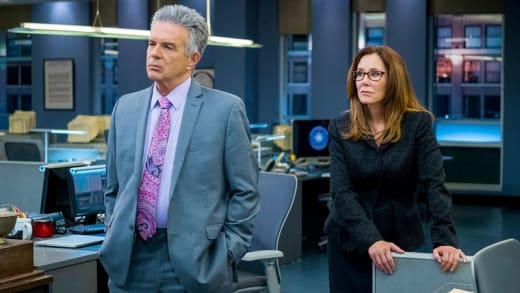 There were several directorial choices during this episode that helped make it even more powerful than it already was. The scene where the detectives discovered Kayla's body stood out because of the slowness of the reveal. Julio's glances at the refrigerator and the detectives' horrified looks even before they knew for sure what they were about to find added to the suspense and drama of the moment.
Unfortunately, sir... ma'am, we found your daughter's body in a box in the refrigerator, wrapped in a plastic bag.

Flynn
The notification about Kayla's death was also well done. In retrospect, I probably should have seen it coming when he was revealed to have killed his wife (which was also an extremely powerful scene). Jim Weber was shown to be willing to go to extremes to protect both his career and his daughter and would have sacrificed anything for Kayla.
We'll let the justice system decide what to do with a drug dealer who keeps five-year-old girls in his refrigerator!

Julio
Julio really took little Kayla's death to heart. It wasn't clear whether he was just horrified in general or whether this somehow reminded him of the personal tragedy he's been dealing with all season.
Either way, I'm not sure how I feel about getting rid of Ike Gibson's lawyer in order to try to force a confession out of him. Although the crime he was accused of was terrible, violating his rights doesn't seem like the way to go. Slider's sentencing trial and his repeated claim of innocence helped underscore this point.
Hobbs: In your apology, did I hear you say anything about remorse for the murder of Mariana Wallace? Did you say you were sorry for killing her?
Slider: No. Even though you tricked people into believing it, I can't say I'm sorry for what I didn't do, can I?
Slider's guilt or innocence is being written with just the right amount of ambiguity. Slider really has no reason to lie at this point, since he's already been convicted. Yet his general lack of remorse suggests he could simply be trying to convince everyone that they have the wrong guy even at this late date. 
I'm sorry, when I hear the word victim I think of Mariana, not your client.

Rusty
Rusty's testimony not only drove home the point that being out on the streets doesn't guarantee one becomes a violent criminal but also solidified Rusty's character and his commitment to using journalism to give other homeless people a voice.
Monroe must not have done much background research before deciding to use Rusty to bolster his case. He should have known trying to blame the streets for Slider's behavior wasn't going to fly.
It looks like Gus did have some romantic feelings for Rusty after all. It'll be interesting to see whether he really goes home and forgets Rusty or if he continues to pursue him. I was curious as to exactly why Rusty wasn't interested.
So what did you think of "#FindKaylaWeber"? Did you see the truth about Kayla's death or what was going to happen to her mother coming? Share your thoughts below!
Missed it? No problem! Just  watch Major Crimes online to get caught up.
Jack Ori is a senior staff writer for TV Fanatic. His debut young adult novel, Reinventing Hannah, is available on Amazon. Follow him on Twitter.