We're back for the last Chicago Fire Round Table of 2015!
Chicago Fire Season 4 Episode 9 tied up some loose ends while also leaving us hanging for the show's return in January. 
Below, TV Fanatics Elizabeth Harlow and Stacy Glanzman are joined by super fan Honey to discuss Hermann's fate, a potential love triangle, and the upcoming three-show crossover.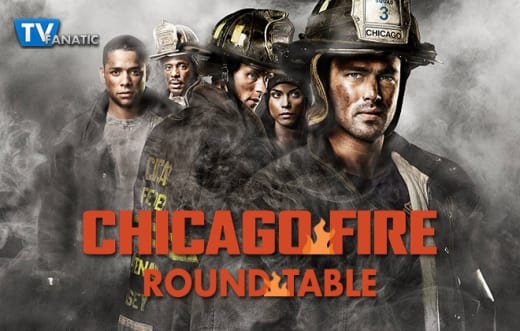 Are we done with Riddle and Patterson, or does Riddle's "You've messed with the wrong guy" mean we'll see them again?
Honey: Wow, well I think Riddle is going to "airport duty." I was pretty sure that he would get what was coming to him. Loved it when Dallas told him to "go to hell." As far as Dallas goes, he might pop in once in a while, but yeah, he is pretty much gone to House 90, so I think he is gone.
Elizabeth: I'd figure that Patterson is basically gone at this point. He could always appear for some guest spots, but he seems like the type of actor that will be too busy for one off appearances (i.e., hot). As for Riddle, it seems like the writers were leaving the door open for him to come back as a potential villain again. Like he's just kind of on back burner. Even odds on his return.
Stacy: I hope they're both gone. We spent enough time on this story, and I want it to be over. I can see them leaving Riddle on the back burner as an option to bring back some day, but personally I hope it doesn't happen.
How worried are you for Herrmann and what will happen to Freddie?
Honey: Herrmann lost a lot of blood, but I think he will be alright. Freddie, not so sure about him. He committed a crime. I don't think he meant for it to go that far, but either way, he will have to face the charges for stabbing Hermann.
Elizabeth: Herrmann may be injured, and it may be serious. But I don't think he's going anywhere anytime soon. Things don't look as good for Freddie. His background led him to make some seriously poor decisions, and the best thing he could do (and least likely) is turn himself in.
Stacy: Herrmann will be just fine, but Freddie? Who knows. I agree the best thing would be for him to turn himself in, but I don't really see that happening either. Chances are he'll return to his gang members for protection or something.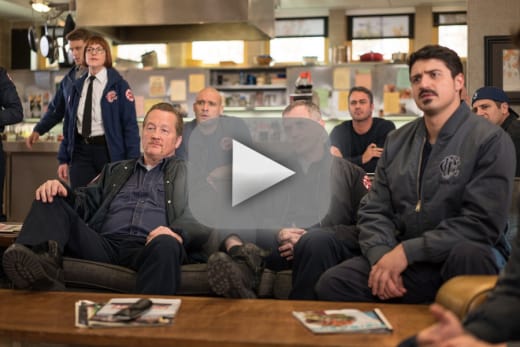 Is there a potential love triangle brewing between Brett, Otis, and Austin?
Honey: I don't think so. I think Sylvie pretty much likes Austin, and he has another plus; he isn't a fireman, and he doesn't work out of House 51. Maybe the triangle will be in Otis' mind, but not Sylvie's.
Elizabeth: I think there's a chance that Otis is turning into a creepy stalker and self proclaimed "nice guy." Guys, just a tip: butting your way into a woman's private affairs and acting as if she's not capable of looking out for herself or making her own decisions is a turnoff.
Stacy: Yes, Otis' actions were downright creepy. They've only been on one date, and he's acting like it's more than that. I like Austin so far, but wouldn't be surprised if he's hiding something. I hope it works out with them.
What are your hopes for the three-show crossover and the rest of the season?
Honey: I like crossovers, and I already love these three shows. I would like to see a lot of crossovers with all three. They are already doing this sort of. I mean we see a lot of House 51 involved with Chicago Med, not so much Chicago PD, at least not yet.
Elizabeth: Well, I'd be lying if I said I wasn't hoping for an opportunity for Gabi to beat some sense into chauvinist jaghole Will. But obviously, the Med team needs to get Herrmann fixed up, PD and Cruz need to hunt down Freddie, who I assume will have to be talked down. Outside of big crossovers like this, I'd settle for some basic continuity between shows – like the characters on PD and Fire discussing the shooting on Med for example, or the docs treating, even briefly, a patient that Chili and Brett bring in. It doesn't have to be big things, just subtle one-liners.
Stacy: I'm definitely looking forward to the crossover, and hope they also do one with Law and Order: SVU at some point. I like all the mini-crossovers they have been doing, so I'd like those to continue. I agree with Elizabeth that there could be more continuity between the shows.
Rate the mid-season finale.
Honey: On a scale of 1 to 10, this one is a 10. I loved the action in this show, it was great. Glad that Kelly is back as Lieutenant and Boden is back as Chief. Like Dallas said, "This is Wallace Boden's House." Riddle looked really pissed, but awww, too bad. Sorry, I just didn't like him from the beginning. All in all, it was a great episode. With the exception of Herrmann getting stabbed; that sucked.
Elizabeth: 8.5. They wrapped up a lot of the arcs from the first half of the season really neatly, had some cute side stories, and left us waiting impatiently for the return.
Stacy: 9. I only dock it for leaving the possibility for Riddle to return on the table. Just send him off to airport duty and forget about him. The finale did a great job of wrapping things up and leaving us hanging for the return.
Stacy Glanzman was a staff writer for TV Fanatic. She retired in March, 2019.