Ash vs Evil Dead Season 1 Episode 8 Review: Ashes to Ashes
Carissa Pavlica at .
THE CABIN!!
Unfortunately, returning to the cabin only brought bad news for the characters on Ash vs Evil Dead Season 1 Episode 8, but if you're a fan of the comedic aspects of the series, then it was all good times for you.
Back to the bad news...RIP Amanda. We (seriously) barely knew you!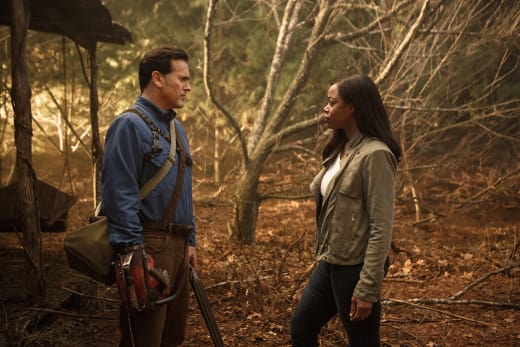 Another episode of Ash vs Evil Dead, another time to exclaim...
THIS IS THE FASTEST HALF HOUR SEGMENT OF TELEVISION ON THE AIRWAVES!!!
If only hour long dramas kept you as wrapped up in the action as you are watching AvED, you'd never spend your time looking at the clock. I can't be the only one who watches some shows thinking, "Is it almost over? I could be doing something else."
Instead, I look at the clock here and think, "It better not be half over yet. Dammit! It's half over already!"
Story wise, apparently the three left behind on Ash vs Evil Dead Season 1 Episode 7 wasted absolutely no time taking off after Ash after his mushy goodbye. Amanda was at the cabin minutes after he arrived. 
Wow. Last time I was here I was hopin' to get laid. Didn't quite work out that way. I did cut my own hand off with a chainsaw, though. Fun weekend.
Thankfully, she was a pretty ballsy woman, and even though she ended her life there, it's doubtful she really regretted that decision. It was also pretty badass that she realized HandAsh was nothing but a big tumor that grew out of the stump. Pretty awesome woman when all was said and done.
Everybody dies here, it's just the rules. Death, taxes, more death. And I don't pay taxes, so it's just death.
Amanda also picked up a book in the bedroom of the cabin that happened to be opened to the page about the blade Ruby has in her glove compartment. I had trouble hearing exactly what the dialog said about it, but I think it was that when laid upon the necromonicon the blade seemed to bite the skin of the book. Was that right?
I'm not sure how biting the skin of the book would be all that bad for it, but it could sting a little. LOL Perhaps I didn't hear correctly. Set me right, reader people!
The fight between the Ashes was a lot of fun. Who couldn't watch Bruce v Bruce for pretty much an entire installment? I know. We're all in this together.
Can somebody tell me why Kelly and Pablo didn't run like hell after Ash when he ran like hell after what he said was a version of himself? It's not like they wouldn't expect to see it at this point. OH! I know. So that we don't know which version survives. 
If the series is continuing, and it is, Good Ash has to be the one to survive, right? Or could they possibly kill off Good Ash and have some sort of quest to return Good Ash via HandAsh or a way to resurrect him or any other number of things that honestly wouldn't surprise me given talking heads in vices and crawling, maggot ridden hands spawning giant tumor selves?
Two episodes left to go, and we can pretty much rest assured Ruby and that blade are coming into play. But first, which Ash survived?
What are your thoughts? Were you surprised they killed off Amanda, or not so much given her sharp turn around? Was it a sign she was on her way out? 
Say hello amigos!
Carissa Pavlica is the managing editor and a staff writer for TV Fanatic. She's a member of the Broadcast Television Journalists Association (BTJA), enjoys mentoring writers, wine, and passionately discussing the nuances of television. Follow her on Twitter and email her here at TV Fanatic.