The Librarians Season 2 Episode 3 Review: And What Lies Beneath the Stones

Kathleen Wiedel at . Updated at .
Beginning to end, "And What Lies Beneath the Stones" is clearly Jake's episode. Ironically, he's a much bigger liar than Ezekiel, who seems a much more likely candidate at first glance.
It's very easy to think of Jake as the "muscle" of the three junior Librarians (especially if you watched Christian Kane's last series, Leverage), and forget that while he's not a supreme mathematician or computer whiz, he's got a 190 IQ and speaks about a billion languages.
In The Librarians Season 2 Episode 3, we were introduced to Jake's dad, Isaac, who owns a struggling family company. Isaac, naturally, thought that his son was utterly worthless and was totally in the dark about his jaw-dropping genius.
How sad and frustrating for Jake, who concealed his incredible intelligence from his father even as a child. He taught himself an amazingly diverse amount of knowledge from a young age, and his father knew nothing.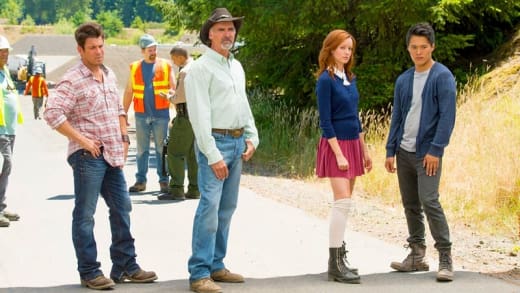 Jake couldn't even bring himself to publish papers under his own name. Seriously, he is the leading mind in his field, and he's only published under pseudonyms. Tjat really says something about his self-esteem, doesn't it?
Really, then, the shape-shifting villain of this episode definitely gave Jake the opportunity to let a lot of that burden go. There were many different ways this was expressed for Jake, but mostly it came down to his final statement to his very confused father at the end:
The truth is, I don't need your approval anymore. Bye, Pop.

Jacob
He'd always wanted his father's approval, but never thought he could get it the way he really was: a bona fide genius. Apparently, Isaac never put much stock in intellect. Well, his loss, the Library's gain.
Jake finally got to release his burden and confess his genius aloud; too bad he was talking to the shape-shifter at the time, a fact he figured out when he embraced him. What a sad statement on their relationship.
His dear old dad never got to actually learn the truth; I suppose that it would have been obvious enough to the man if he'd bothered to take his head out of the bottle once in a while. Apparently, Jake acknowledging the truth is enough for Jake.
So, ultimately, Jake finally felt free to publish under his own name.
The shape-shifter villain of the story fed on lies and chaos. Was anyone else super weirded out by that freaky-huge grin it had? Jake was ultimately able to weaken it enough to overpower it simply by speaking the truth.
This episode once again had a side-focus on the Librarians working together as a team rather than as individuals doing their own thing; there is only one guardian for four Librarians (counting Flynn Carsen, MIA looking for missing artifacts), and Baird needs to make sure they can look after each other and themselves without her.
Ultimately, freeing Jake from his web of lies and deception, self-protective though it was, would almost certainly prove beneficial in the long run.
On a less serious note, the banter was flying fast and furious once again, though it seemed that Jenkins got a lot of the best bits.
Let's just say that the French Revolution had less to do with economic disparity and more to do with inviting a face dancer to a party at the Marquis de Sade's house. Some images one cannot un-see.

Jenkins
A few thoughts in closing:
Who else would pay good money for a solo production of Oklahoma! starring Ezekiel Jones?
Speaking of Ezekiel Jones, I'd be veeeeeery interested to find out just what he was stealing on Her Majesty's Secret Service.
Colonel Baird and Jenkins are still investigating the weird goings-on in the Library, including missing artifacts and whole rooms, and one particular locked room.
If Jacob Stone's dad is named Isaac, is his grandfather named Abraham?
What will happen to the project site now that the shape-shifter is imprisoned once more? Will the job go ahead now?
What did you think of "And What Lies Beneath the Stones"? Did you wish that Jake (and his genius) had been acknowledged by his father? Did you like the shape-shifter villain? What do you think is going on with the library? Let us know in the comments below!
The Librarians Season 2 Episode 4, "And the Cost of Education," is scheduled to air on Sunday, November 15, 2015 at 8/7c on TNT. Until then, you can watch The Librarians online to catch up on all the fun and excitement!