NCIS: New Orleans Season 2 Episode 9 Review: Darkest Hour

Kathleen Wiedel at . Updated at .
When a massive power outage hit the city, it was crime-solving, in THE DARK! Honestly, though, NCIS: New Orleans Season 2 Episode 9 didn't really take that trope anywhere particularly intriguing.
The fact that the outage was connected to the murder was a little different, if something of a dull surprise.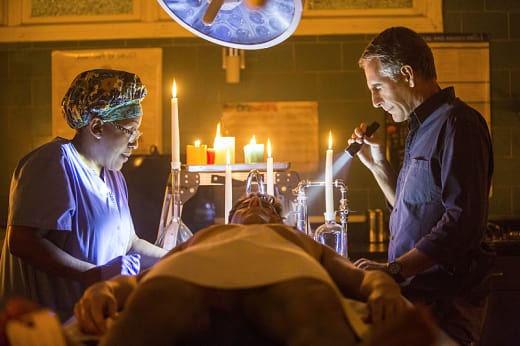 There was a similar plotline in NCIS Season 7 Episode 8, "Power Down," which provided some really entertaining moments throughout (particularly regarding legacy technology). In this episode, there was an amusing competition between Percy and LaSalle to fix the generator.
One question I have is why it was necessary to cause a power outage in the first place. Seriously, isn't Toby on the "accepted visitors" list at that storage facility? Couldn't he have just walked in and searched for the letters instead of stealing everything?
And if Toby knew that the letters were in the furniture, why didn't he just light it all on fire after he stole it – especially since he didn't seem at all concerned about destroying priceless antiques that were near and dear to his father?
I like Michael Grant Terry. I really do. He's no stranger to cop shows: he plays my favorite Squintern on Bones, and he's popped up on Grimm, NCIS, Castle, CSI, The Closer, Criminal Minds, even Veronica Mars! But that means it sorta gives away the game when he pops up in a seemingly-minor role here.
Seriously, I spent the rest of the episode waiting for the team to figure out that Toby was the missing man. I suppose I wouldn't have found it quite so obvious if I were a True Blood or One Life to Live fan, because Jessica Tuck played Toby's mother Sheila.
This episode introduced us to Frankie, an old friend of Laurel's we've never met or heard mentioned before that I can recall. It would have been nice to have had her established before now, but Pride did a pretty good job of creating that connection during this episode.
He also never bought into the idea that Frankie's fiance, the victim, had anything to do with the "Ocean's Eleven" shenanigans. It was romantic that PO Benton was just trying to give Frankie the family she never knew, though perhaps it wasn't the brightest move to follow a guy to his felony activities.
Nick Benton and Toby Fontaine highlight one of Pride's typically poetic quotes about New Orleans:
Pride: City's been through more than its share. Blackouts, floods, storms. Sometimes it brings out the worst. But then, just when you think you've figured out how it's all gonna go, a stranger brings your cat back to you, three months after the storm, then stays to help fix your busted-up roof. That's New Orleans: doesn't take electricity to light it up.
Nick wasn't after money at all, like Toby thought he was, but something infinitely more precious. Too bad Toby was too self-absorbed to realize the upside to discovering he had a sister: that he had a sister! Instead, he kills her unfortunate fiance and was going to kill her, too. All over money.
Surprisingly, his mother took the philosophical route and opened her doors to potentially forming a relationship with Frankie. This is a woman who probably had more to be angry and resentful about than Toby, since her husband had broken their marriage vows and cheated on her with the housekeeper.
Honestly, I do hope that Sheila and Frankie manage to connect. As Pride said, Sheila's lost her son now (and her husband before that), and Frankie's lost her fiance (and her mother before that).
Thing is, family is what you make of it. Sometimes, it's simple. Most times, it's not.

Pride
Of course, it's actually rather disturbing to contemplate just what led Toby down the road to thinking that triple homicide and knocking out power to the entire city was an appropriate reaction to finding out that your dad had an affair that resulted in a child.
Before I turn the discussion over to you, my friends, here are a few assorted thoughts on some of the cast members:
Casey Hendershot, who played the electrical worker Bart Johnson, is also a stunt performer, as is Matt Cipro, the unfortunate PO Nick Benton.
The same news anchor played by Tania Dall featured in this episode also appeared back in the NCIS: New Orleans Season 1 Episode 1, "Musician Heal Thyself". I appreciate the continuity.
Practically unrecognizable was Jason Gray-Stanford as Mickey, the transient who stole Benton's shoes. He's probably best known as Lt. Randy Disher on Monk. Seriously, I didn't recognize him until I read his cast credit!
It's also worth mentioning that Jessica Tuck, who played Sheila, also played Catherine Schade (Adalind's mother) on Grimm. Speaking of complicated family relationships!
NCIS: New Orleans Season 2 Episode 10, "Billy and the Kid," is slated to air on Tuesday, November 24, 2015 at 9/8c on CBS. Until then you can watch NCIS: New Orleans online to relive the fun and games!
So, what did you think of "Darkest Hour"? Did you predict who the murderer was going to be? Were you surprised that the murder turned out to be connected to the blackout? Let us know what you think in the comments section below!