NCIS: New Orleans Season 2 Episode 7 Review: Broken Hearted

Kathleen Wiedel at . Updated at .
Wow, that was a downer ending, wasn't it? How many of you were expecting PinZ0 to come through perfectly fine? Surprised me, that's for sure.
The "stolen transplant organ" story is not an uncommon one on shows like this, but NCIS: New Orleans Season 2 Episode 7 allowed us to actually get to know the intended recipient, Max "PinZ0" Pinzon, rather than him just being a passive and helpless victim.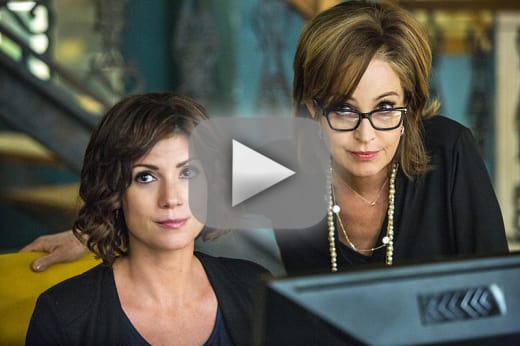 Even better, we get several great scenes with him and Patton Plame, who rarely gets more to do then pop in, do some computery stuff, and pop out again.
But let's start off with meeting Brody's mom, Olivia, who couldn't seem to help but always look over Merri's shoulder, even giving the okay to hack into their files rather than simply asking for them. Clearly, Brody has some long-standing trust issues with her Mom, but it made for some pretty funny comedic fodder for the rest of us.
Fans of the NCIS mothership might notice an interesting parallel with Brody and Olivia compared to Bishop and her husband Jake (Bishop works for NCIS, Jake the NSA). It's frustrating not knowing what your loved ones are up to, and it can definitely strain relationships.
On a side note, I was very grateful for LaSalle's reference to his brother Cade. It's nice to remember that family members exist outside of the episodes in which they appear!
The episode itself was fairly interesting; it would definitely have been more exciting if all the preview trailers hadn't totally and completely spoiled the fact that the heart was stolen, which totally destroyed any sense that it could have been a targeted assassination of Pinzon.
C'mon, CBS, was that really necessary? You couldn't have let us wonder, even for a little while?
I think pretty much everyone expected our heroes to recover the heart and Pinzon to get his transplant. It was actually quite surprising when Pride came out and announced that Pinzon didn't make it despite their best efforts.
His death didn't feel meaningless, either, thanks to the scenes with him and Patton. It was great how Patton told increasingly ludicrous stories about how he came to be in his wheelchair:
Pinzon: How'd you end up in that chair, anyway?
Patton: Bear attack. Accident in a demolition derby.
Patton, in the brief time he knew Pinzon, took the younger programmer under his wing and bonded with him; working together, they were able to help locate the hospital where the Big Bad was holding the stolen heart. If you're a fan of Patton Plame, then this episode is definitely a must-watch.
The title of the episode, "Broken Hearted," could apply to Patton at the end of the episode just as much as the unfortunate Pinzon, who was dying of a congenital heart defect.
It felt tragic that all of those innocent Sailors died so Dolan could steal the heart; blackly comic that Dolan succumbed anyway; and depressingly bleak that the young man the heart had been intended for didn't make it out of the operating room.
A few stray thoughts before I turn it over to you, my fellow fans:
Daryl "Chill" Mitchell, who plays Patton Plame, was injured in a motorcycle accident, in case you're wondering.
I'm no computer expert, but I'm pretty sure Olivia was speaking technobabble gibberish when she was enhancing the image for the team. Restore the bitmap? Is that even a thing?
The Defense Advanced Research Projects Agency (DARPA) is a very real agency that's part of the Defense Department. They're responsible for some of the most cutting-edge research projects out there, one of which was the ARPANET, which was the predecessor to a little thing called the Internet.
So far we've met family of Pride, LaSalle, and Brody. When's an family member of Sonja Percy going to pop up?
Given that there is more to organ transplant compatibility than just blood type, it's possible that Dolan would have rejected the heart anyway, even after going through all of that.
So, what did you think of "Broken Hearted"? Were you surprised when Pinzon died? Will Patton finish Pinzon's code (and will it somehow turn out to be important later)? How did you like Olivia, Brody's mother? Let us know in the comments below!
NCIS: New Orleans Season 2 Episode 8 airs on Tuesday, November 10, 2015 at 9/8c on CBS. Remember, you can watch NCIS: New Orleans online to catch up on previous episodes!