Major Crimes Season 4 Episode 15 Review: The Jumping Off Point

Jack Ori at . Updated at .
The best crime drama stories are emotional rather than just pure mystery.
Major Crimes Season 4 Episode 15 did this especially well. Throughout the hour, the mystery of who killed Kyle Gillam touched on character history and affected the detectives in different ways. Flynn's recuperation provided a counterpoint to the main story, too, making "The Jumping Off Point" one of the more emotionally gripping stories of the season.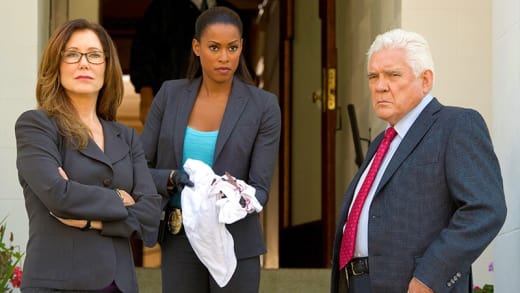 Rusty's upset about finding out that the victim of the week was essentially a male prostitute was a nice use of history as well as an interesting juxtaposition with his developing relationship with Slider.
It means a lot, you caring this way. It means a lot.

Slider
It was almost as if Kyle represented Rusty's past and Slider his future. Rusty clearly is taking journalism seriously and is using it to make a difference in somebody's life. Whether or not Slider is innocent remains to be seen, but he is clearly grateful that someone bothered to take an interest in him, and Rusty may have a career in social justice ahead of him.
I'm also really liking the family unit of Sharon, Rusty and Andy. The scene where they were supporting Andy's progress in physical therapy was touching. Having Andy stay with Sharon, even temporarily, will be interesting. Of course, he already was staying there, but having him there post-illness creates a different dynamic.
Is this where I am in life? I can turn in a circle without falling down and it's wonderful?

Flynn
Andy's recovery from his accident is one of the most realistic cop-injury storylines in recent years. He didn't get a miracle cure or a silly diagnosis. Instead, he to struggle not only with getting better but with accepting the ways his accident has affected his life. He has struggled with needing help for the past few episodes. He didn't want to ruin everyone's Thanksgiving and now doesn't want to be a burden to Sharon. In addition, he seems to be having a hard time seeing his small steps forward as progress.
All Flynn needs is a little murder somewhere and he'll perk right up.

Provenza
Provenza is right. Andy needs something to do so that he doesn't go nuts or fall into self pity. 
Speaking of Provenza, how cute was Andy's accidentally saying Provenza wanted to marry Patrice and then Provenza and Patrice's conversation at the end of the hour?
When I decide I want to get engaged to someone, usually I propose myself.

Provenza
Provenza is so often cynical and blustery. It was nice to see a softer side to him. It'll be interesting to see where his relationship with Patrice goes from here. It's hard to form an opinion of her since she hasn't been on that much, though she certainly was great at motivating Flynn to let Sharon take care of him.
The case itself was an obstacle to Provenza's date with Patrice – something he was probably happy about after Andy opened his big mouth. It was one of the more interesting cases this season. The dynamic between Kyle's parents was particularly attention grabbing.
Father: Damn him.
Mother: Our son is dead!
At first it seemed like a set-up for some story about an abusive parent, since Kyle's father blamed his son for his own death, claimed Kyle was his own worst enemy and that he wished his son would have had more self respect. No wonder he and Kyle's mother were separated! 
As the case went on, though, it was clear that neither parent knew what to do about their wayward son. They didn't know why or how he had ended up prostituting himself and didn't see eye to eye about how to deal with it. 
I was surprised the killer turned out to be Kyle's building manager, though in retrospect this wasn't that big a surprise. Why throw in a random landlord who's more interested in re-renting the property than the truth if he isn't going to turn out to be the murderer?
Your turn! Did you crack the case before Provenza and company? What was your favorite storyline? Comment below!
Did you  miss it? Don't panic. You can always watch Major Crimes online and catch up.
Jack Ori is a senior staff writer for TV Fanatic. His debut young adult novel, Reinventing Hannah, is available on Amazon. Follow him on Twitter.