Law & Order SVU Season 17 Episode 9 Review: Depravity Standard

Jack Ori at . Updated at .
SVU pulled out all the stops for its fall finale. 
Law & Order: SVU Season 17 Episode 9 featured a defendant that may or may not have been guilty, a surprise visit from Dr. Huang (who was on the defense's side this time!) and a cliffhanger that viewers may be talking about until the show returns in 2016.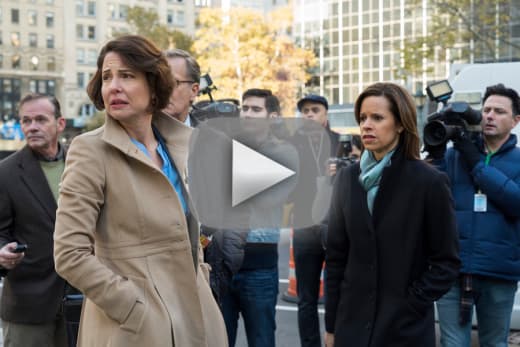 I was glad that we saw Rollins at all in this episode. Since she talked to the weirdo auxiliary cop off-screen and Sonny was constantly trying and failing to go visit her, it didn't seem like she'd get any air time at all during the hour. Thankfully, that turned out not to be the case.
Sadly, it seems like she may lose the baby (or her life) when the show returns.
I'm tired and I hurt like hell and it's too late for an epidural.

Rollins
Hopefully this will turn out to be manufactured drama for the sake of getting people to tune in come 2016. An actual miscarriage or other tragic event this late in pregnancy would be incredibly heartbreaking.
Seeing Rollins struggle to keep going after such a loss would make for some excellent drama. After seeing her agonize over how she is going to raise a baby in this crazy world, and how she'll balance being a mother with being an SVU detective, though, it would be a real letdown – not a great way to start a new year of stories!
Since the baby was already on its way when Rollins hemorrhaged, hopefully they can stop the bleeding and get the baby out. A story about her dealing with a baby still in the hospital because of birth complications would be just as interesting and far less heartbreaking.
Onto the case. SVU is at its best when it leaves things ambiguous, especially when the detectives question themselves. It seems like Benson has been down this road before, but it didn't seem old or tired at all. The exchange with Dr. Huang was especially interesting.
Benson: He confessed because he did it!
Huang: I'm sorry, but I don't know that. And neither do you.
Was Benson mad at Huang because he "switched sides" or because someone she greatly respects thinks she may have been mistaken about Hoda's guilt? While they were arguing in the elevator, I couldn't help thinking of other times Benson went to Huang for advice. It made me wonder what was really going on.
So you interrogated Louis Hoda for over six hours before turning on a camera. In all that time you didn't coerce him, you didn't threaten him?

Lisa
I really disliked this defense attorney. She just struck me as more interested in winning than in anything else. Of course, everyone's entitled to the best defense, but she didn't seem to really care at all about her client. Her fake-sounding condolences when cross examining Hector's mother set the tone for her character and made her irritating.
Even so, she had some valid points. That auxiliary cop was more than strange – his behavior was definitely suspicious.
Sonny: You ever see Louis Hoda hanging around Hector?
Cop: No, but I can say I did.
Offering to perjure himself and bribing a clerk to discredit a juror who was holding up the works were bad enough, but what clinched it for me wass that he showed up at the memorial. Was that a subtle hint that someone had gotten away with murder or just a quirky character doing his thing? We may never know.
So did you think Liv crossed the line or was Hoda guilty? Or both? Do you think Rollins will manage to deliver a living baby? Share your thoughts below!
If you missed it, don't worry! Watch Law & Order: SVU online and catch up.
Jack Ori is a senior staff writer for TV Fanatic. His debut young adult novel, Reinventing Hannah, is available on Amazon. Follow him on Twitter.