Law & Order: SVU Season 17 Episode 7 Review: Patrimonial Burden

Jack Ori at . Updated at .
Super religious families are often cast as villains on crime dramas if they are featured at all.
On Law & Order: SVU Season 17 Episode 7, one such family, the Bakers, sees their world fall apart after their 13-year-old daughter faints during a purity ceremony and turns out to be three months pregnant.
This easily could have been a story about hypocrisy in religious communities or the dangers of sheltering kids too much, but fortunately the writers chose not to go there. I found "Patrimonial Burden" to be more entertaining and interesting than expected because of some unexpected twists.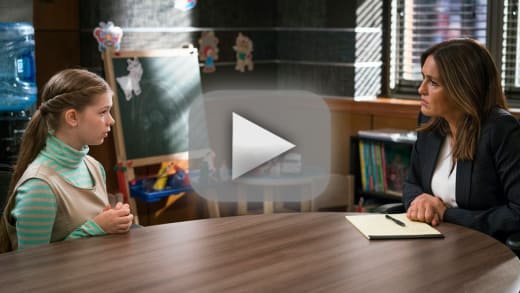 Let's be honest – how many of you expected this to be a story of how the super-religious head of the family was secretly having sex with his daughters? From the first scene, in which Lane promised herself to her father until she gets married, I fully expected him to be the villain. Having it be someone else was a refreshing twist.
The way the Bakers were portrayed was also interesting. Mrs. Baker's conversation with a very pregnant Rollins offered a great bit of character development.
You're not wearing a wedding ring. That can happen sometimes with the swelling.

Mrs. Baker
Poor Mrs. Baker just assumed that Rollins was married and couldn't fathom how her husband could allow her around all these men. She came off as sweet and caring, yet very naive. Her decision to protect her daughter at the end of the hour was momentous for this reason. She threw away church teachings that she's probably believed her entire life in order to speak up and tell her child that she loved her and was going to protect her.
You do not get to say no to your husband.

Pastor Eldon
Mrs. Baker did what we would expect and hope any mother to do when confronted with evidence that her young daughter had been raped by someone who was supposed to look out for the child's best interest.  But for her, this was a huge step and one that I wasn't certain she would take until she did. Sadly, many mothers in a similar situation would go into denial, insisting that the child was mistaken, or even condemn the little girl for her "impurity."
The fact that the Bakers almost allowed their young teen to marry her rapist is scary. The fact that her mother finally stood up for her at the end is applause worthy.
That wedding was eerily similar to the purity ceremony at the start of the hour, suggesting that perhaps the sheltered and strict life this religious family leads can make children more vulnerable to predators. However, I think there's a bigger message here that is more important, and that's what Benson said to Dodds about how most predators are people the kids trust and love.
The priest I had growing up, he saved my life. But you only ever hear about the bad ones.

Sonny
Sonny had a hard time with this case because of his religious beliefs. I'd love to know more about how his priest saved his life. His conversation with Rollins was also interesting; for the first time, there seemed to be chemistry between these two.
Rollins: What am I doing? What was I thinking, having a baby on my own?
Sonny: Listen to me. I've been working with you over a year now and there's nothing you can't handle.
Having Rollins be not entirely confident about her decision to raise the baby alone was a nice twist; so often on television single mothers are elated about their condition, even if the baby was an accident or life will be more difficult as a result.  It will be interesting to see Rollins continue to struggle with this conflict. I hope she has the baby soon; Sonny is right about the number of false alarms she's having!
Mike Dodds' opposition to the case was a bit confusing. Okay, he worked a similar case where he didn't know how to break the silence in the religious community. But why, exactly, was he so opposed? Was he bothered by the idea of confronting evil within the walls of religious institutions?
Dodds seemed to think that rapists lurk on street corners and not in churches, which is baffling in an age where there have been widely publicized cases of sexual abuse by religious leaders.
So what did you think? Did anything surprise you in this story? Did you enjoy having a less topical story after the heavy social issue stories that have dominated this season's SVU? Share your comments below!
Don't forget to watch Law & Order: SVU online if you missed anything or need to refresh your memory!
Jack Ori is a senior staff writer for TV Fanatic. His debut young adult novel, Reinventing Hannah, is available on Amazon. Follow him on Twitter.