Empire Season 2 Episode 9 Review: Sinned Against
Paul Dailly at .
Welcome back to the best primetime soap on Television.
Empire Season 2 Episode 9 had everything you'd expect from this sophomore hit. It had vintage family drama, twists, intrigue, good music and guest stars. 
Empire Season 2 has struggled to live up to the lofty expectations of the freshman run, but they came out on top in pretty much every scene this week. It reminded me of OG Empire. Yes, Empire isn't even a full year old yet, but there's no denying the the first go around was much better than Season 2.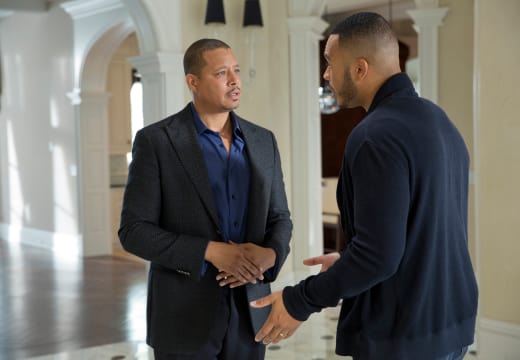 With that in mind, we'll start with Cookie. She was on top form with the zingers she was throwing at Candace. If you cross Cookie, she'll never let it die and that's ringing true right now with Candace. Cookie is no stranger to a harsh dose of reality and that's what she wants to give Candace. 
Candace: Listen to me.
Cookie: Get your hands off my fur.

Candace seems to think she's this high class woman, but Cookie can see the holes in that story, but she isn't the type of person to keep her mouth shut about it. There's obviously a lot of the past we still don't know about and I do hope it's explored further down the line. Having these three sisters together lit up the TV and had chuckling the whole time. 
I'm really happy Cookie is sending Carol off to rehab. She needs help and Cookie isn't going to be the one who is able to help her. 
I actually felt a little sorry for Delgado. Sure, he went against his henchmen, but that still doesn't mean he was team Cookie. He could have been planning literally anything and all we had to go on was his good looks, so Lucious did the right thing by investigating him. 
Did anyone else LOL when Cookie thought Lucious was Delgado? Her reaction was priceless. I do think Lucious only looked into Delgado in the hopes that something would be off with him and Cookie would return the favor by signing the rights over to him so he can go ahead and launch Swift Stream. Lucious is a cunning individual. We know that, but generally, if anyone wrongs his family, he doesn't take that lightly, so we can safely assume that we won't be seeing Delgado any time soon. 
It's nice to see you sleeping your way to the bottom.

Luciois
Cookie was destroyed. She invested so much of her time in him and thought he was a catch, but she's really been sleeping with the enemy all this time. That's going to have some ramifications for her down the line and it might ultimately send her back to Lucious' bed. 
They have a love story that spans over two decades, so there's always going to be some lingering feelings between them. I wouldn't be surprised if Lucious somehow wins his former wife back in next week's mid-season finale. 
There really were a lot of shocks in store, but that kiss at that closed the hour was the most shocking, but it was clear Jamal and Skye share some chemistry. Jamal helped her get her music back to where she wanted it to be, so I hope this kiss wasn't just in the moment and that it leads to something more. 
Elsewhere, Anika's crazy ways hit a new peak as she learnt that Lucious got Rhonda and Andre a mansion. I'm unsure whether she just wants the best for her child, or if she genuinely loves Hakeem. I do hope it's both. Hakeem was one of the weaker characters when the show kicked off, but he has really come into his own this time round and has become one of the best characters on the show. 
"Sinned Against" was a spectacular hour of Televison. It had me glued to the screen throughout and I can't wait to see where we go in the mid-season finale. Are you ready to say goodbye for four months? I ain't!
Other tidbits from the episode. 
Did anyone else think Hakeem was about to ditch the dynasty for the Lyon? He made it look that way to Lucious, but he decided against it and I couldn't be more happier. 
Did anyone notice one of the powers that be was very present in the episode? Lee Daniels was there!
Rosie O'Donnell's character was a complete 180 to anyone she's played in like ever. Cookie had some crazy friends, right?
Can Lucious buy me a mansion? 
Remember you can watch Empire online, right here on TV Fanatic. Get caught up on all the drama now!
Over to you, Empire fanatics. What was your favorite moment? What's coming up next week? Will Cookie ever find a decent man? Hit the comments below.
Note: Empire Season 2 Episode 10 airs Wednesday December 3 at 9/8C on FOX.
Paul Dailly is the Associate Editor for TV Fanatic. Follow him on Twitter.