Dancing With the Stars Season 21 Episode 12 Review: Who's Dancing for the Mirror Ball?!

Ashley Bissette Sumerel at . Updated at .
Were those some fabulous freestyles or what?
On Dancing With the Stars Season 21 Episode 12 the remaining couples performed two routines for night one of the finals. The first was a routine chosen by the judges, where the couples also received coaching from one judge. In the second round, they performed the much anticipated freestyle routines.
At least one of those freestyles even gave us chills, and another had us pulling out the Kleenex.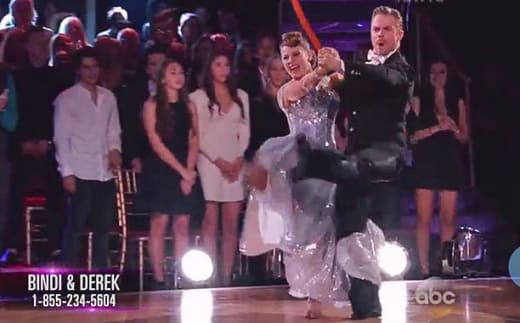 Carlos and Witney earned their first perfect score with what Julianne called "the sexiest Foxtrot she's ever seen." It was definitely sexy, and it was definitely powerful, but to me, it was also kind of bizarre and uncomfortable to watch.
There's a love story every season on Dancing with the Stars. Or, at least it seems that way. On Dancing with the Stars Season 21, that love story has been between Alek and Emma. No, it's never all that blatant, but Alek isn't shy about saying it's more difficult for him to dance a sexy Rumba with Lindsay rather than his obvious crush, Emma.
Nick and Sharna's Jive, you guys. I mean, come on. That was freaking amazing. I don't think I've ever seen anyone dance so hard on this show.
The freestyles are always what I look forward to most. They're the chance for the dancers to break the rules and be themselves. Carlos even brought in past contestants, which was a really fun idea.
Alek and Lindsay's freestyle was unique in that not only was the choreography new and interesting, but it also had a powerful message. Like Carrie Ann said, this was a memorable one.
Even more emotional, though, was Bindi and Derek's routine. I'm talking pull out the Kleenex emotional. It was simple and beautiful, and it honored Bindi's father.
It also made me question whether the connection between Bindi and Derek was really just a friendship and partnership. Of course, we question that sort of thing a lot on Dancing with the Stars, don't we?
There was a lot of fangirling happening for Nick and Sharna's freestyle routine, which yet again gave us all The Backstreet Boys nostalgia we could have possibly dreamed. But it wasn't just fan service. Their performance was also in the spirit of the competition, and well-deserving of that perfect score.
It was an awesome way to end the night.
This was only part one of the finals, which means one couple was sent home, just barely missing the chance to dance for the mirror ball trophy. So who was it?
It's not entirely shocking, but it's still sad nonetheless. Carlos and Witney were eliminated this week.
Here are this week's scores!
Carlos and Witney
Foxtrot: 30
Freestyle: 30
Alek and Lindsay
Nick and Sharna
Bindi and Derek
Quickstep: 30
Freestyle: 30
What was your favorite dance of the night, and how do you feel about that elimination? Share your thoughts in the comments below, and don't forget to tell us who you're rooting for, too!
Ashley Bissette Sumerel was a staff writer for TV Fanatic. She retired in September 2017. Follow her on Twitter and on Google+.