Dancing With the Stars Season 21 Episode 10 Review: An Emotional Elimination

Ashley Bissette Sumerel at . Updated at .
We've got show-stopping routines all around!
On Dancing With the Stars Season 21 Episode 10, the couples performed two rounds of dances, beginning with individual routines and ending with "showstopping" team routines.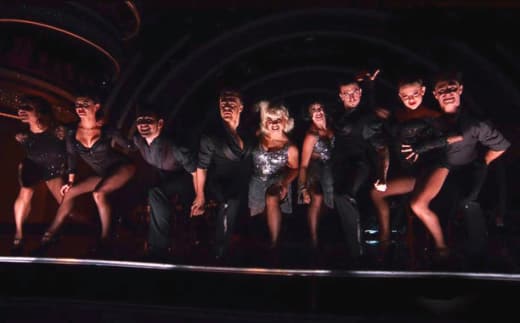 The remaining couples began with the individual routines, and all of them were really well-done. It's a tough break that Tamar wasn't there to dance for real and was therefore judged on her dress rehearsal performance.
Of course, you have to hand it to Tamar who made the most dramatic entrance ever by making it back from the emergency room in just enough time to perform in the second round. That's dedication, you guys.
It was the two perfect-scoring dances from this round that really blew me away. Alexa and Mark's routine powerful, emotional, and just really well done.
And it's no surprise that Bindi and Derek pulled off another awesome performance, as well. Their Viennese Waltz, a dance that isn't always all that interesting to watch, was totally captivating.
In all honesty, the group routine with Alek and Carlos felt cheesy to me. It was actually a little hard to watch. I think the idea could have been a lot of fun, but the movements felt forced, and the part with both guys felt more like they were joking around than trying to perform a legitimate routine.
The real show-stopper? The group routine with Bindi/Derek and Alexa/Mark. I've seen Chicago on Broadway. I've seen the film dozens of times. This routine? It gave me chills. It was so much fun AND so authentic. I agree with Julianne, too – who wouldn't have loved being on that dance floor?
Okay, but what we really have to talk about is that elimination. To see any of the couples go home at this point would have been upsetting, but the dramatic moment we've been anticipating all season has finally happened. The two couples in the bottom were Carlos and Witney and Alexa and Mark.
Naturally, we waited for a commercial break as both husband and wife became emotional over the fact that one of them would be leaving.
The couple that was sent home, shockingly, was a couple who had two perfect scores this week. Sorry to say it, but Alexa and Mark were eliminated.
What are your thoughts on that elimination? Share your thoughts in the comments below!
Here are this week's scores:
Alek and Lindsay (Salsa): 24
Alexa and Mark (Contemporary): 30
Carlos and Witney (Argentine Tango): 27
Bindi and Derek (Viennese Waltz): 30
Tamar and Val (Contemporary): 22
Nick and Sharna (Quickstep): 28
Alek and Lindsay, Carlos and Witney (Showstopper): 24
Bindi and Derek, Alexa and Mark (Showstopper): 30
Tamar and Val, Nick and Sharna (Showstopper): 27
Ashley Bissette Sumerel was a staff writer for TV Fanatic. She retired in September 2017. Follow her on Twitter and on Google+.